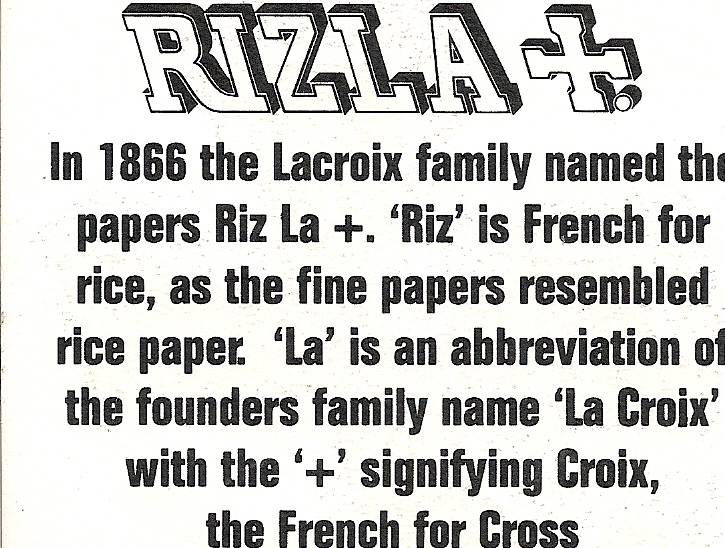 ABOVE. Aron B. Musician,Artist,Poet. 1963/91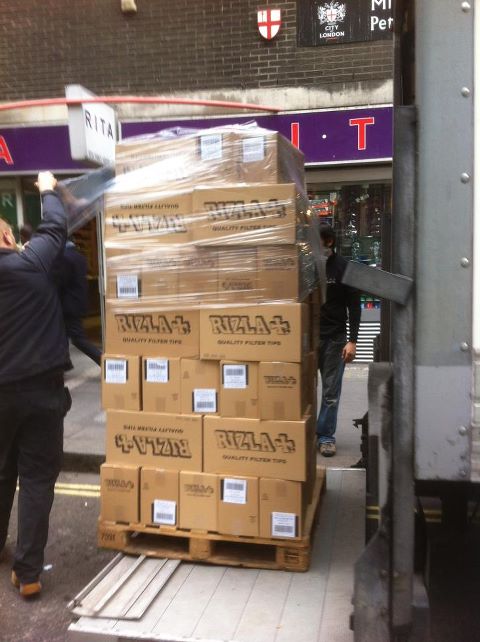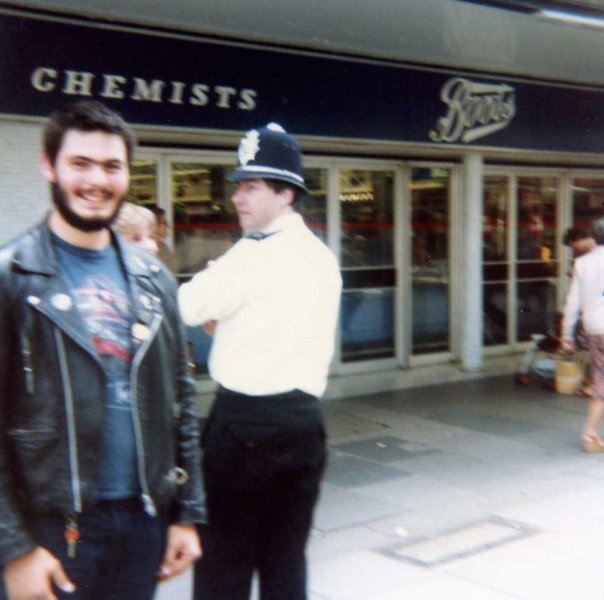 ABOVE. Clive Endersby. 1983/4. Stevenage Herts.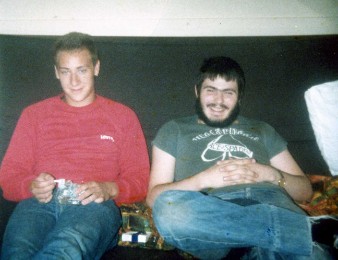 KING RIZLA. 1986/?????. King Rizla were a Stevenage Herts based band, originally the members of this band consisted of a group of friends who liked to sit around, get stoned and play some music, their names were, Nidge Scales,[guitar], Aron B,[piano,melodica,guitar,percussion,drums], Tim Fisher,[bass], Robert Hill,[guitar] and Barry Hawkins, [spliff maker]. A short time after this, Joanne Hill, [keyboards] was to join and then, the then young Nidge Scales was to leave and the band were introduced to ,the then young,Sir Marcus Downbeat who had previously been playing with "sTUDIO 6" and working on an album with Lee Scratch Perry, "Armagedon". Mark was to become the groups first singer,1987/88. It was also about this time the band became friends with Dennis Daly, a talented young man who the they had known earlier from school and of whom was good friends with Aron. The first King Rizla gig was at a house party ,1986. line up, AronB, drums, Rob Hill, guitar, Tim Fisher, bass, Jo Hill, keyboards and Sir Marcus Downbeat,vocals..it was a ramshackled performance and went under the well named signiture of,"skinupalongakingrizla",of which a big banner that Mark had designed hung on the wall behind .This gig immediatly captured the essence of what king Rizla were to be about, wreckless youth, parties and some real damned good music!!
BELOW. Robert Hill,[guitar][and Tim Fisher,[bass].Bowes Lyon, 1989.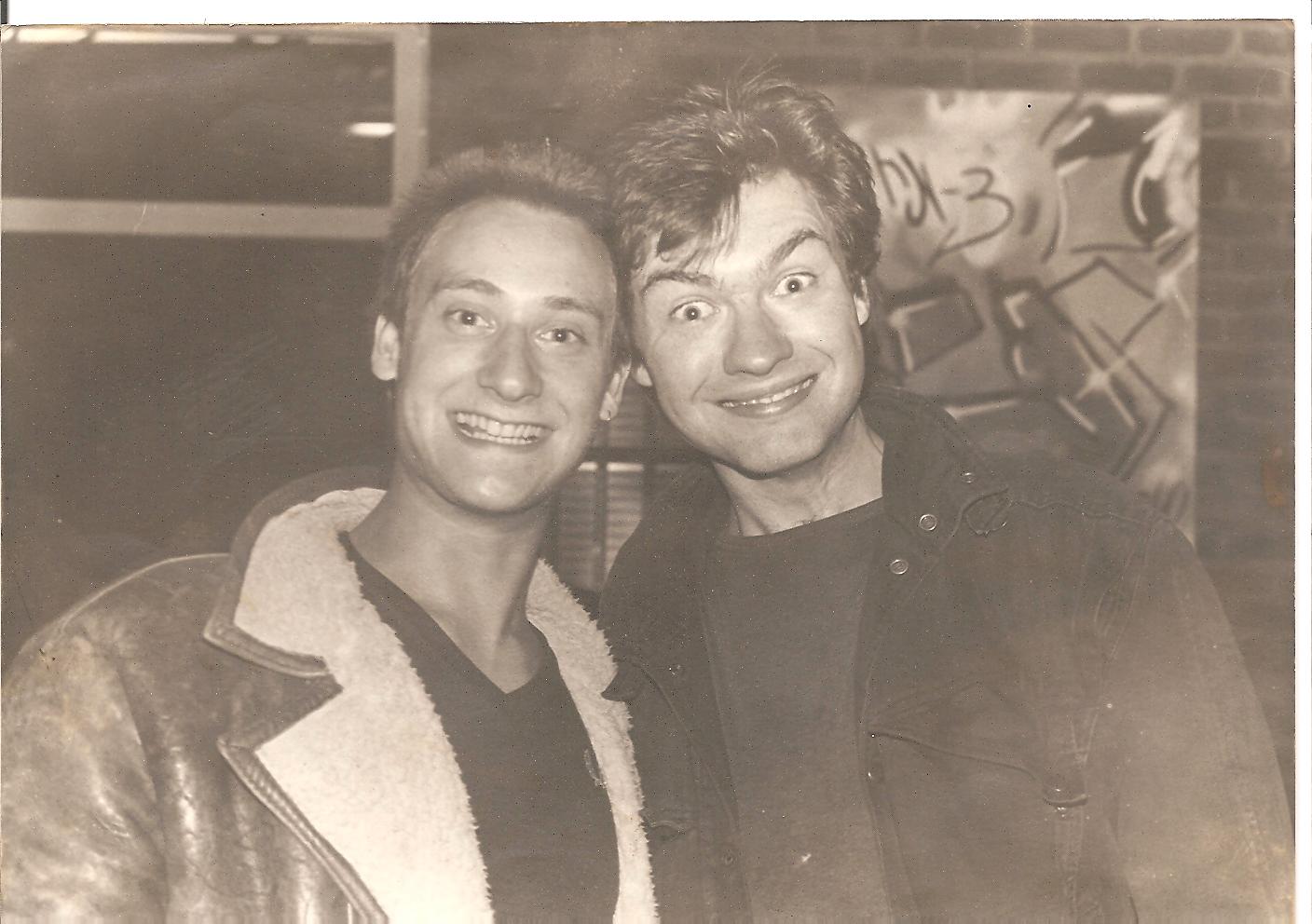 BELOW. Dennis Daly,[vocals,guitar] and Tim Fisher.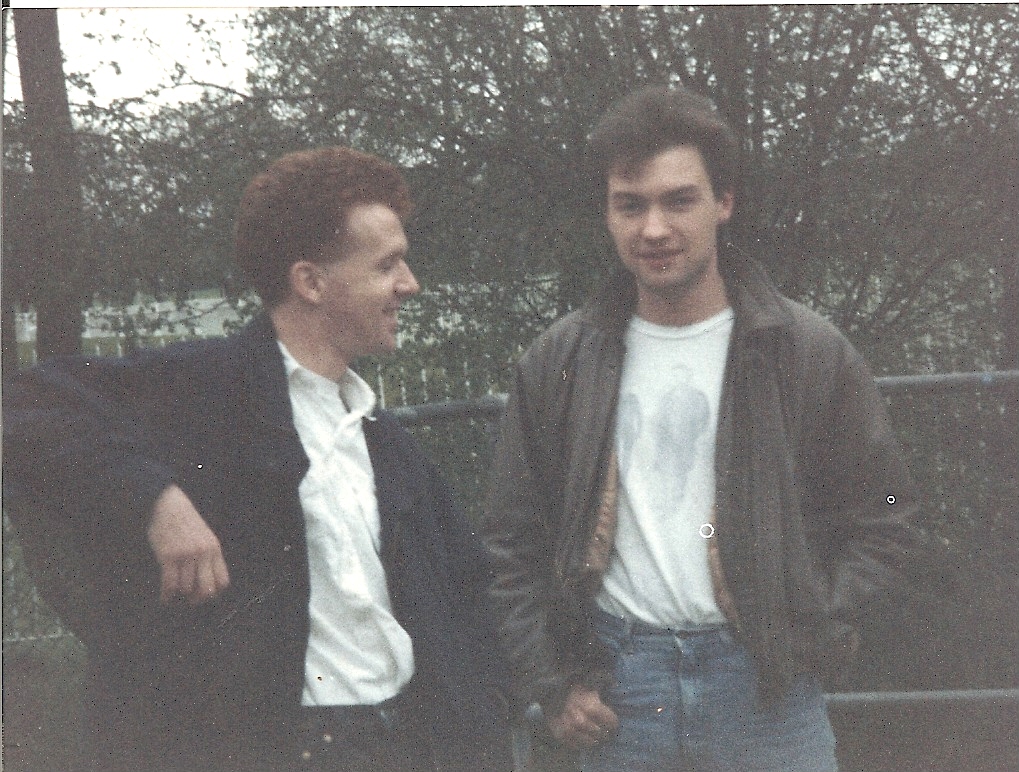 BELOW..CLIVE AND JORDAN.1987..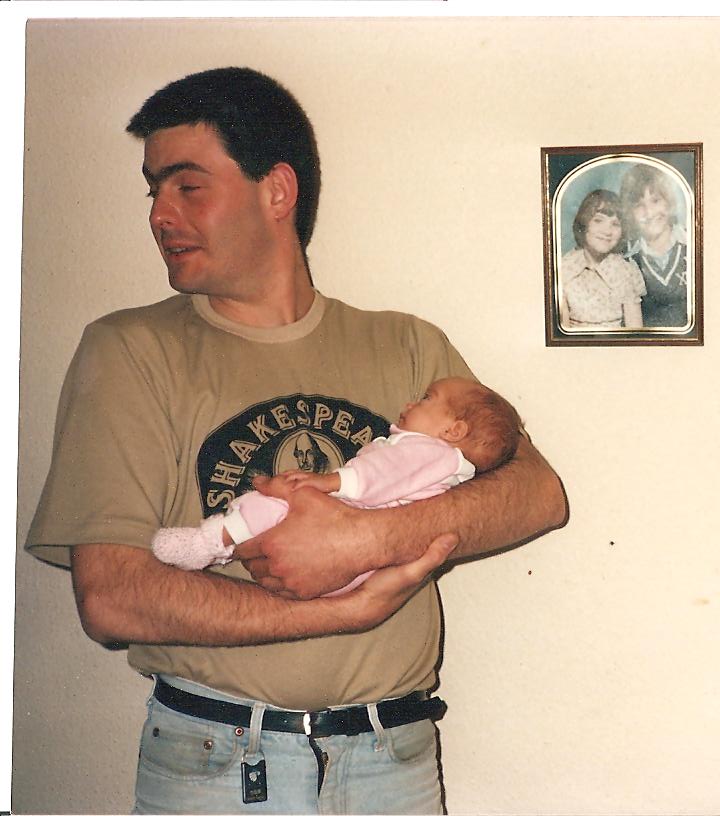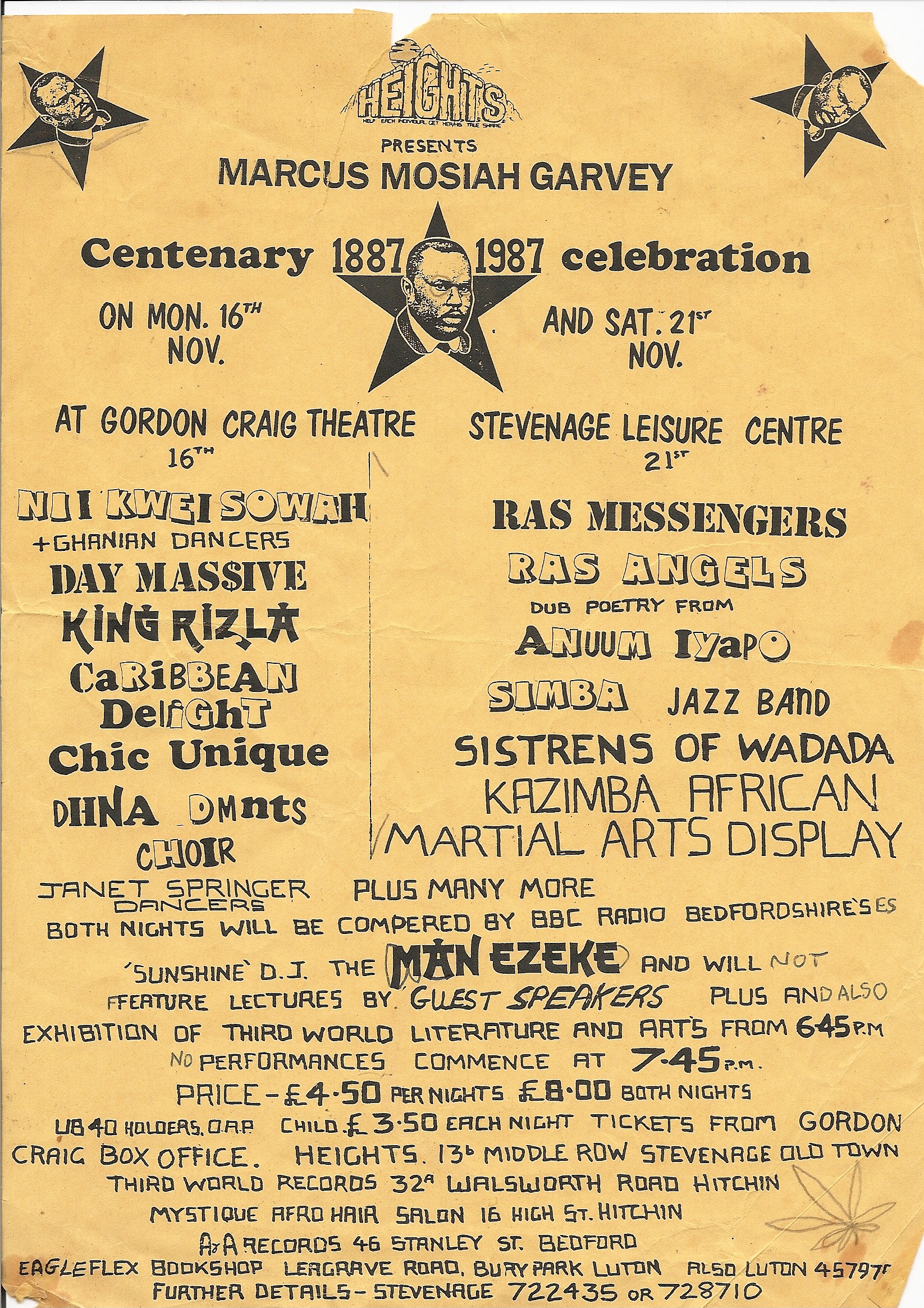 Above , Flyer for King Rizlas 2nd gig playing at, "THE mARCUS mASIAH gARVeY cENTENary cONceRT",at "The Gordan Craig Theatre" in Stevenage Hertfordshire,1987. The band played two nights that week at the theatre,which were both recieved well and gave the group a good starting point and stage too project their own certain brand of"Rizla Music".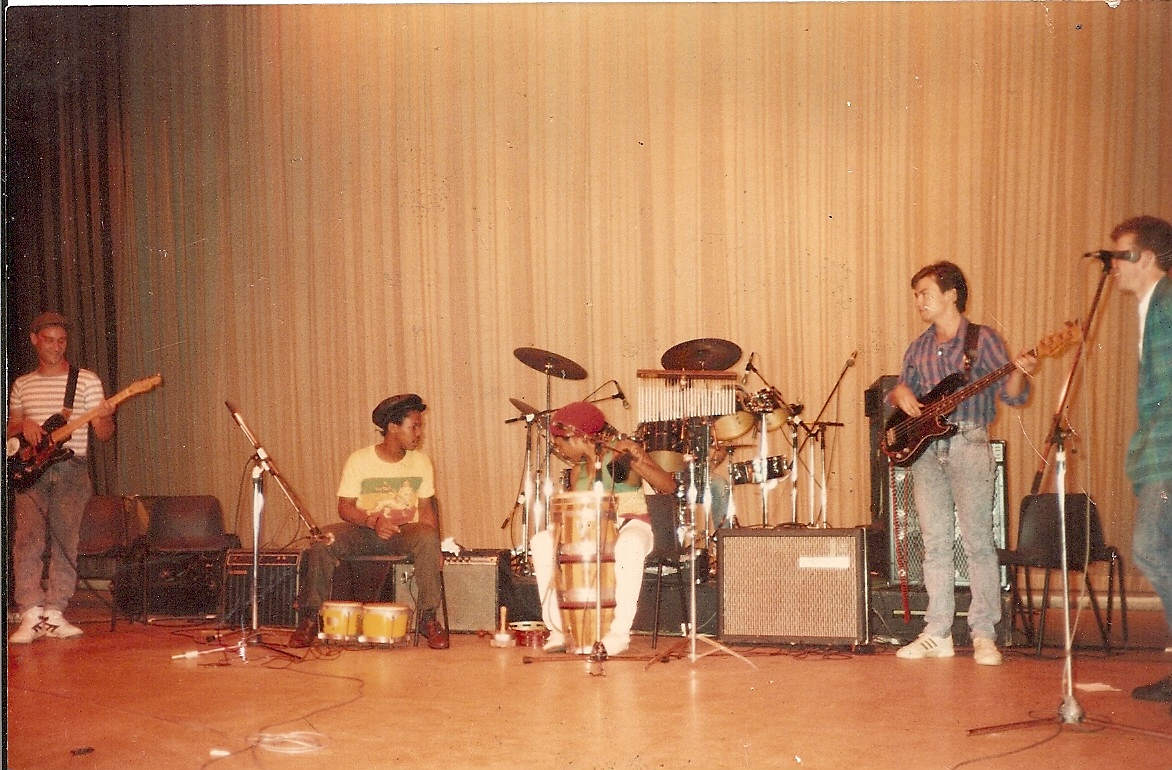 ABOVE.The Liesure Centre.1987. Rob Hill. Brother Juda. Zebbi. Tim Fisher. Dennis Daly. with Mick Simmonds on drums at the back.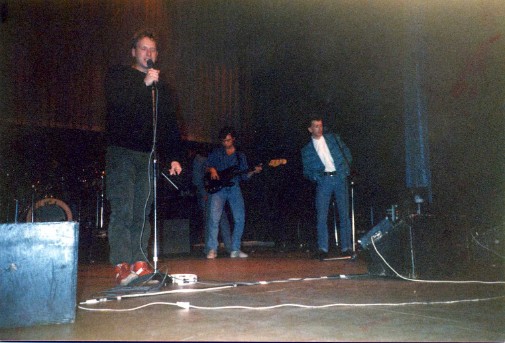 WE GOT TO SEE WHAT THERE IS TO SEE,
THERES SO MUCH HERE TO BE TAKEN FOR FREE YEAH!
WE GOT TO BE WHAT WE ALL SHOULD BE
AND TAKE A LONG WALK,
LETS GO TO WHERE THE TREES TALK,
LETS TAKE A HILL WALK,
THE WORLD SHOULD BE A BIG PARK,
LETS TAKE A LONG WALK.
"LONG WALK". 1987. MARK DOWNIE..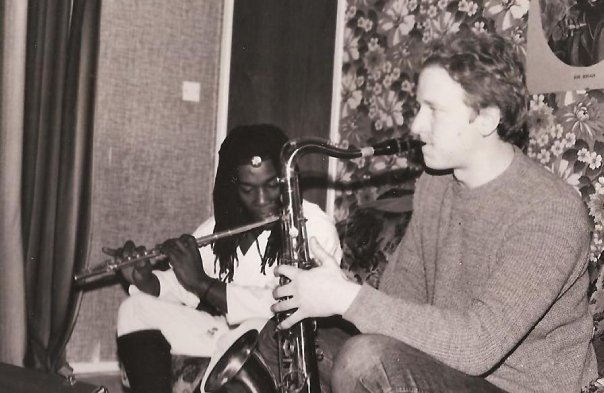 ABOVE,Jah Lover and Mark Downie,mid 80,s.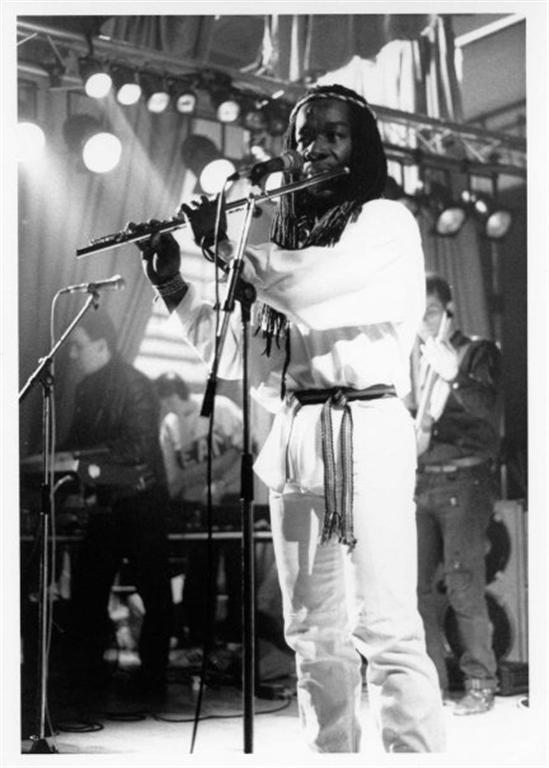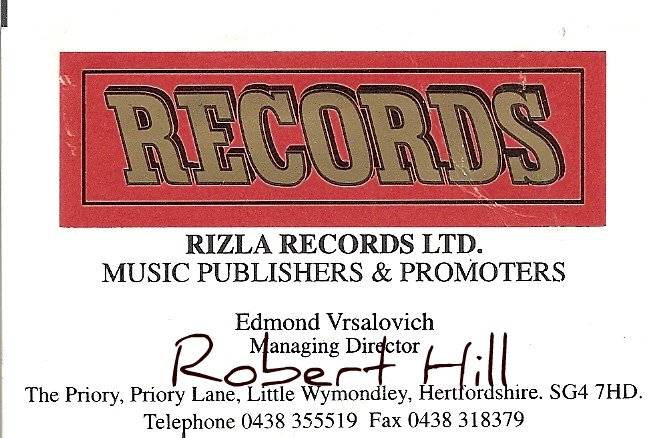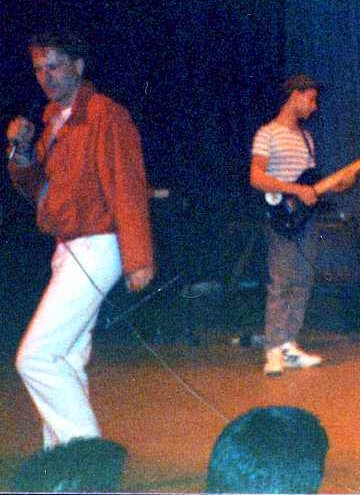 ABOVE. Jo at "The Angels Reply".1987. RED. GOLD AND GREEN.
king Rizla continued to play gigs with Mark throughout 87/88 andwere invited on to the Manazeek Sunshine Show on BBC Radio ,on two occassions and played gigs along side,"The Twinkle Brothers","Columbia","Dub Factory" and"The Day Massive". They were introduced to, via Mark, top ranking Jamaican celebraties, such as Lee Scratch Perry and Jah Lover. Mark had previously made an album with Lee Scratch,"Armegedan" and had become a firm friend, but by mid 88, Mark Downie decided to leave and the group and Mark went their seperate ways. This period of time spent with Mark had been one of continuios creative activity and a great experience, productive and memorable, including a fantatsic day filming in the Barton Hills Bedfordshire were the band made their first videos for songs previously recorded.
Mark leaving left King Rizla without a voice and although Dennis was the next natural choice,"as he could actually sing", he had never taken on the roll as front man for this band before besides on one or two occasions and it took a little time for him to step forward. Rob Hill took the job on for a while, whilst the group wrote some new songs and fronted for them at numeruos venues. The first being at The Drill Hall in down town Luton.1988. The band,now well rehearsed, without Mark had a harder,more rocky sound to their tunes but still lacked that vital,vocal component and virtually played a dub set late that evening to a packed out hall. AronB rejoined the group,to help out with song writting and played on the keyboards at a one off gig at,Stevenage Liesure Centre as, entertainment during a fashion show,1988 but the band were looking for a new direction.
Below. King Rizla. Jonnie Dread and Russ Cummins. 1987.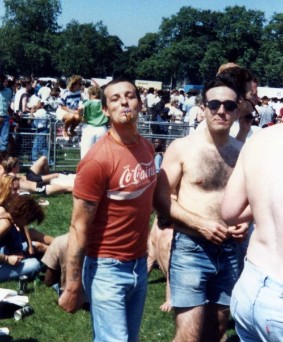 Below.King Rizla, Tim Fisher Jo Hill,Mick Simmonds,Rob Hill and Dennis Daly.The Drill Hall in Luton. FIRST GIG WITHOUT MARK. 1988.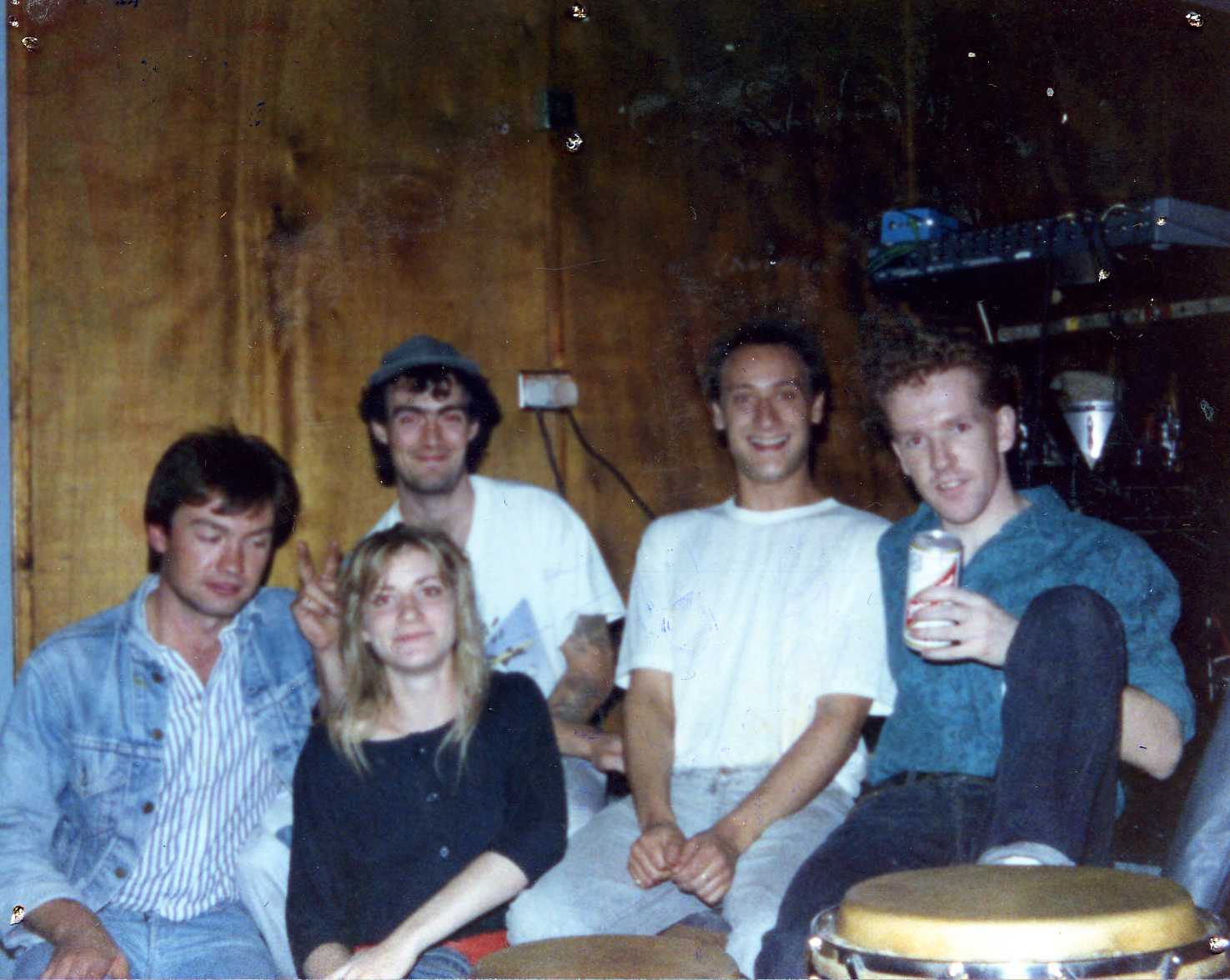 BELOW. Rob Hill and Jo Hill, "tHe DrIll hAll",dressing room.1988.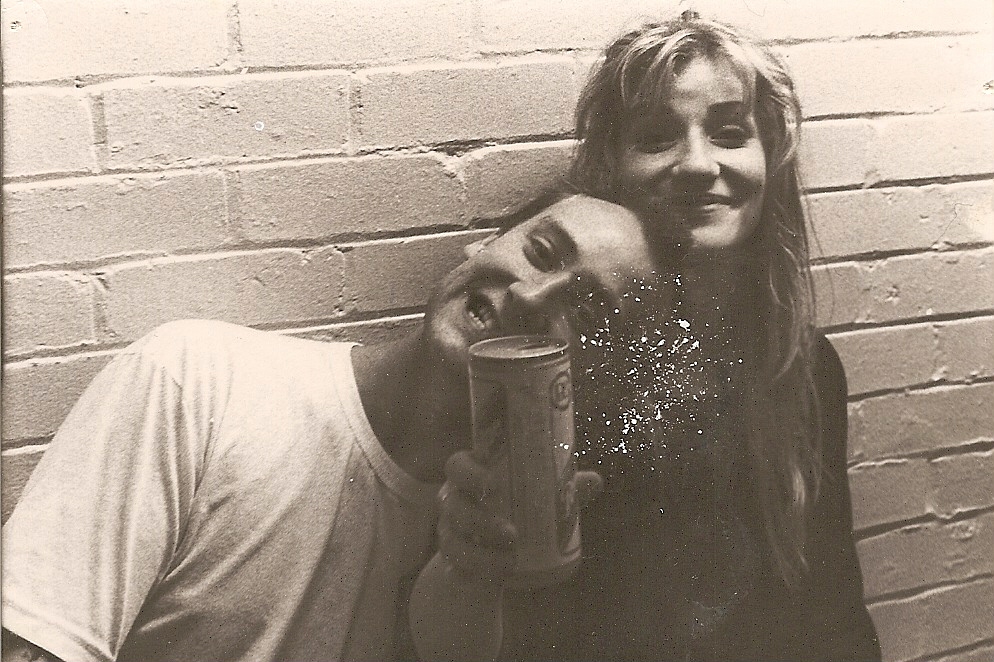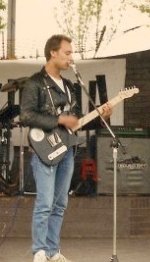 ABOVE. Fairlands Lakes, Stevenage Herts.1988. Jo Hill, Mick Simmonds, Robert Hill and Tim Fisher.. "ard work this singing lark ".
BELOW. Rob Hill,"The Lakes",88. "The bar is fucking miles away".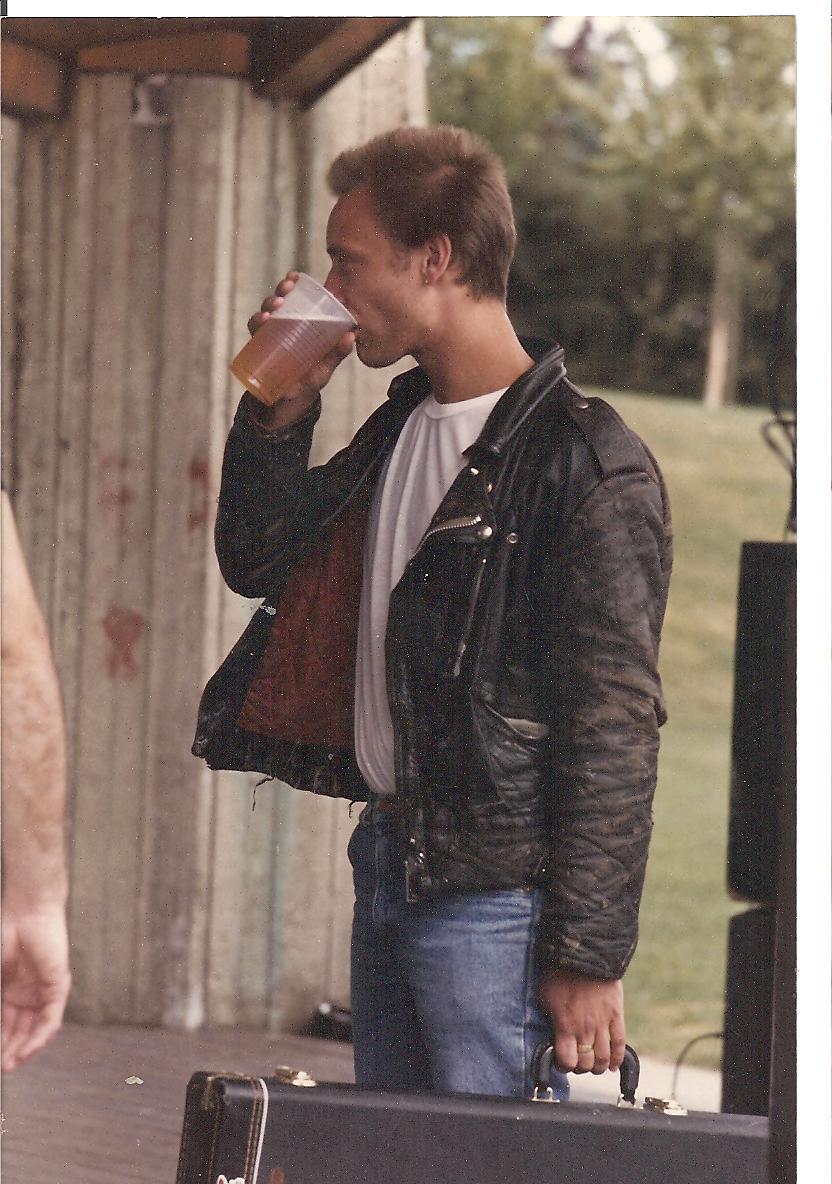 BELOW. "tHE lAKE",88.."ROBBIE PLAYS".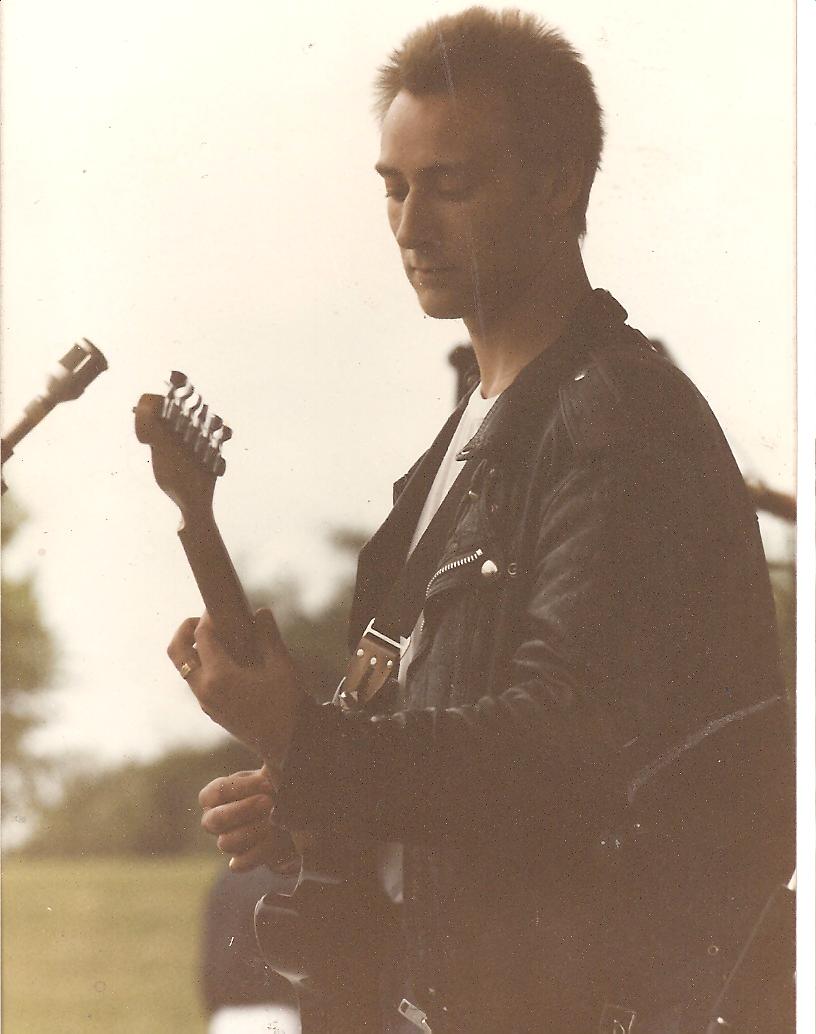 THOSE YORKSHIRE LANDS ARE CALLING,
TO SOOTHE OUR SPIRITUAL SOUL,
SO IT,S OFF WE PACK,
TO THE GREAT OUT BACK,
OH BILLY REILLY OH.
SO IT,S OFF TO ROBIN HOODS BAY THEN,
A SMUGGLERS LAND THEN TWAS,
WITH JAGGED PEAKS AND A STONEY BEACH
AND SHIP WRECKS ON THE ROCKS.
LOOK GOD IT,S 17th CENTURY,
NO PRESS GAND ON THE STREET,
THE SPARKLIN LIGHTS,
STILL SHINE AT NIGHT,
OH BILLY REILLY OH.
NOW THW WINE WILL FLOW A PLENTY,
BRANDY CIGAR AND CLOTH AND I,LL FIND IT HARD,
TO SING ALONG WITH,
OH BILLY REILLY OH.
BUT BILLY,S COURSE WOULD ALTER,
AS THOUGHS SHIPS HE,D BEACH AFORE,
IF THERES A TOURCH TO DAMP,
HE,LL BE COMING BACK,
OH BILLY REILLY OH.
WHO,E THINK WE,DE STILL REMEMBER,
FOR ALL THE THINGS HE STOLE
BUT STILL LIVES ON THE SPRIT OF,
OH BILLY REILLY OH..
"THE BALLAD OF BILLY REILLY"..1989. [ROBERT HILL]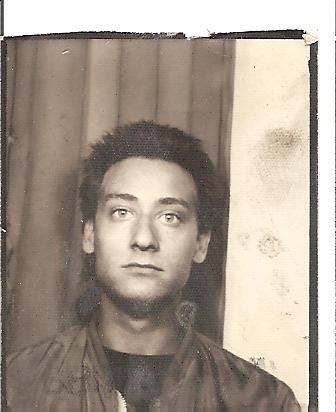 FOR ONCE IN MY LIFE,
I TRUSTED IN MY BROTHERS,
WE TOOK TIME OFF,
DOING JUSTICE TO OUR MOTHERS,
BUT IVE NEVER SEEN SUCH A,
WILD AND WINDY PLACE,
OR IS IT JUST TOO,
FIND MY PLACE.
AND OH SHIEHALLION,
NEVER LET ME GO
AND OH SHIEHALLION,
I WANT YOU TO KNOW,
HOW THE WIND BLOWS COLD.
THERE IS NO EASY WAY,
TO HIDE THE PAIN IN A TIRED FACE,
THERE IS NO SUBSTITUTE FOR HONOUR,
IN SUCH A WILD ANS WILLFUL PLACE,
BUT IV,E NEVER BEEN ON SUCH A HIGH SHIEHALLION,
THE WIND THE SNOW AND THE SKY.
AS THE YEARS SIT ON MY SHOULDERS,
FROM STONES, THE TURN TO BOULDERS,
IN THE DAZE IM FAR AWAY
BUT I REMEMBER THE WORDS SHE SAID,
NAD OH SHIEHALLION
NEVER LET ME GO
AND OH SHIEHALLION,
I WANT YOU TO KNOW,
HOW THE WIND BLOWS COLD..
"SHIEHALLION"..ARON.B. 1990.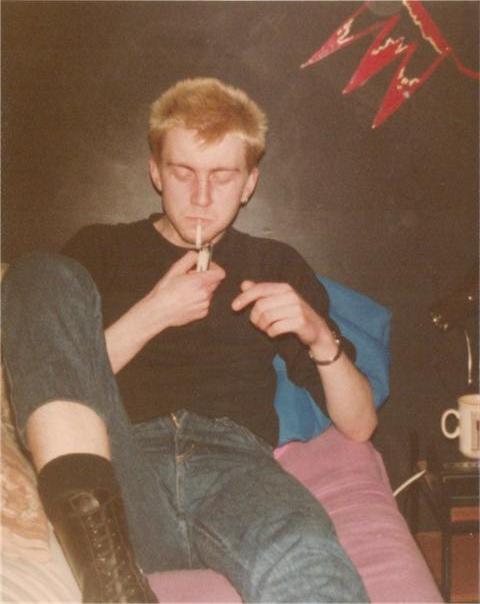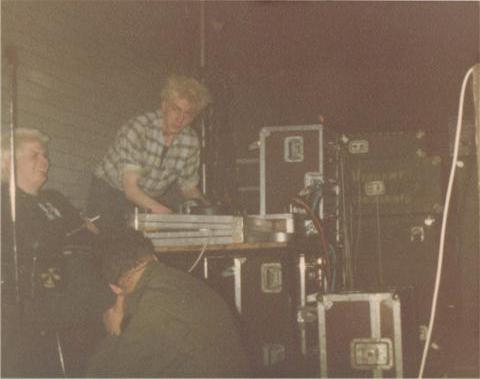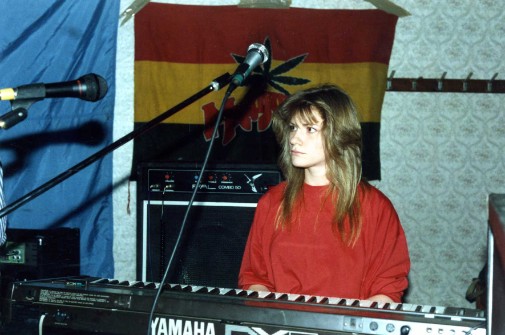 ABOVE..FAT NIGEL AND ARON LAKE. BOWES EARLY 80,S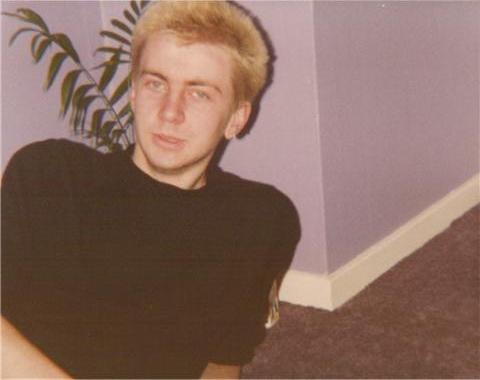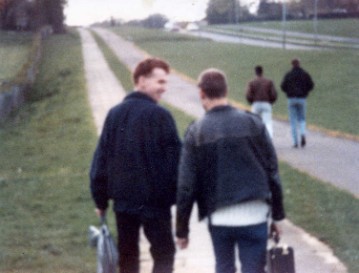 ABOVE. ROB, DEN CLIVE AND ARON, ON THE WAY TO A GIG..WHAT NO LIMO. 88.
ABOVE THAT. Aron lake..KING RIZLA DRUMMER..
below,zebbi,Brother Abraham and the ,"Mighty Kingfisher". Bowes.1988.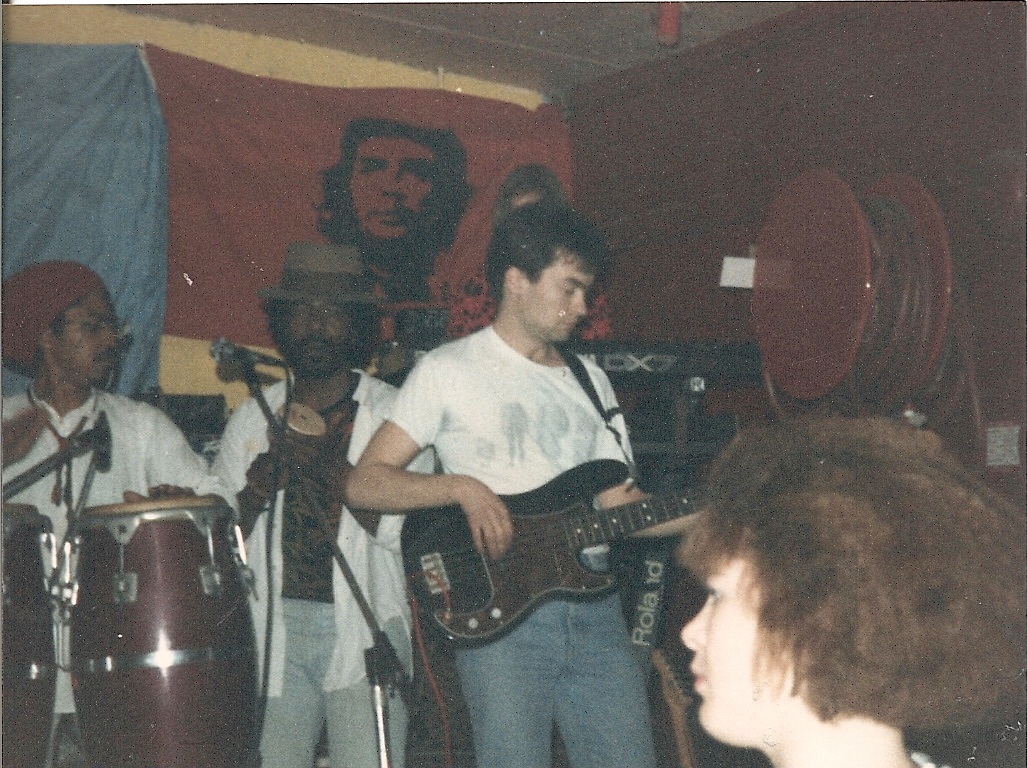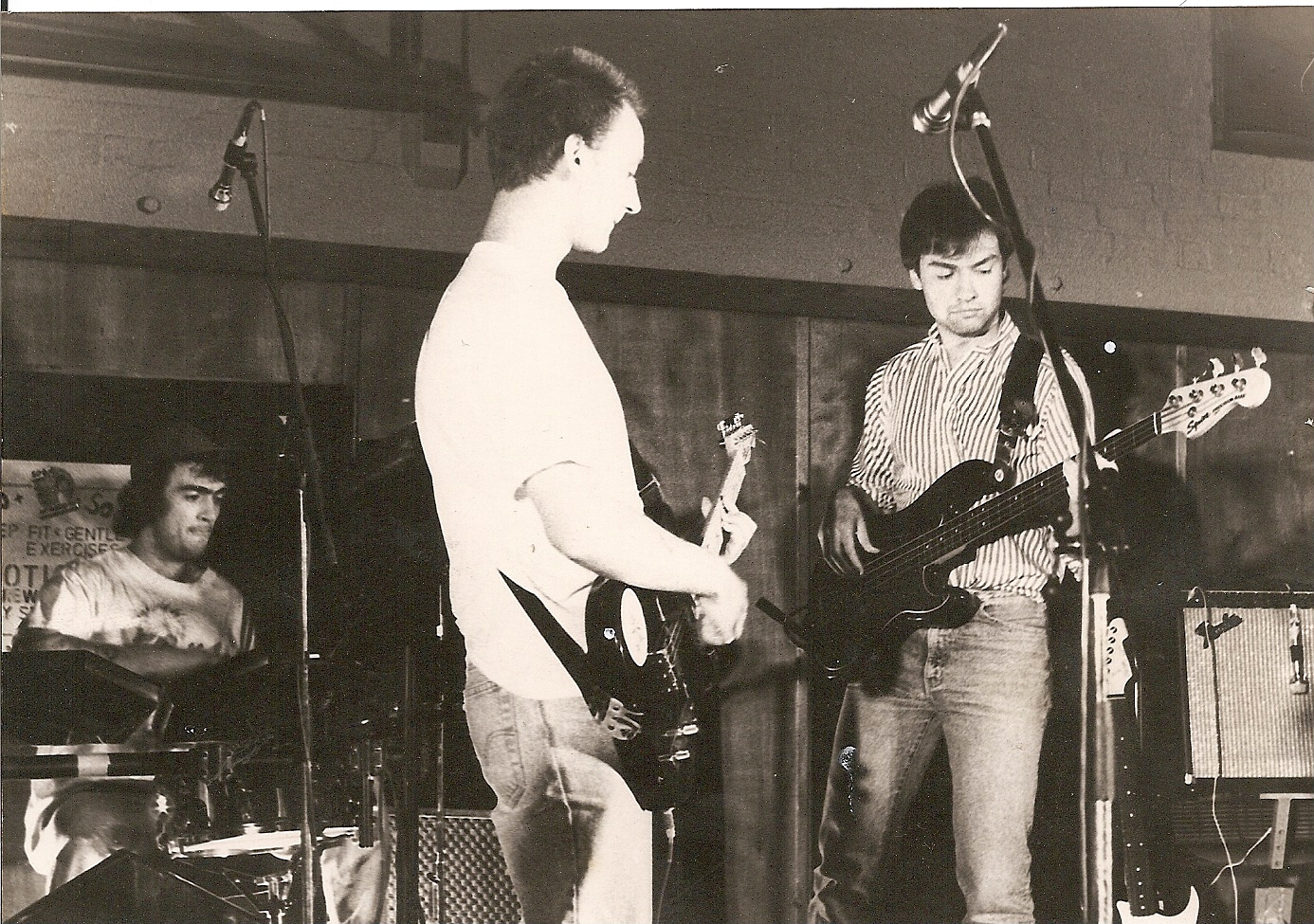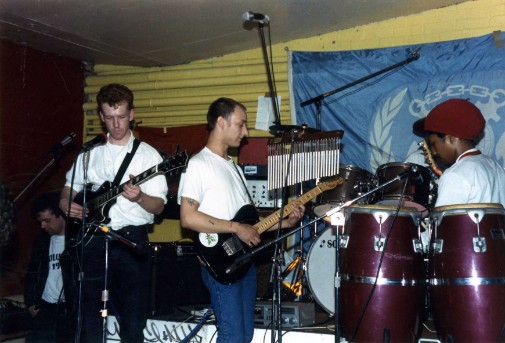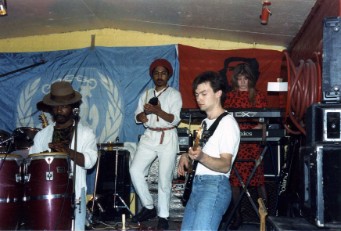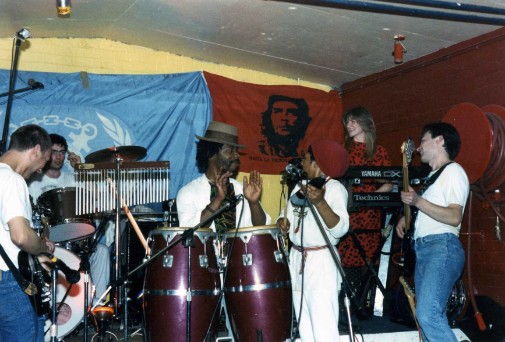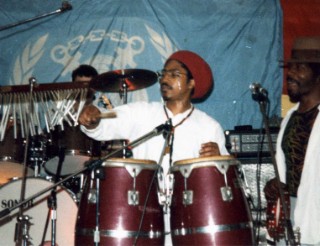 "LIE STEAL AND CHEAT, IT,S THE BRITISH WAY"
BELOW..RED LION SHEPHAL 1990.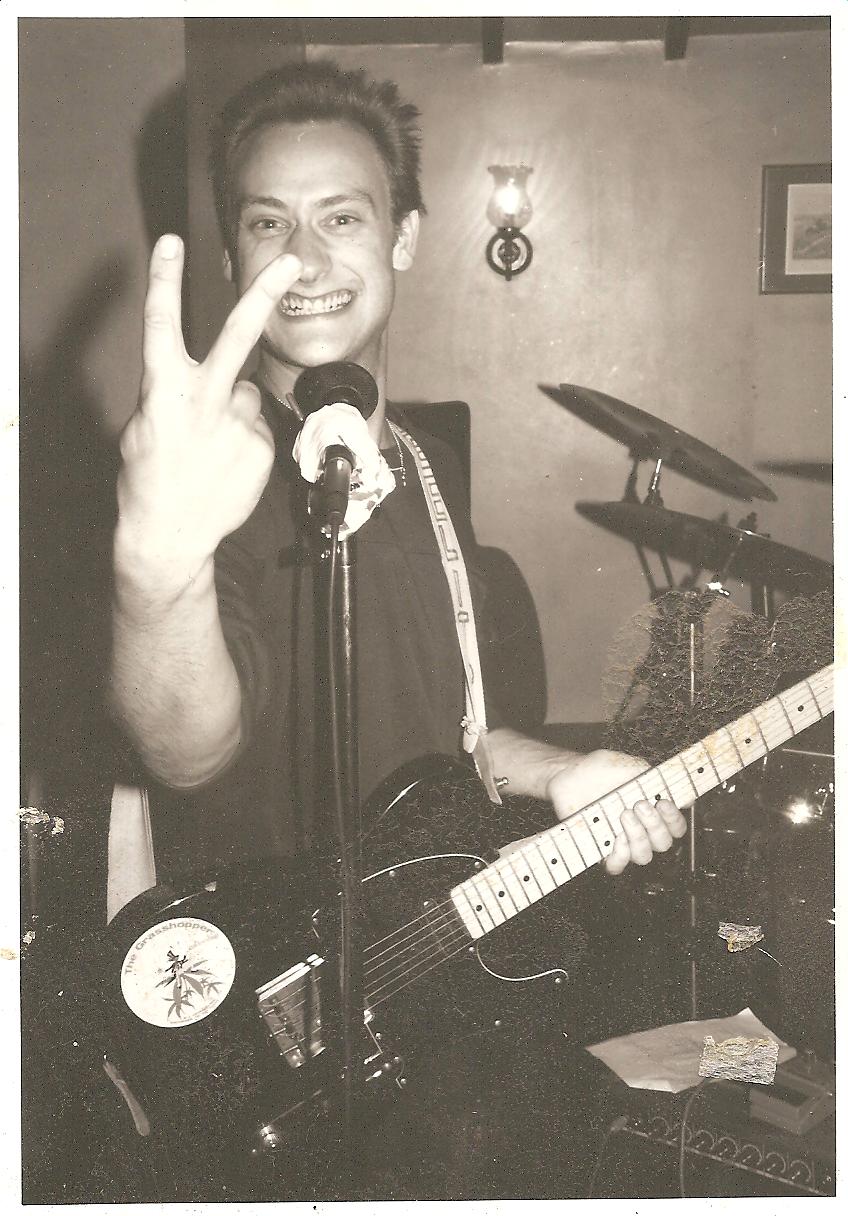 new line up. Fisher,DALY,sEWEL,Hill and cUMiNs,DiMmOck,1990. "Club With No Name" Bowes,Stevenage,Venue promoted by "Nuzz Prowling Wolf".

Below.Chron Gen. John Thurlow.Glyn Barber,John Johnstonand Peter Dimmock,1980.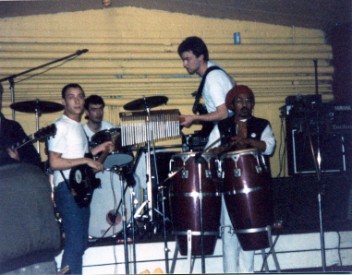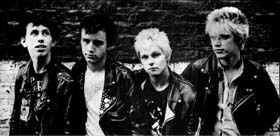 Below.Chronic Generations first E.P."pUPPETS oF wAR".1980.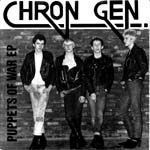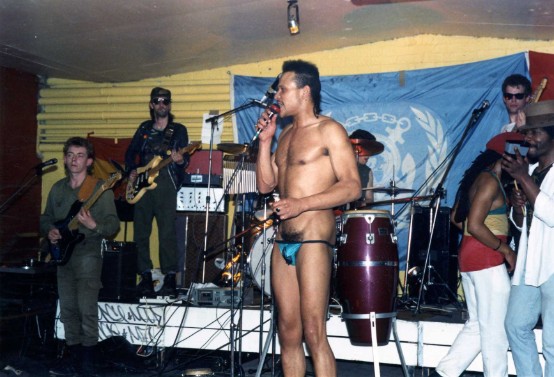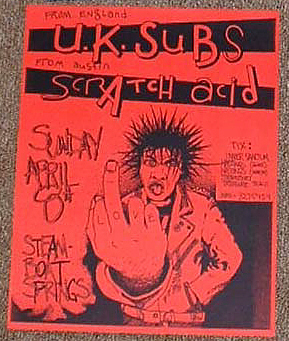 Below.Geoff Sewel.King Rizla,1990.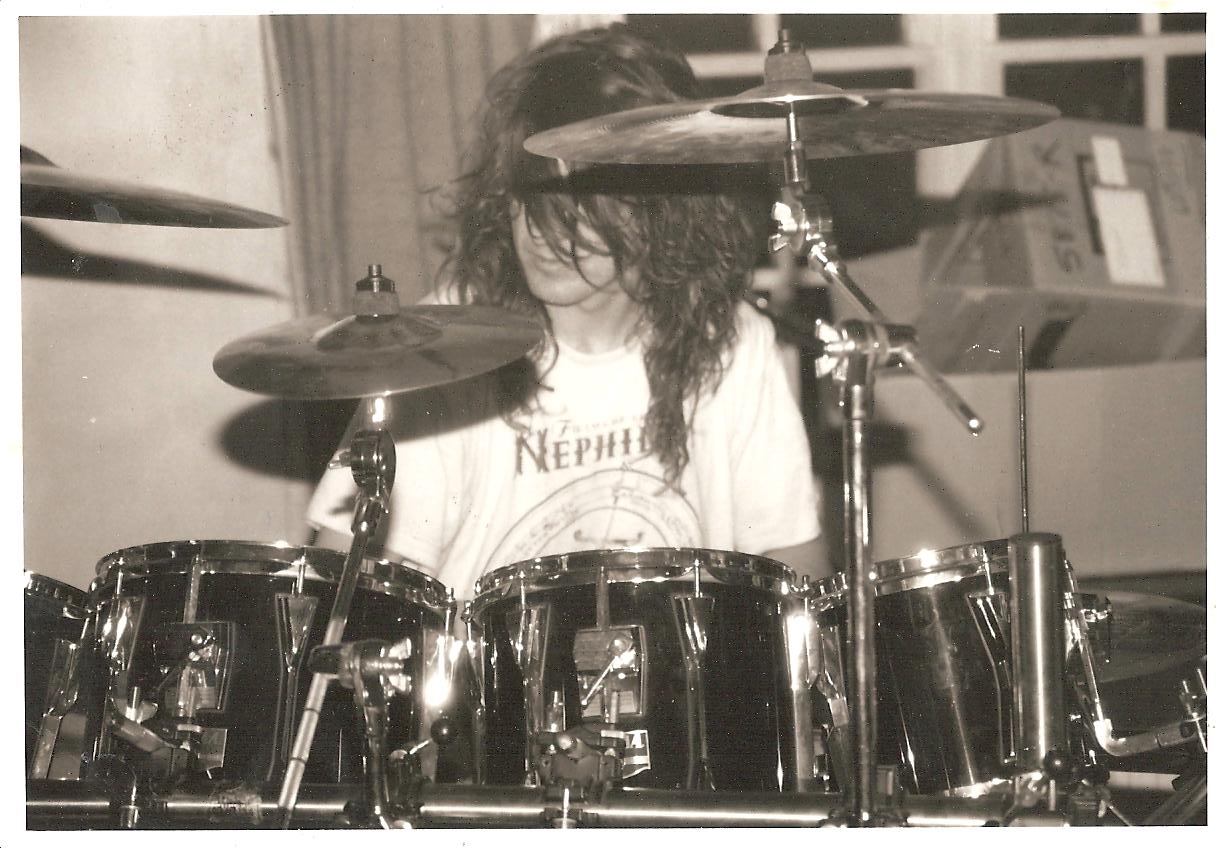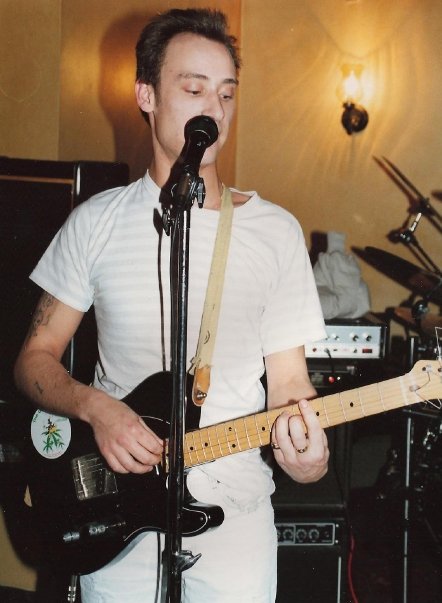 The new KIngRIZLA line up started work on a new album and started to record again in St Albans, Dennis was living there at the time and took the band to a studio where he had been recording his solo work. The songs were recorded at several recording sessions in Hitchin and St Albans. The new songs at these sessions concisted of, The Dreamer, [Hill], Deceiver,[Fisher/Hill], Billy Reilly,[Hill] ,Shiehallion, [Lake], Goodbye The Dawn,[Fisher], with added lyrics that Tim had written to one of our earliest songs, Claciag, [Downie], Hell orHighwater, [Daly], Skin Up!/The Answer, [Downie/king rizla/Daly]. She,s Gone, [Lake/Hill], various instrumentals and versions of these songs and one or two ideas..In hind sight a very produtive recording session
"lets sit all night
and wait for the dawn
till yesterdays over
and tomorrow has began". TIm fISHeR,KINGRIZLA. Goodbye the dawn.
These songs were amongst the first songs the band had written since Mark had left and the early recordings of them never quite seemed to gel . It was about this time that Tony Pettite[Feilds of the Nephilm bass player] was recruited ,in order to help with production and put some kind of order to the songs that were now being written.
Below.Fields of the Nephilim.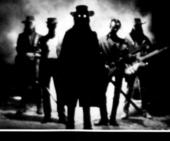 Tony Pettite became a great addition and began to produce King Rizla,s album ,"Time for a New Day". the recording began over at Tonys house, out in the country side. He had on loan from beggers banquet, [his record company] some top notch recording equipment and the band set to work. recording/////??This was a tough recording session for me, i was unrehearsed and felt slightly out of touch with what was going on with the new songs, we all agreed and so i left.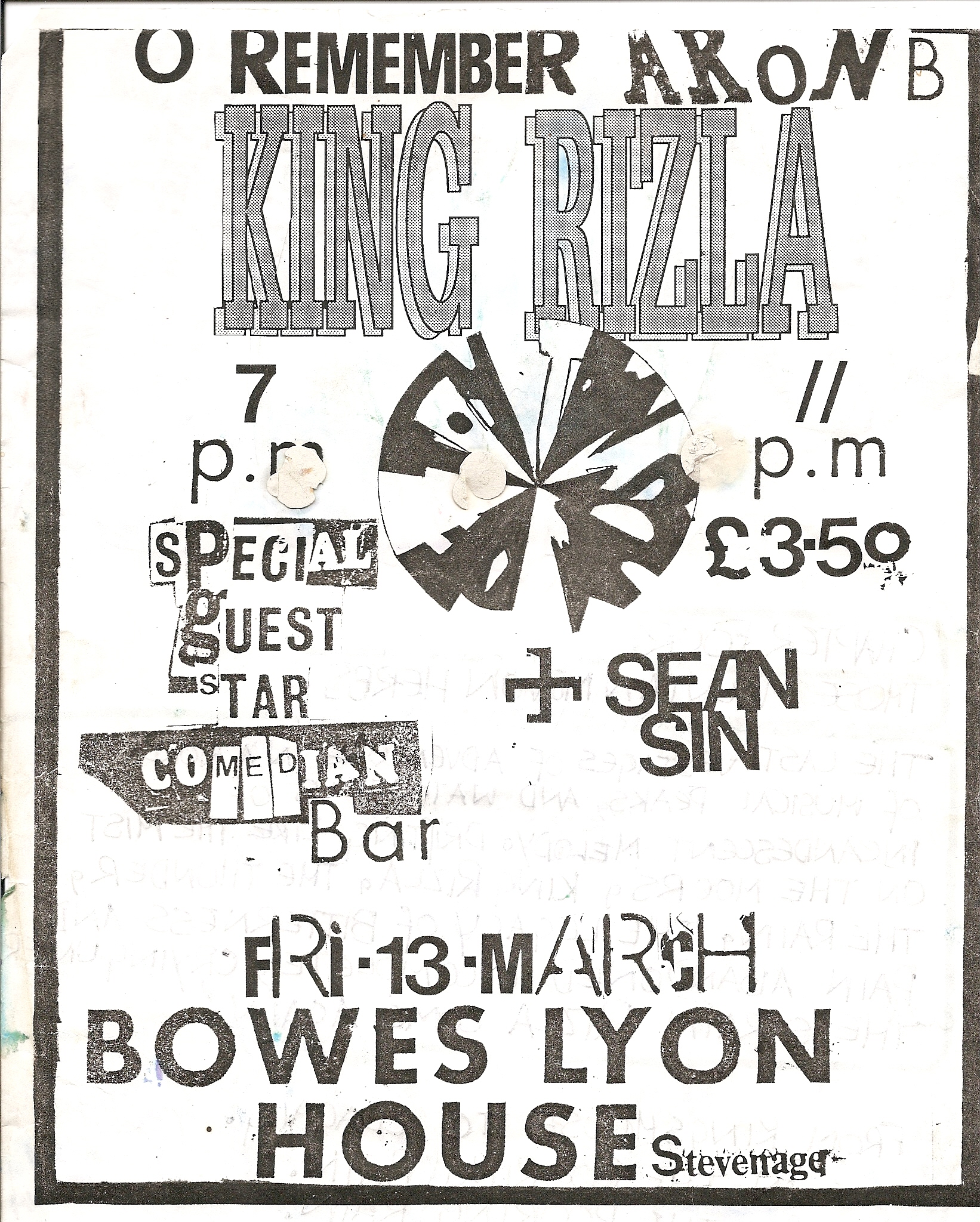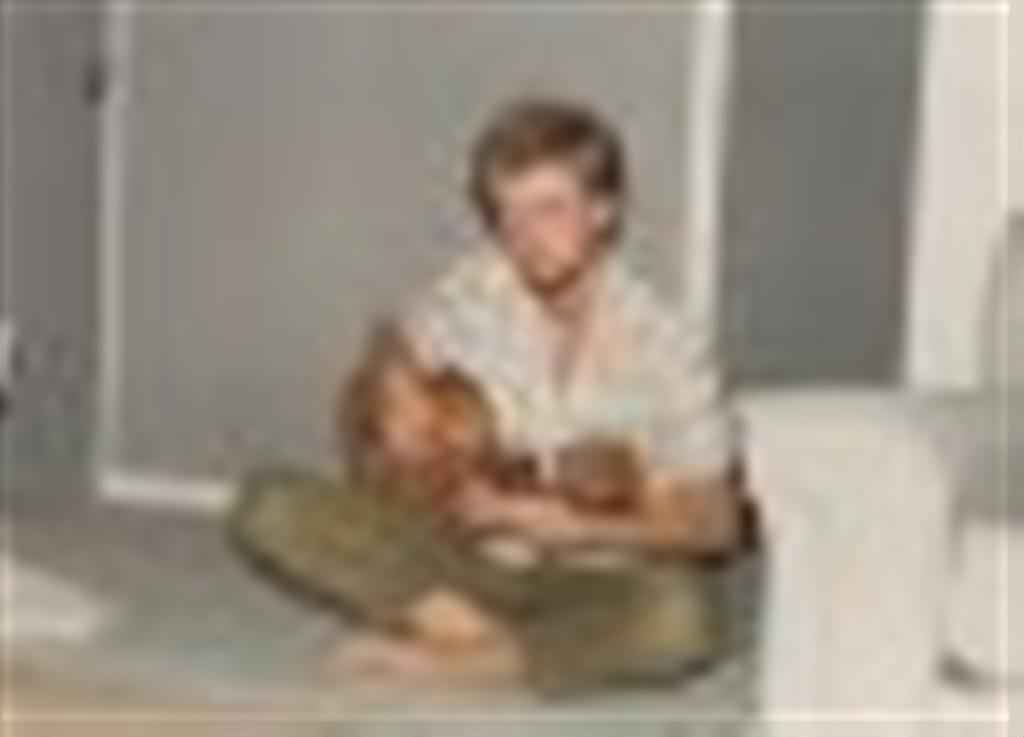 Above flyer from AronB GIG at Bowes LYONs.
On the bill that night, comedian ,Simon Herd, sean finn, Scum of Toytown and as a tribute to Aron all members of king rizla, past and present were to reform and play chosen songs throughout the bands history and form them into one set. It was a packed house that night with record attendence for this venue and king rizla played one of their best ever shows and gave us classic versions of "The Dreamer, long Walk and She,s Gone with a mega exstended version OF "sKIN uP",which ended up in a major stage invasion with the audience participating in the chorus. "Class act"!.
Below. Set List.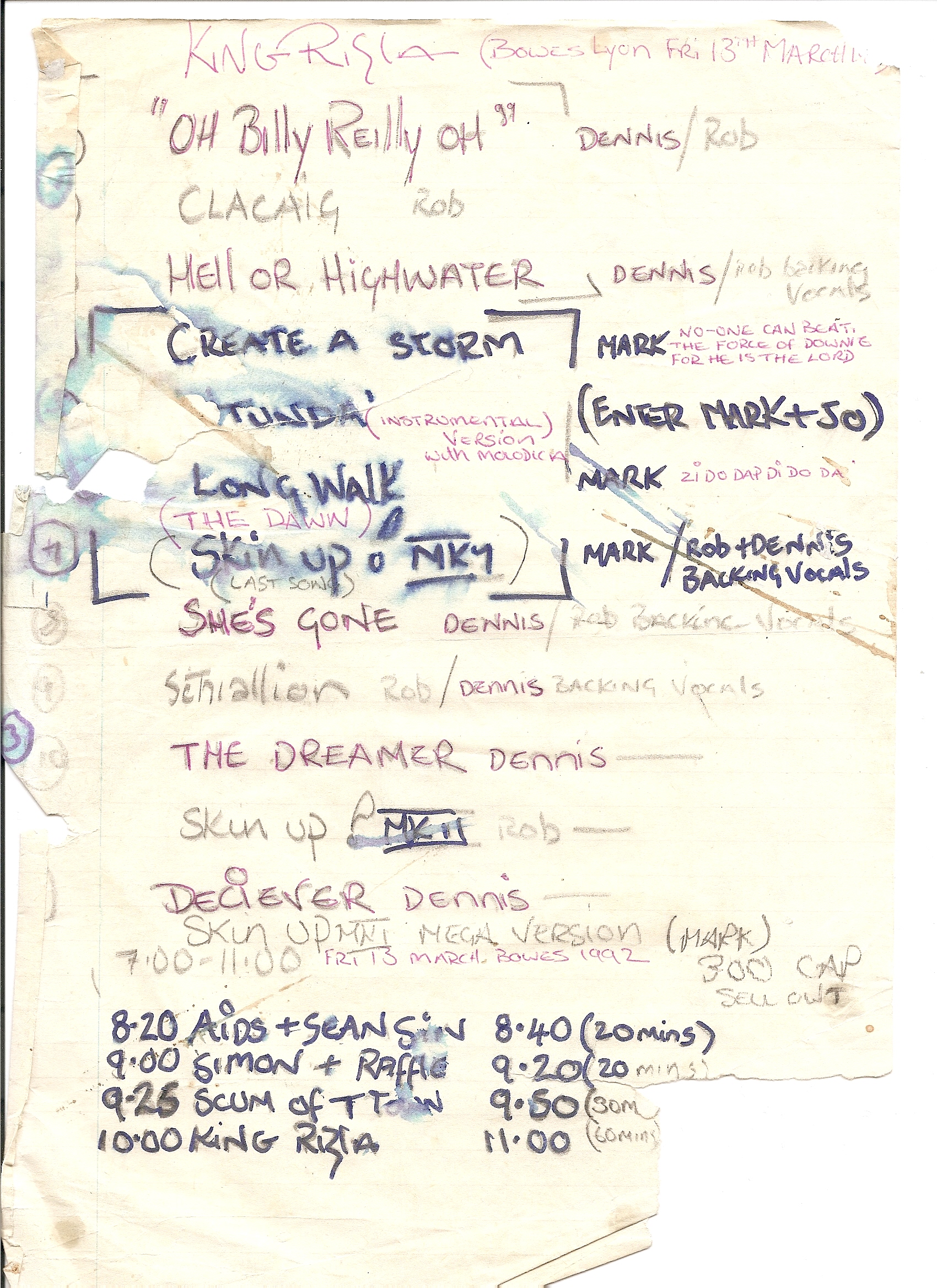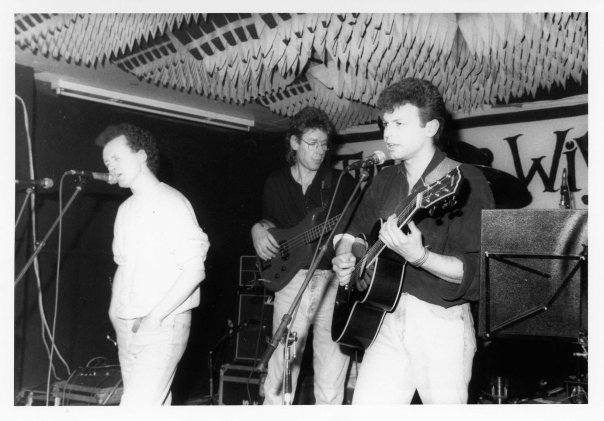 ABOVE. sEAN fINN. bOWES.1992...sEAN fINN. AiD AND A YOUNG ELVIS!
Rizla played gigs throughout this year and continued recording work on "Time For A New Day",under the watchful eye of Tony Pettite, at his house near Baldock.1992/3 but the band were about to loose another member of the group and Rob Hill was forced to leave,due to ill health. His last gig was at Ickleford Village Hall,06/02/93.
Below.flyer from Norton Shcool,Letchworth,1993.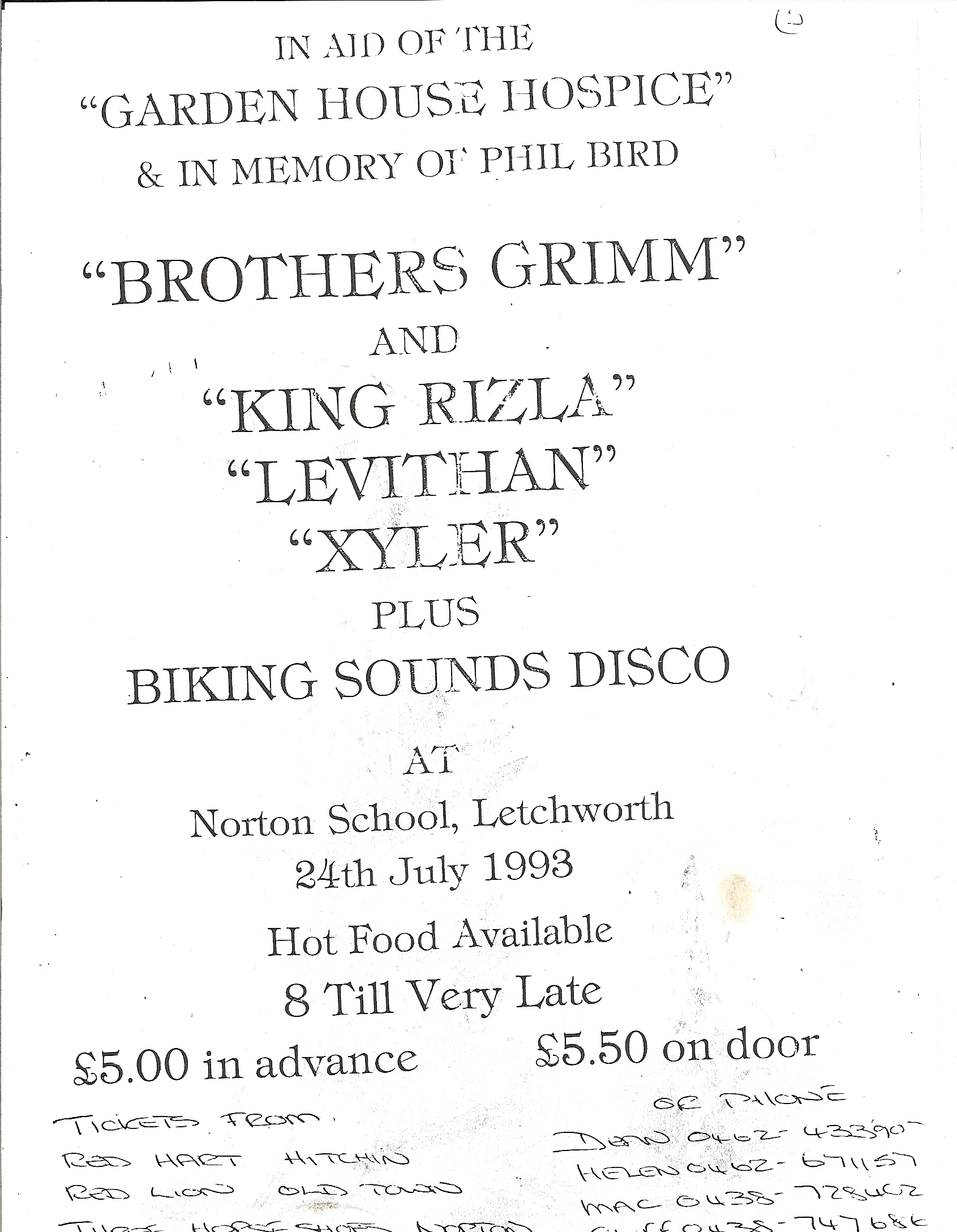 Below.Norton School Letchworth.Geoff Sewel and two bouncers."no one getting near the band tonight"!.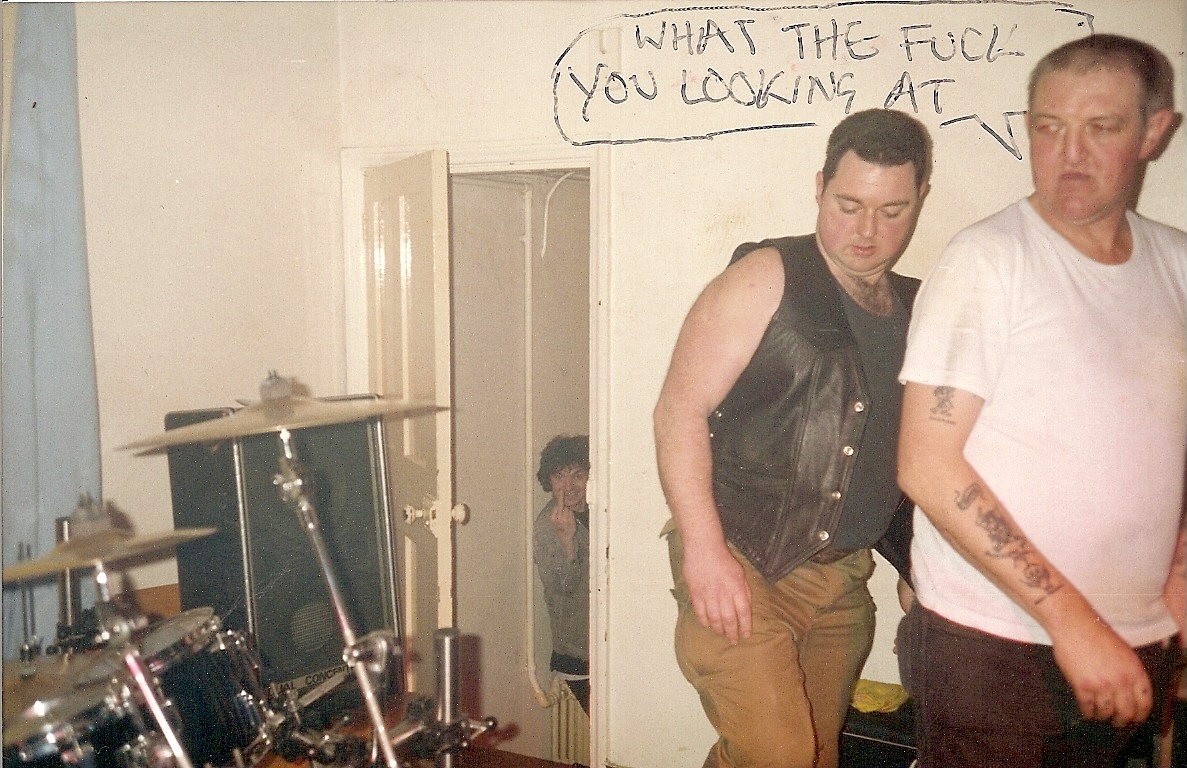 Russ and Jo, Ickleford,93.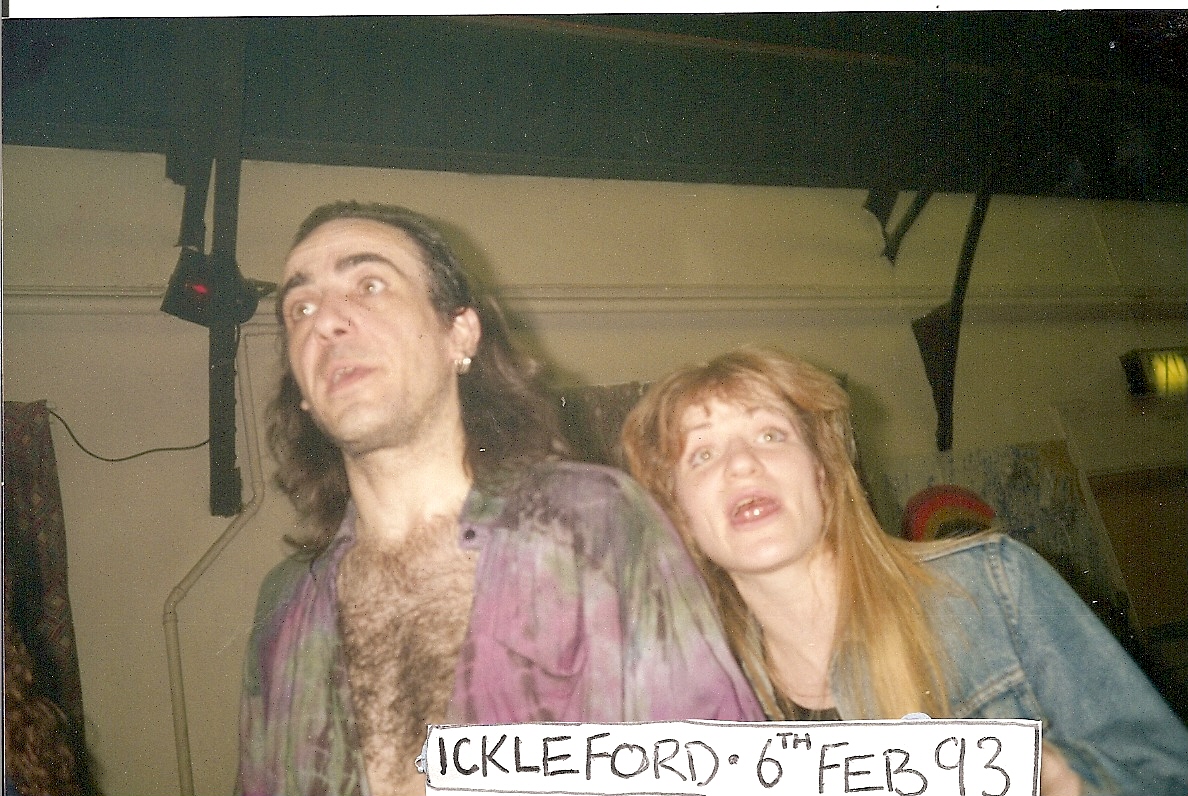 BELOW,"Den sings",Ickleford,93.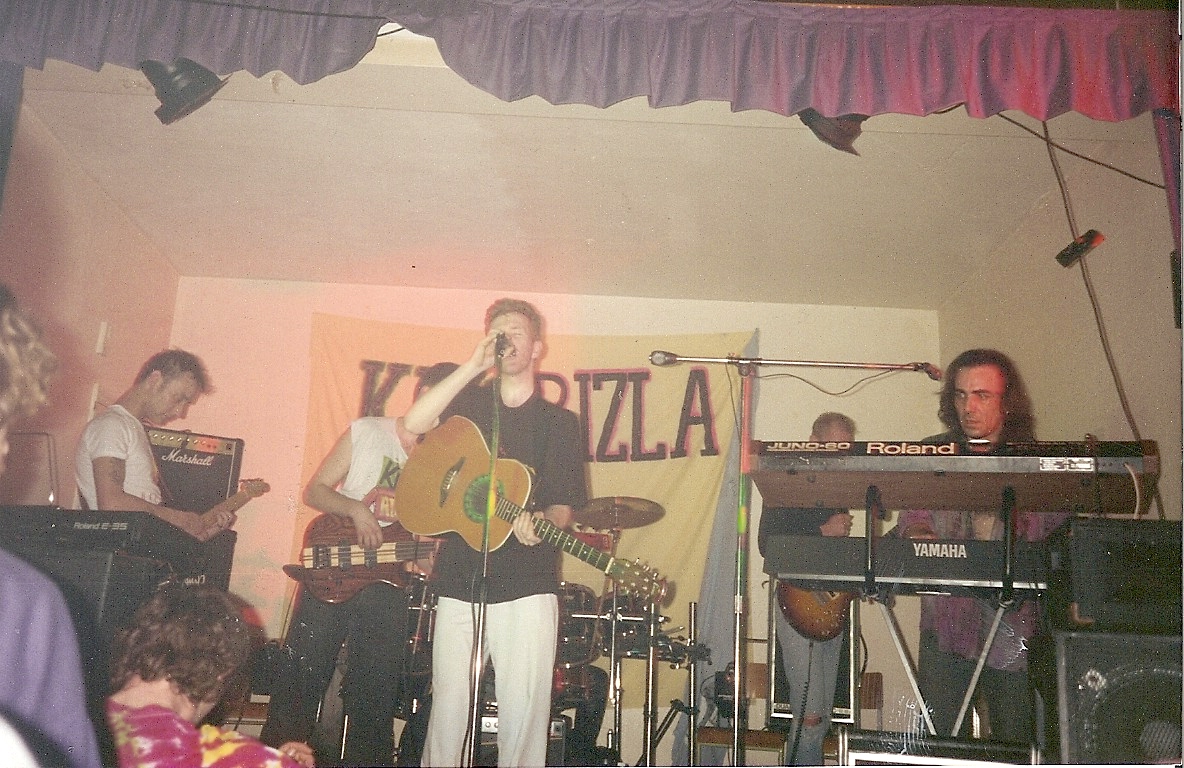 "If theres a tourch to damp,he,ll be coming back,oh Robbie Rizla oh"!.
Finishiing the group on a "high note", to a packed out Ickleford Village Hall, which is surprising, as it was in the middle of fucking no-where, Robert Hill left and went on his merry way.
Robert Hill leaves the band.1993.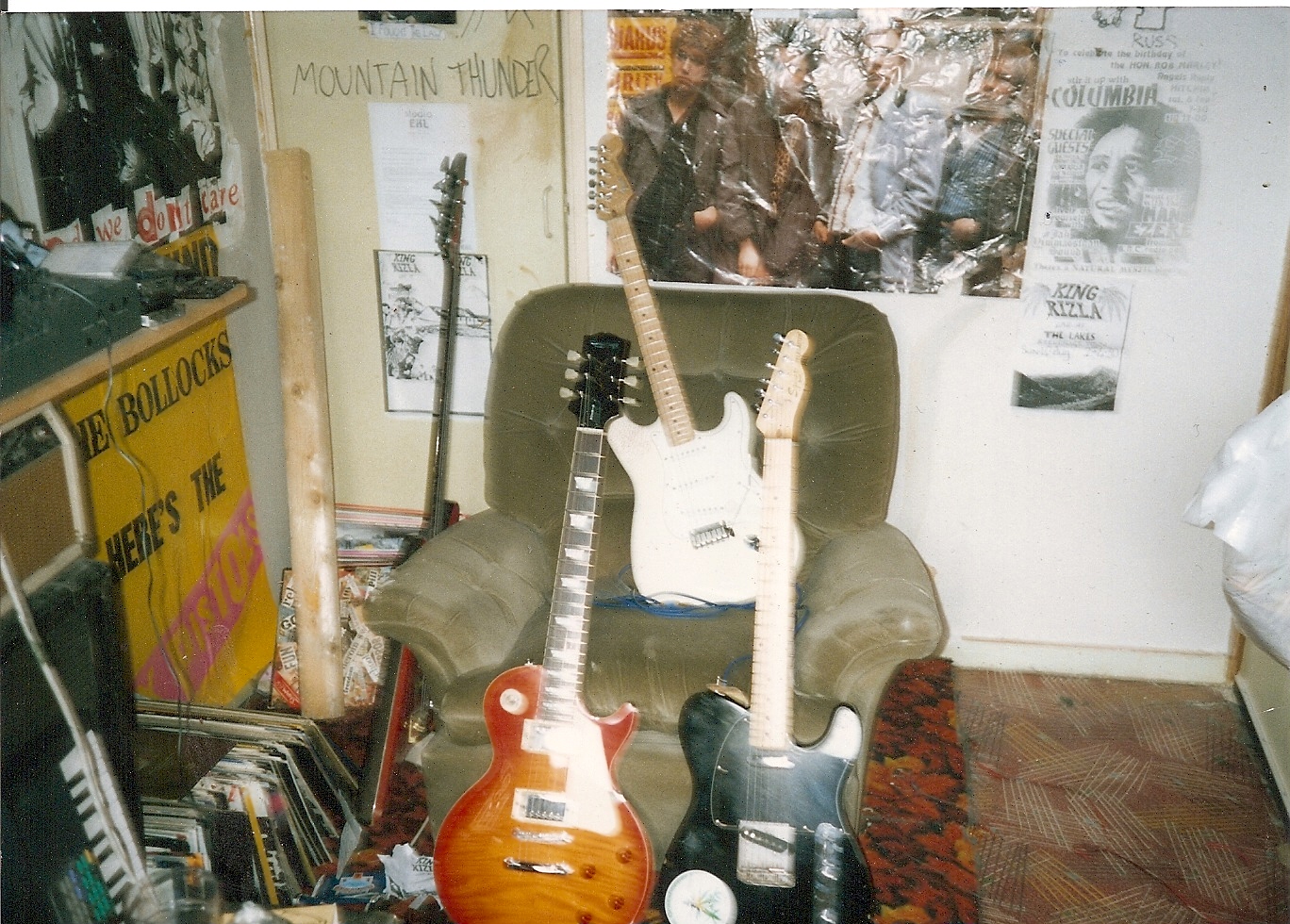 INSIDE COVER.. TIME FOR A NEW DAY.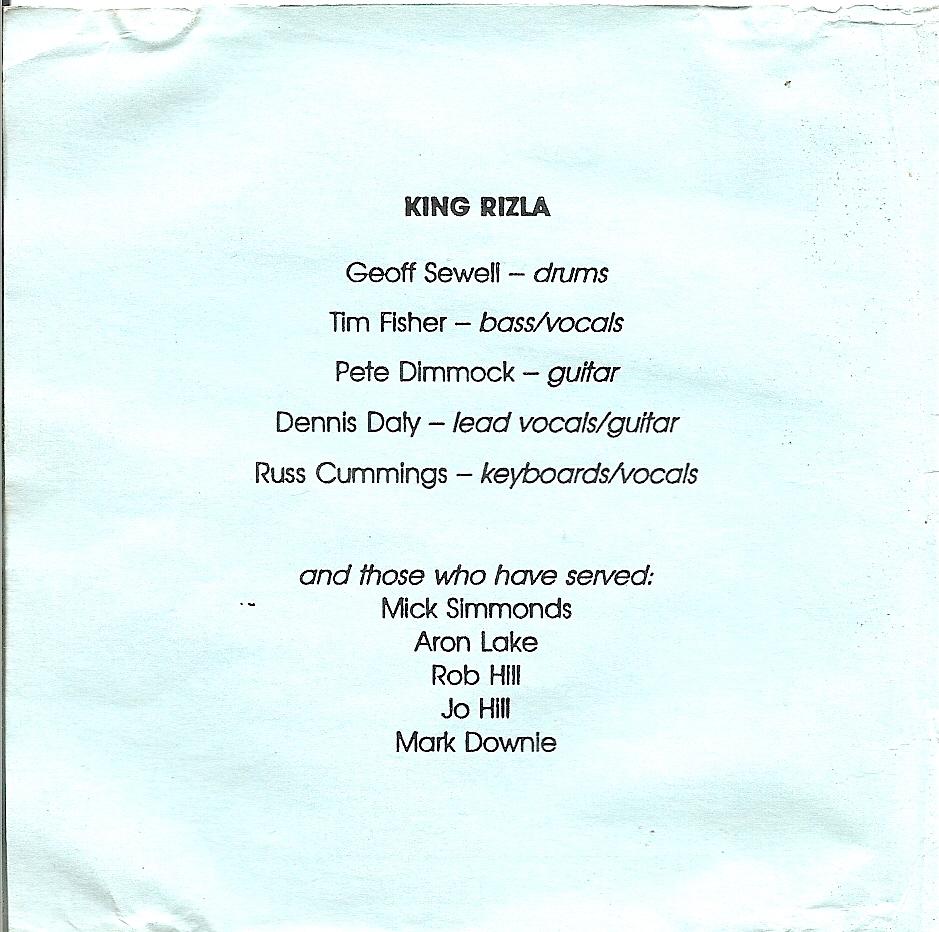 Robert Hill leaving the band gave the existing group a chance to once again experiment in their music but it wouldn,t be long before, pETER dimmOCk aNd GeoFF sEWEL, guitarist and drummer were to also leave, with their last gig being at the "Plinston Hall" in Letchworth, 14/08/1995. Now this was not just a change in personel, this was a band under great pressure finally imploding. This kind of upset in the balance of this group was now something that King Rizla had grown acustomed to and as relentless as ever King Rizla from the ashes "rise again". Leaving Tim Fisher and Dennis Daly the only original remaining members and the molodic keyboard support from Russ Cummings a new drummer was brought in..[???] and the female vocal addition of George Fisher came to form a new and reformed line up. Den Daly. Vocals/guitar.Tim Fisher.Bass/vocal. George Fisher. Vocals. Russ Cummins. Keyboards and ?drums. This period in the intrecate history of the group in terms of musical success and is probably the closest they came to ever achieving something musically in terms of recognition, supporting bands such as,"Bad Mannors" and,"The Selector" were amongst their, by now, "long term musical, C.V.
King Rizla.

Dougie. Bad Mannors. 1995.

King Rizla record an E.P." Hole In My Soul". 1996.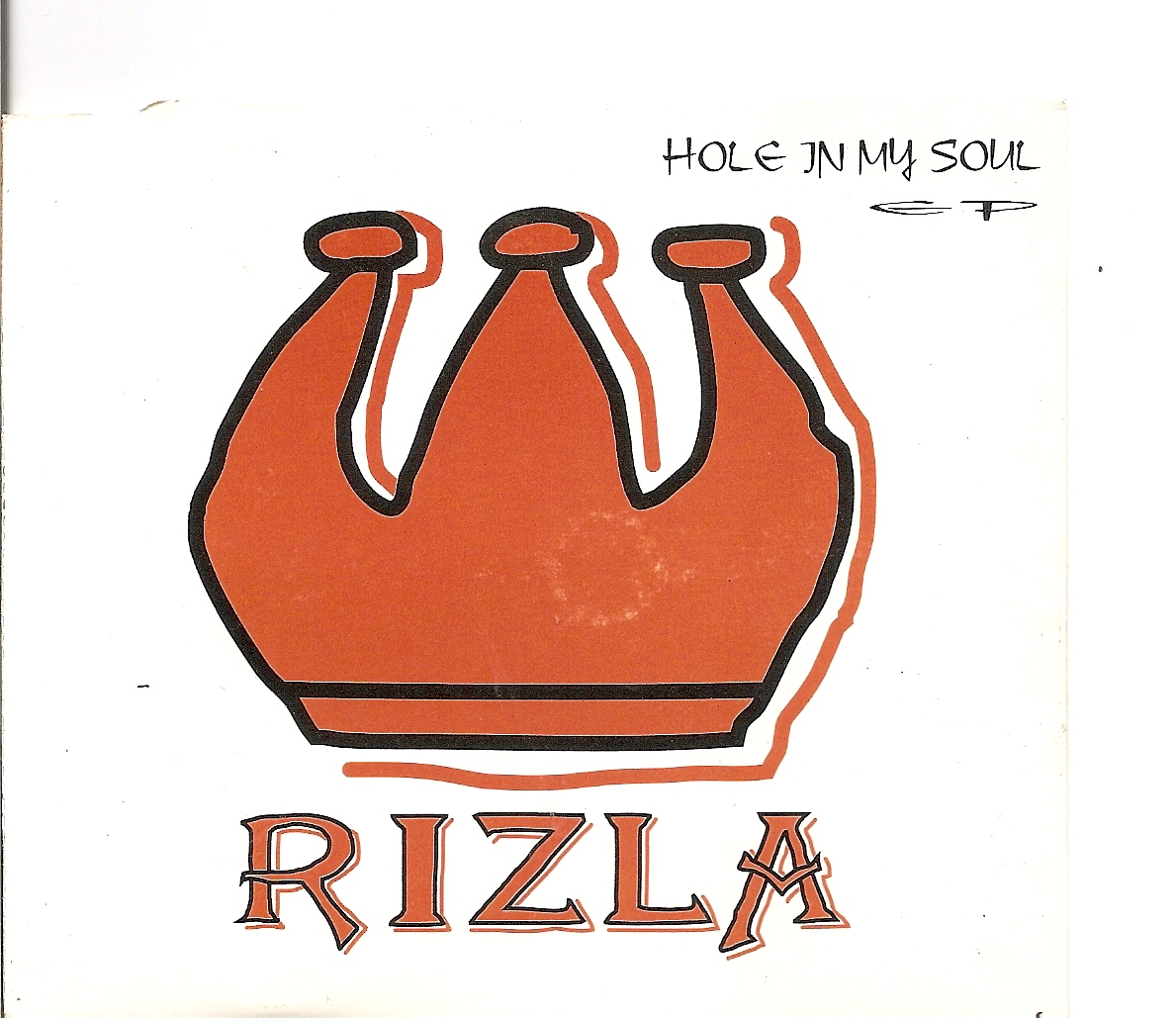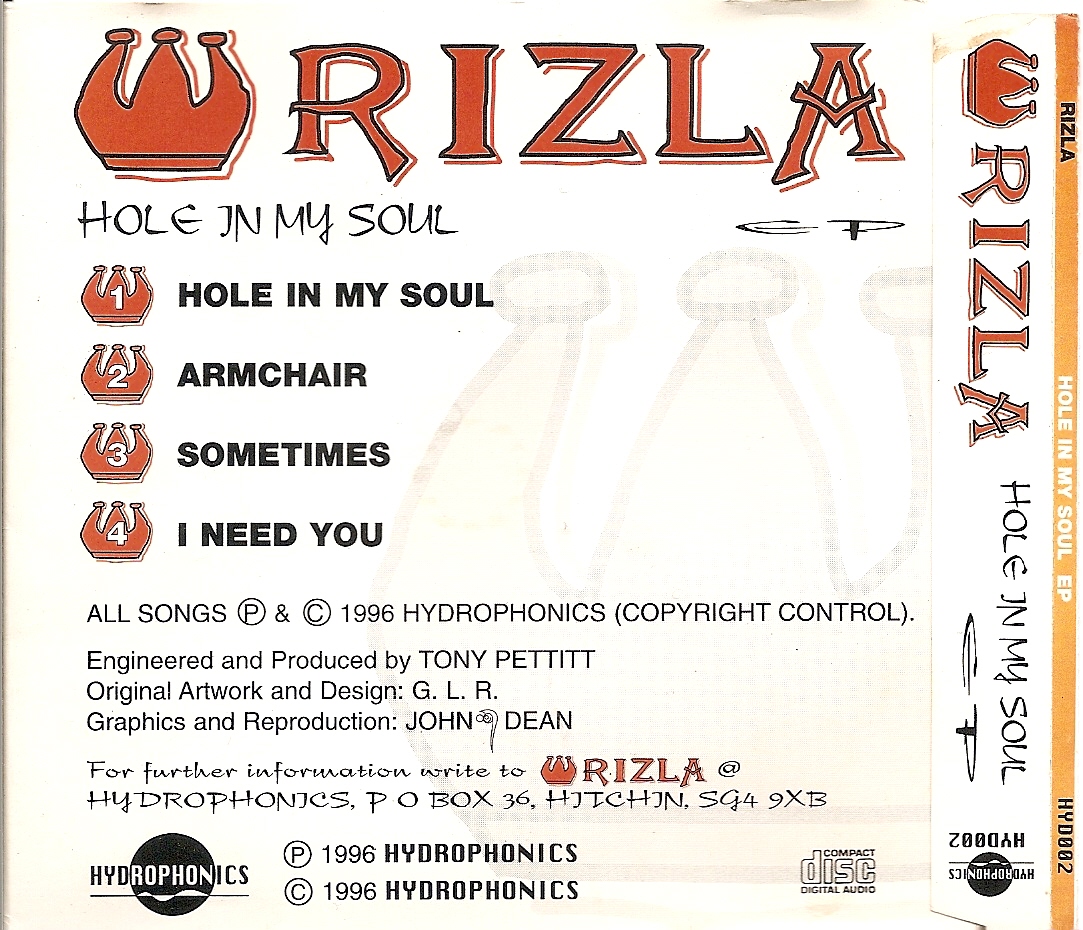 BELOW. DEN AND ROB AT BOWES. 1988.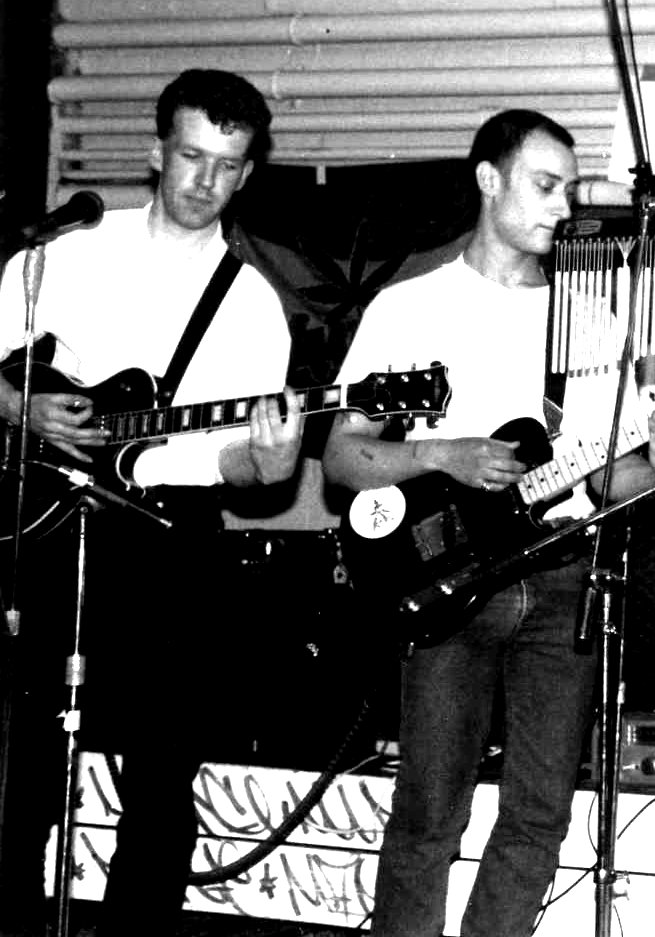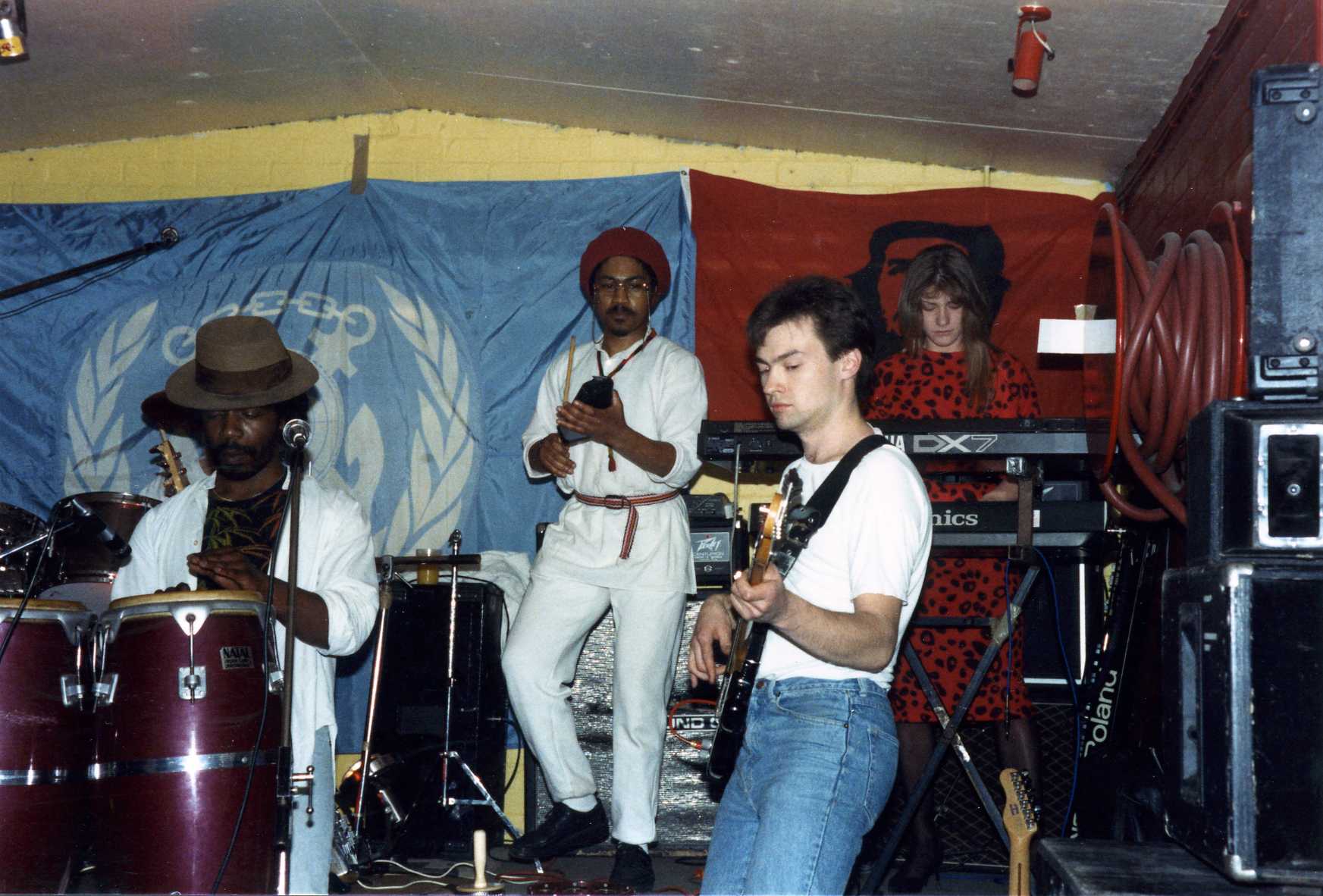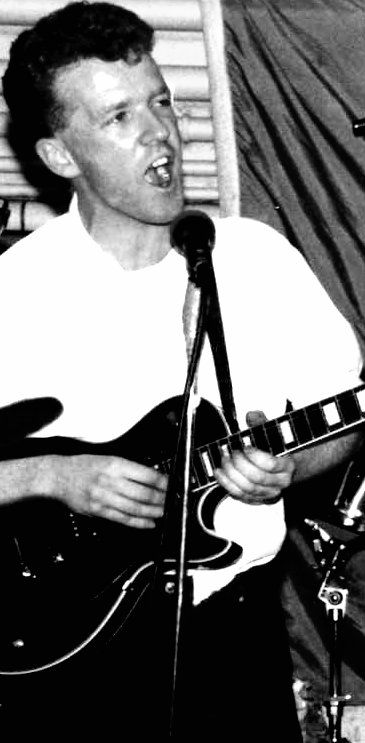 DENNIS, TIM AND MARK..THE ANGELS REPLY..1987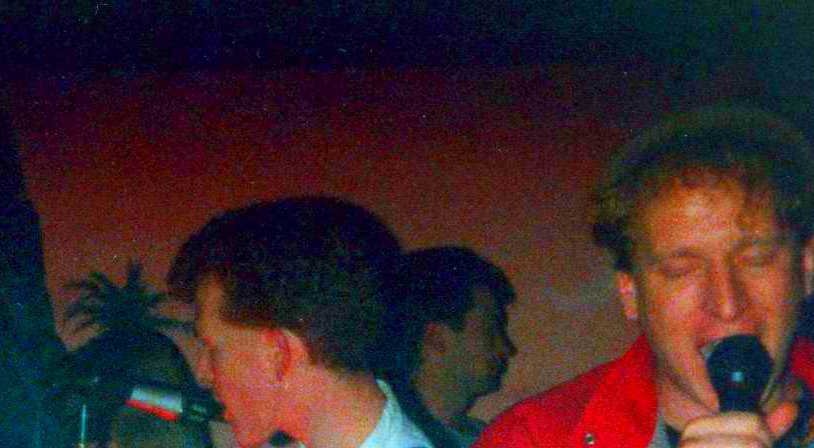 BELOW..ROB AND MARK..APPLES WINE BAR. HITCHIN JAN.21st 1988.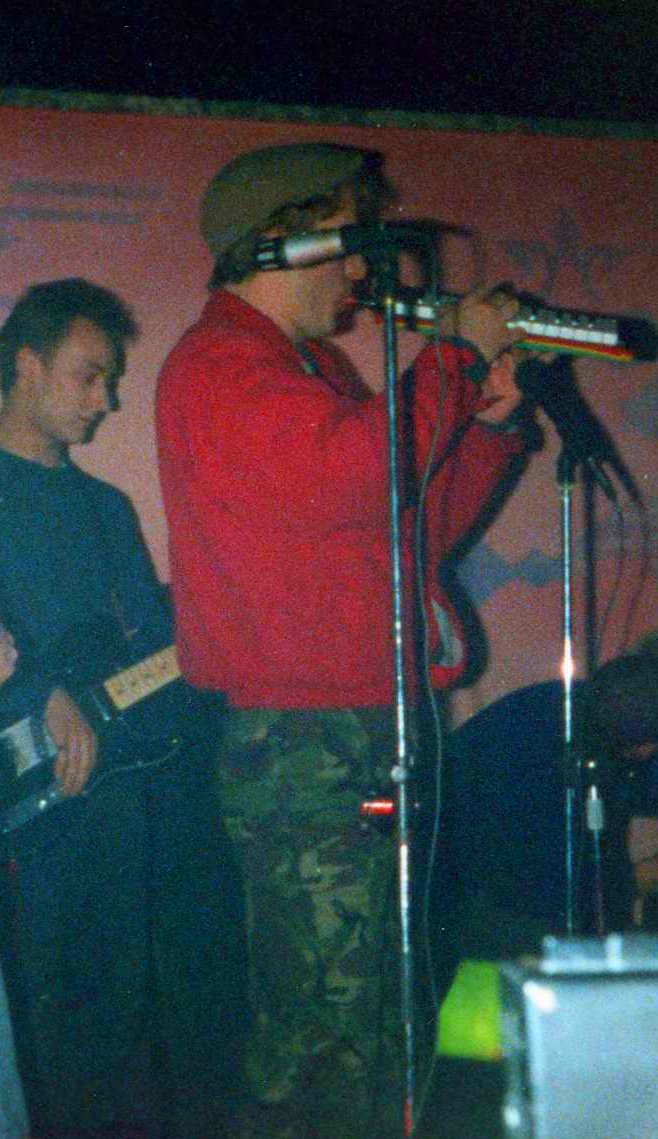 below.mick simmons and tim fisher. bowes 1988.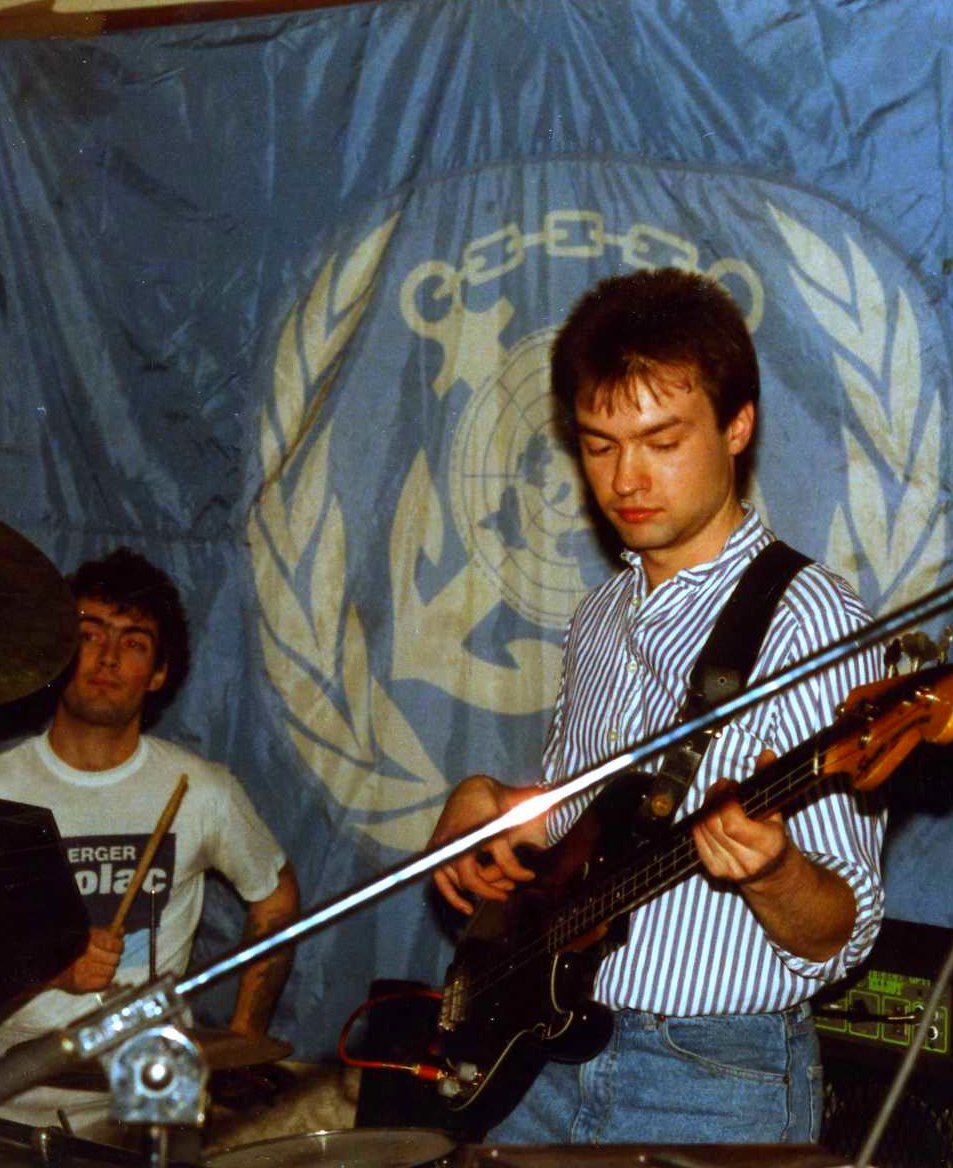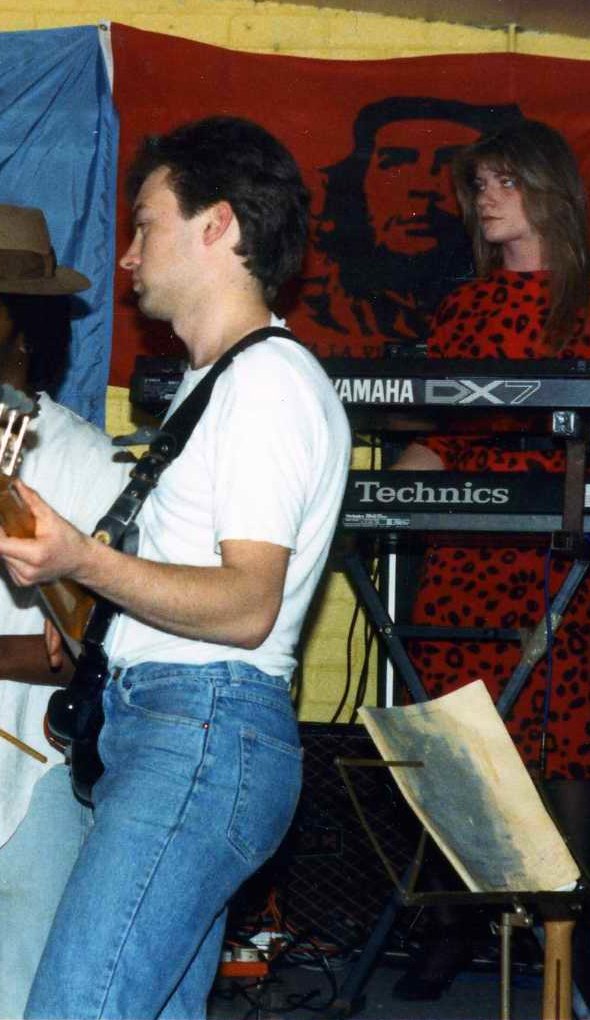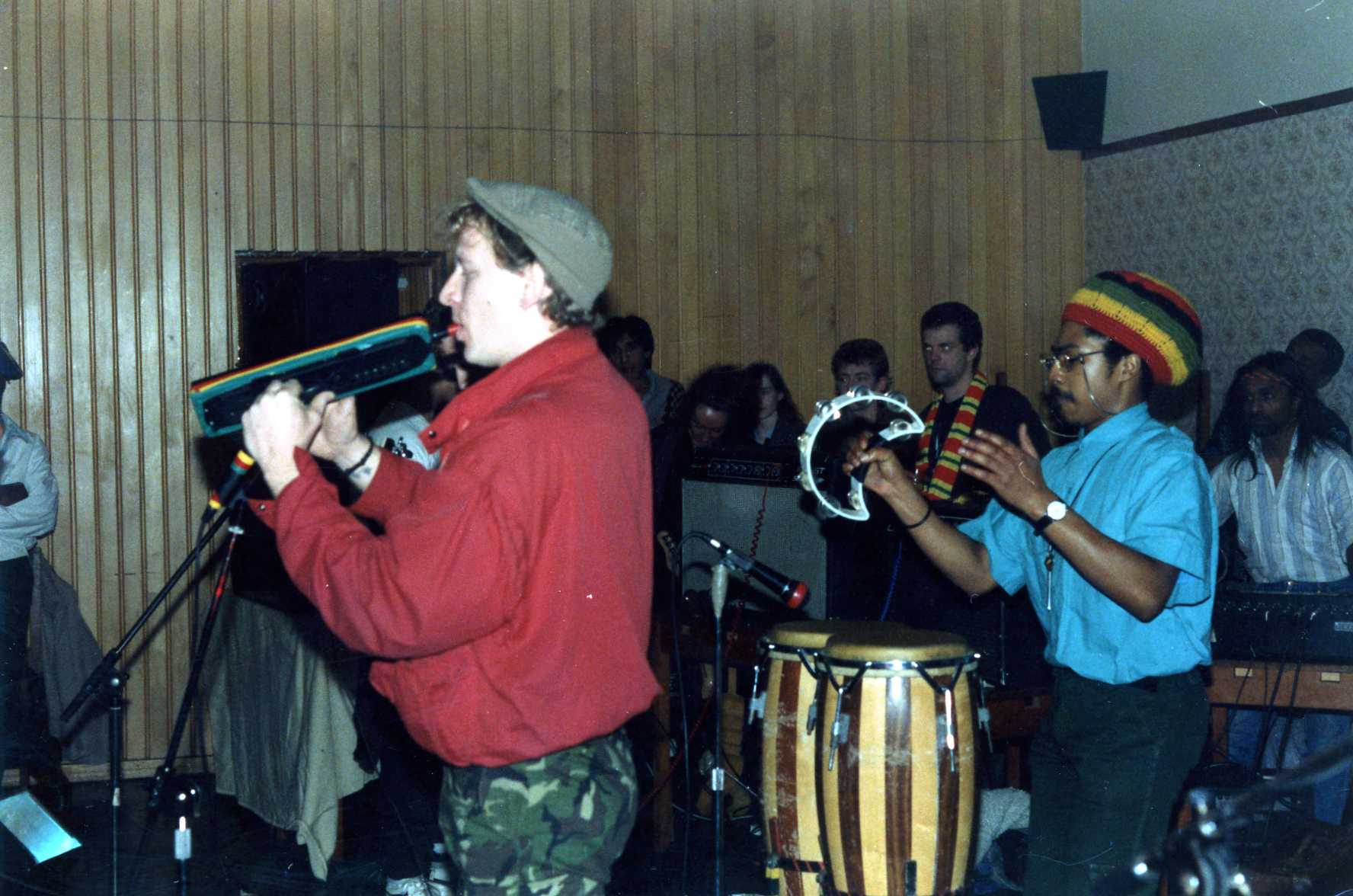 ABOVE. MARCUS DOWNBEAT..THE ANGELS REPLY. HITCHIN..1988.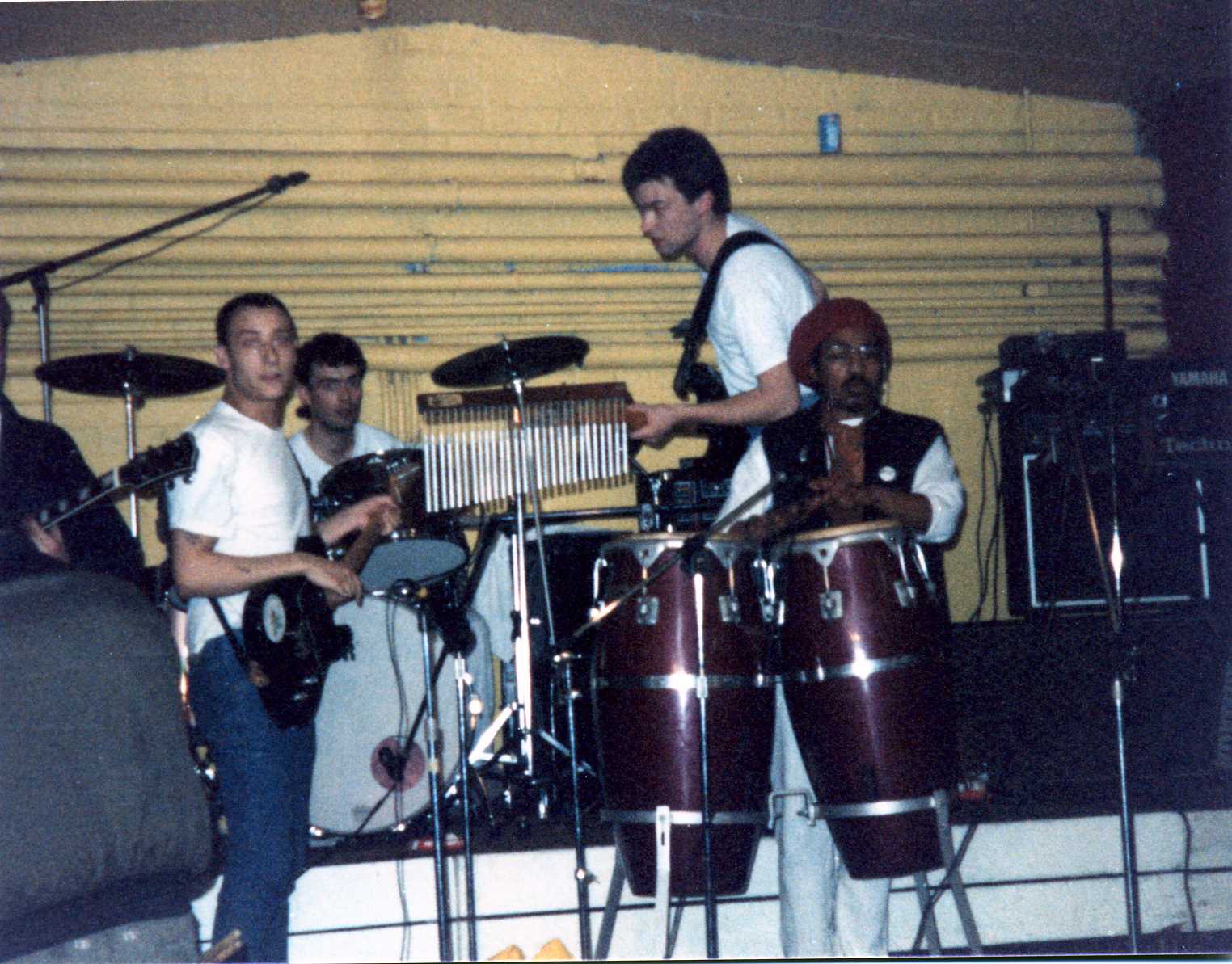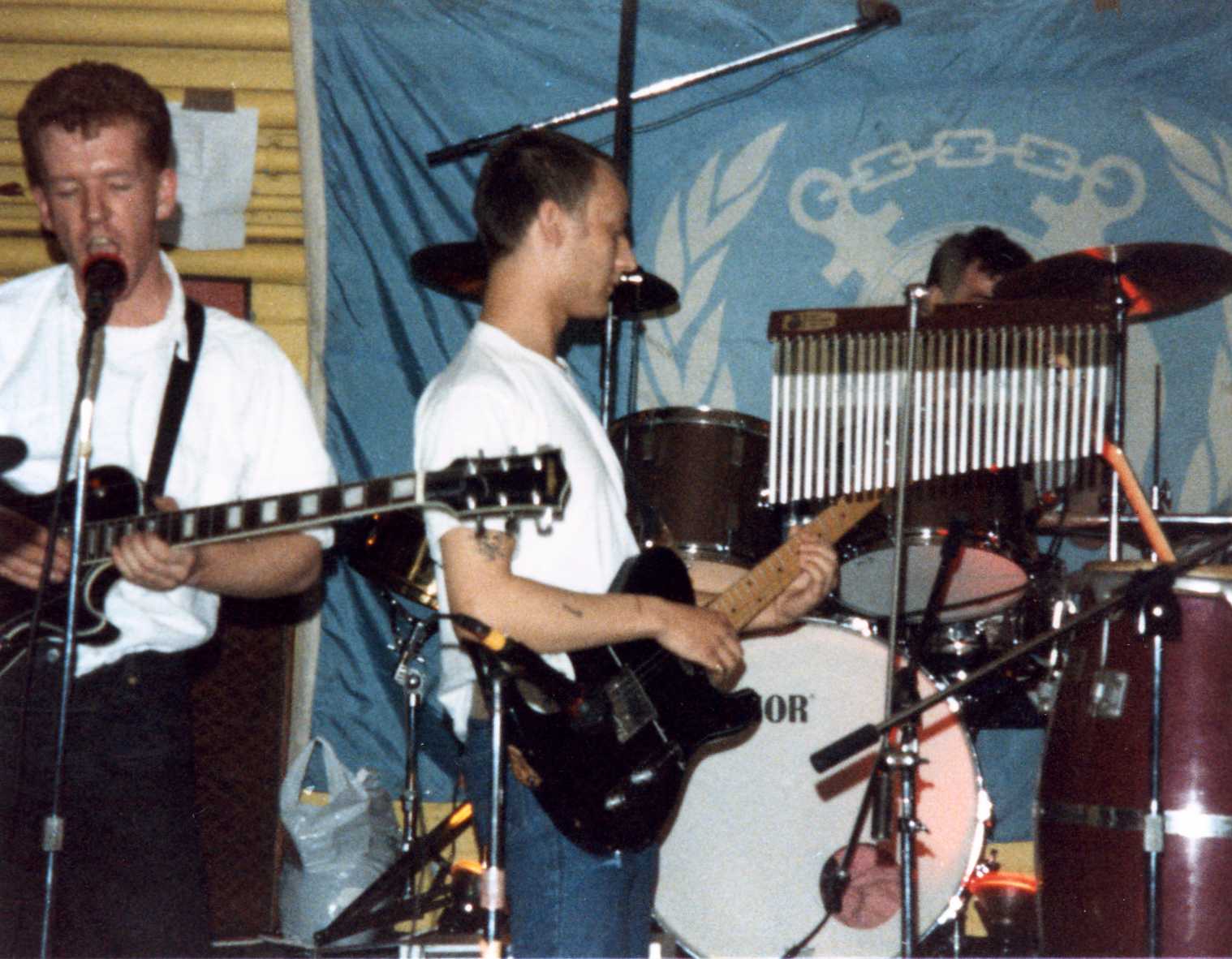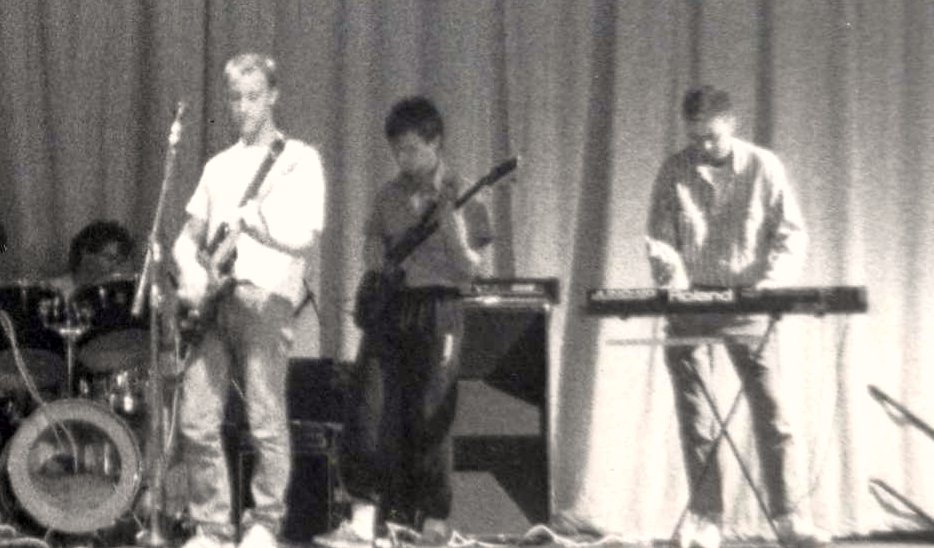 ABOVE..MICK SIMMONS..ROB HILL..TIM FISHER AND ARON LAKE..LEISURE CENTRE 1989. FASHION SHOW??
BELOW..THE GORDON CRAIG THEATRE..1987..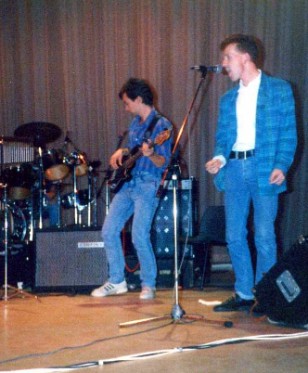 BELOW.. MICK SIMMONS..FAIRLANDS LAKES..1989.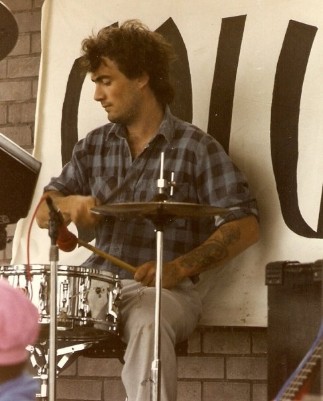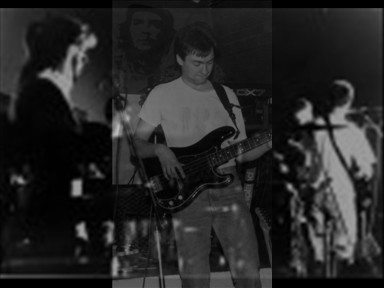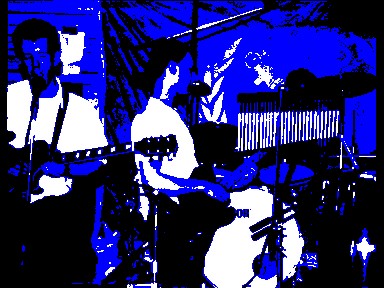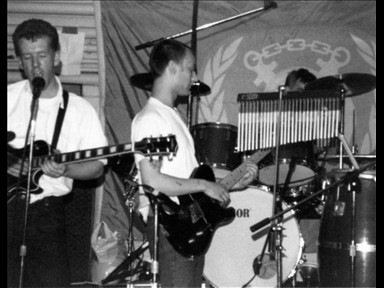 BELOW. RUSS CUMMINS..THE CLUB WID NO NAME..89.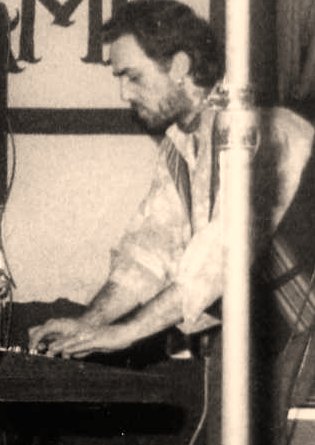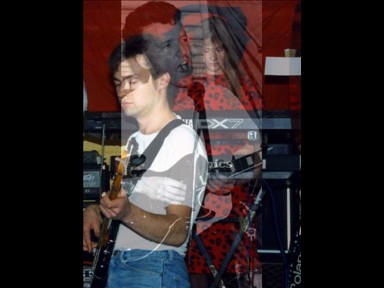 BELOW...THE NEGOTIATIONS....2009...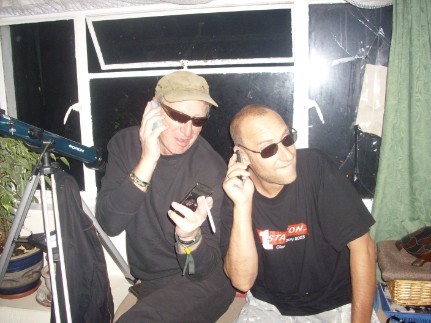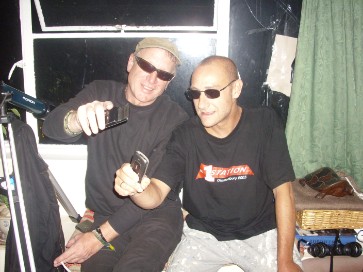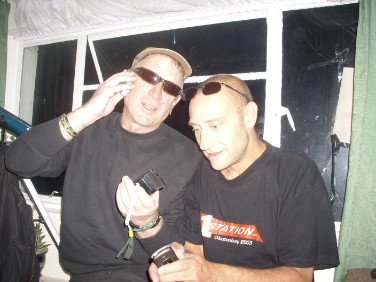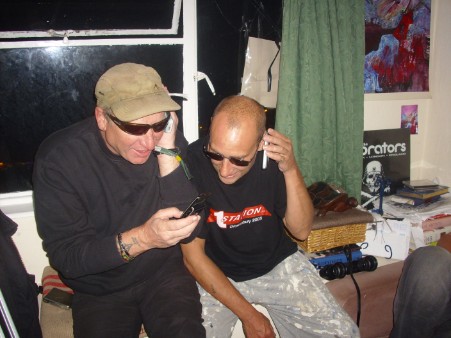 THE MAN FROM DEL MONTE SAYS YES!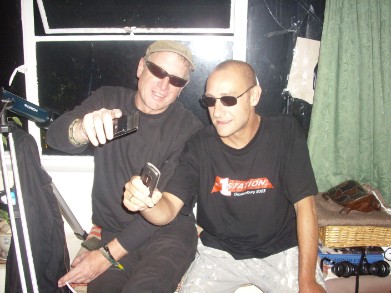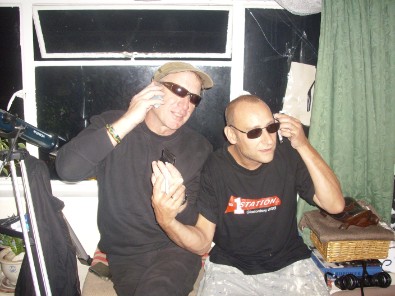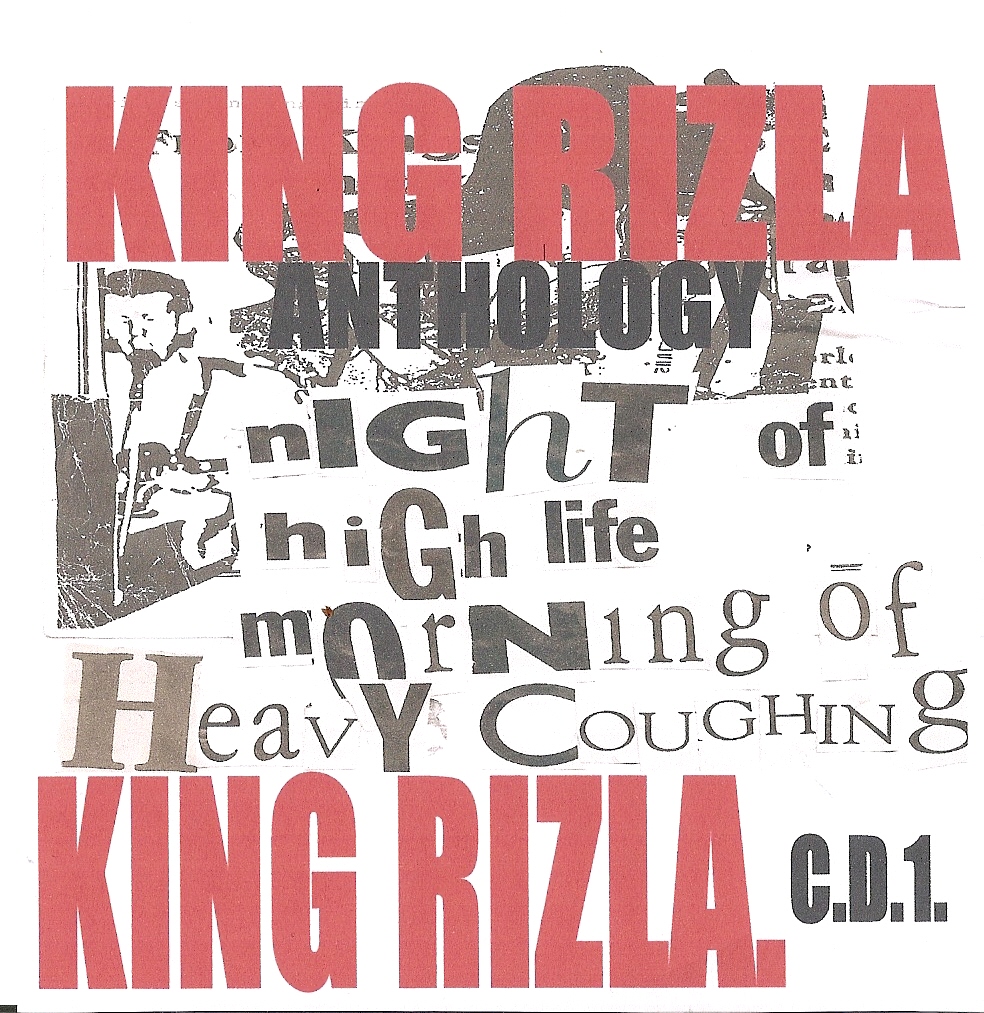 BELOW..ROBBIE RIZLA..2009.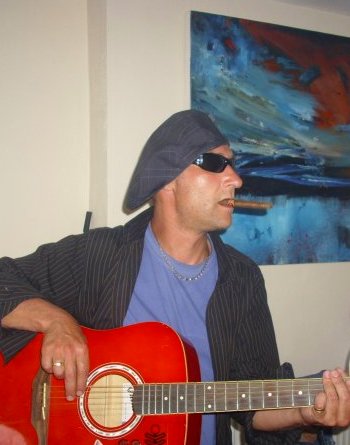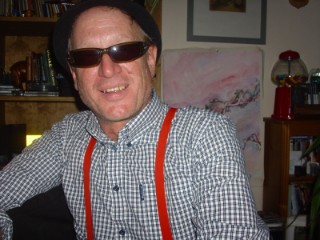 BELOW..KING RIZLA..THE RED LION STEVENAGE OLD TOWN. 2010..LEFT TO RIGHT
MICK SIMMONS. TIM FISHER. MARCUS DOWNBEAT. ROBERT HILL. DENNIS DALEY. LEE DOWNIE.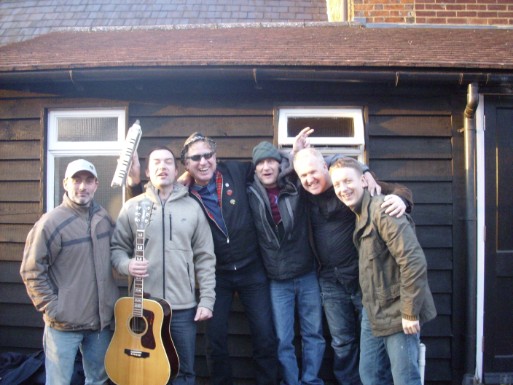 well what can you say, after 23 years, upteen differant line ups, numerous singers and in excess of 60 or more recorded songs under their belts, the original king rizla ride again!. The set list played on the night reflected the ever changing sound of this band, which in its self has became it,s own unniverse, crying under the strain, reaching out into endless pain and projecting these emotions through the medium of music for night only at, Club 85, Hitchin Herts, 1st May, 2010. This gig read more like a who,s who of who,s still alive, a reunion not only for the band but for our now obviously loyal audience, as we tripped down memory lane, chewing over the cud, with remarks to the fact of who had hair and who indeed had not, how many children, how many grandchildren. We were an excitable bunch as youths and in my opinion on the night for thoughs still living, this had seemed not to have changed one bit, as we knocked back the "juice" and smoked up all the "ganja" till the early hours, for one moment in time it felt as though indeed that the clock had moved backward and here we all are again, doing what we loved best, playing music and partying, which infact was this bands moto from the very beginning...long live the king, king rizla that is!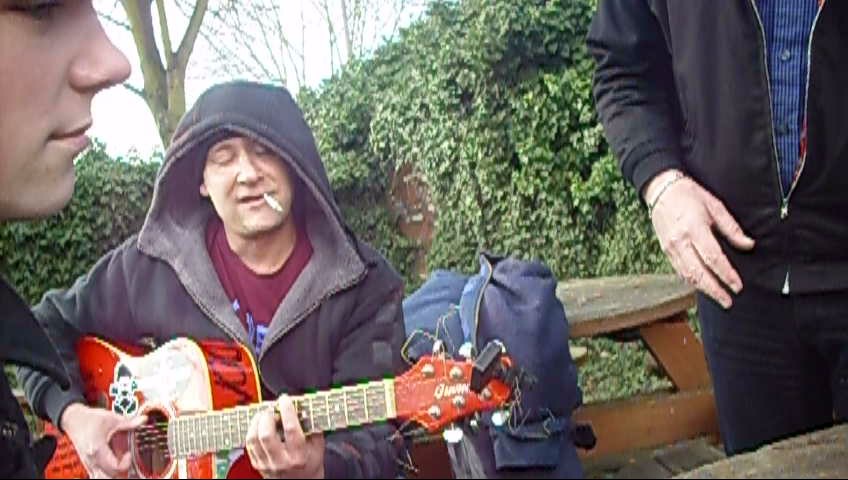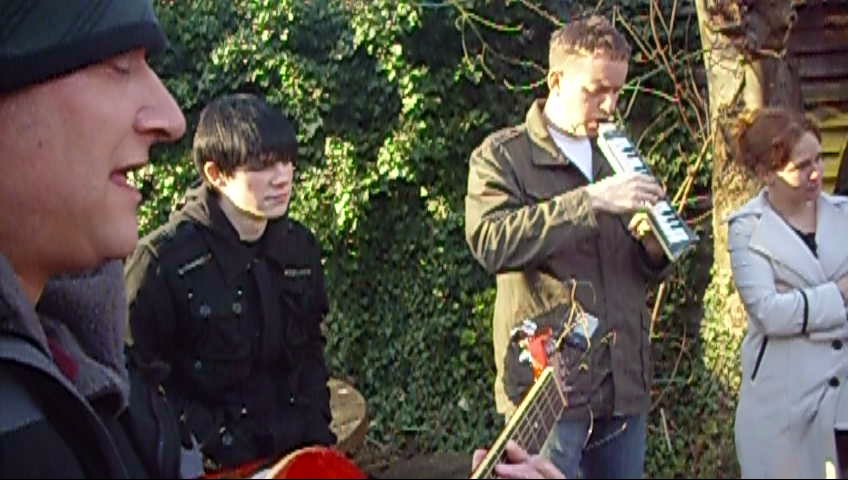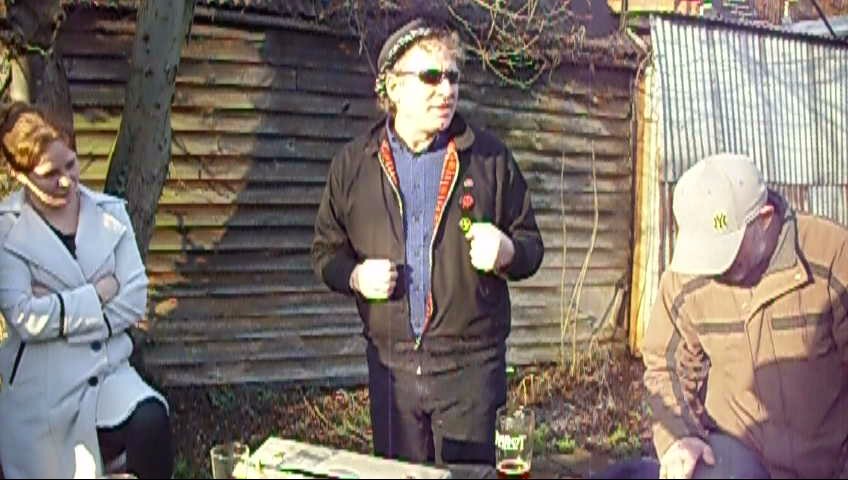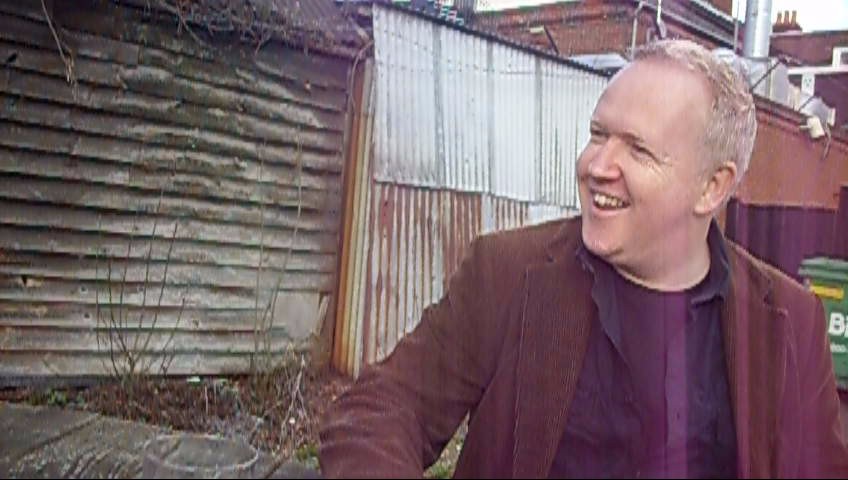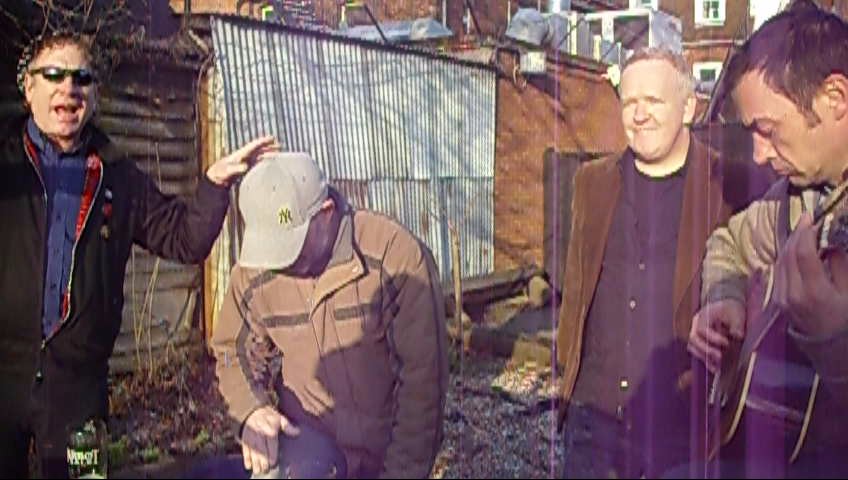 BELOW...FIRST MEETING FOR OVER 20 YEARS AND OF COURSE A JAM...SOME CLASSIC KING RIZLA RECAPTURING THEIR YOUTH, WHEN THE GUITAR AND MELODICA WENT EVERY WHERE WE WENT!!!LONG LIVE THE KING!
BELOW...GOODBYE THE DAWN..KING RIZLA AND SKIN UP MEDLEY, LIVE CLUB 85..WE STILL GOT IT!
BELOW..REHEARSALS AT THE STUDIO...SHEFFORD...2010..FISHER SAYS, RIGHT THEN LADS, I,LL START US OFF!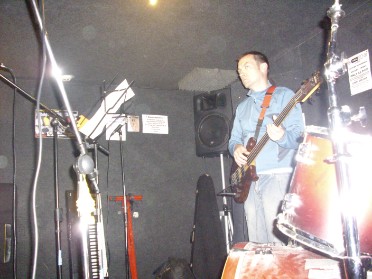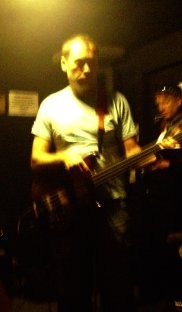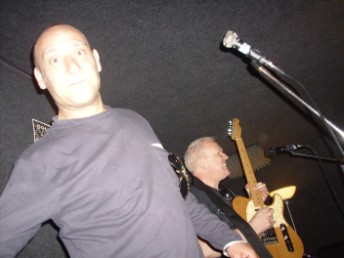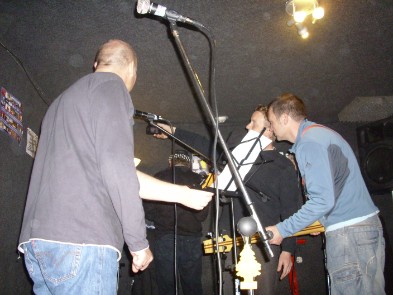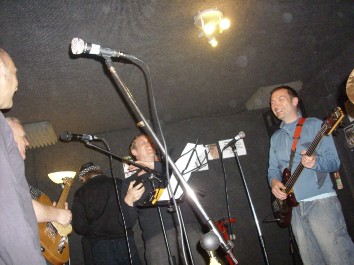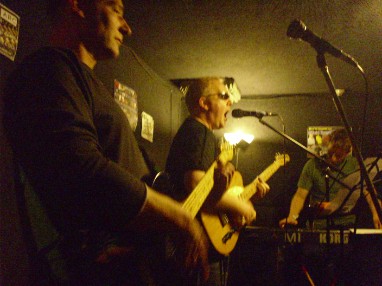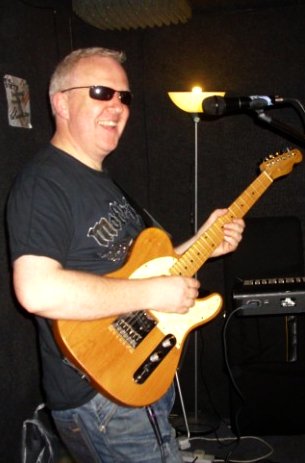 BELOW...ROB, IS THAT THE NOW INFORMOUS MR DOWNBEAT?..MARK, IS THAT THE NOW NOTORIUOS ROBBIE RIZLA? AND IF SO WHO THE FUCK IS THAT PLAYING DRUMS!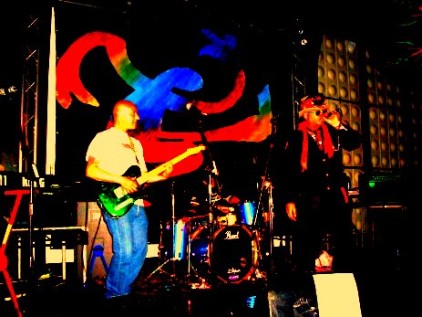 BELOW...LOOK MUM I,M BACK ON STAGE WITH THE MIGHTY KING RIZLA!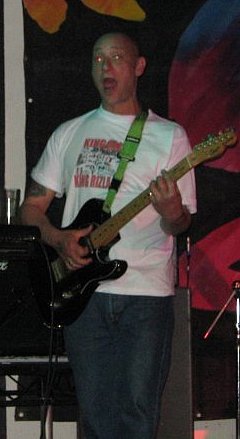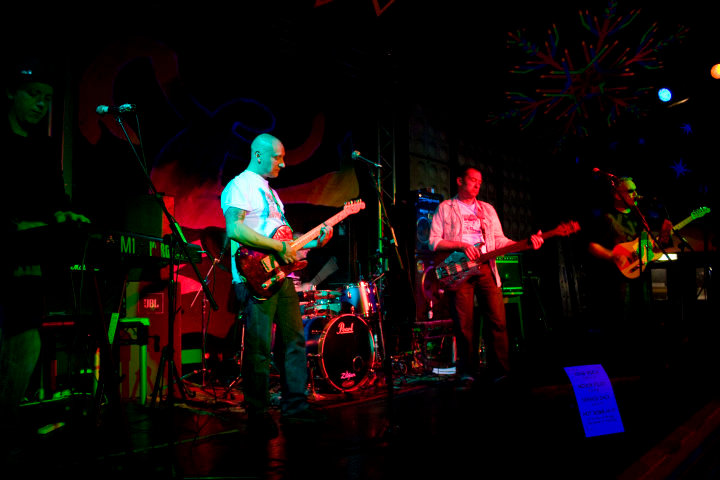 BELOW..The witch doctor arrives on stage, sprinkeling his magic mark dust over the band!..it seemed to do the trick, i had a great time!..ahhh! magic dust!.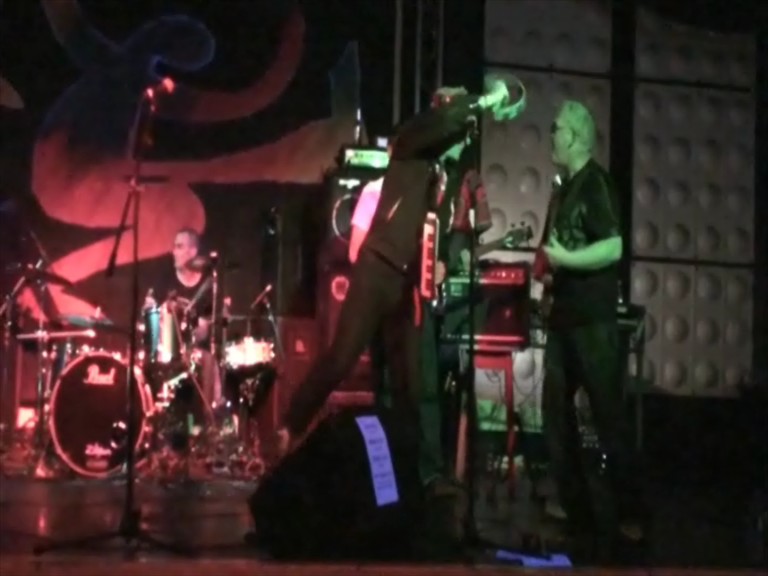 Thats enough magic now, i think i,ll put it down!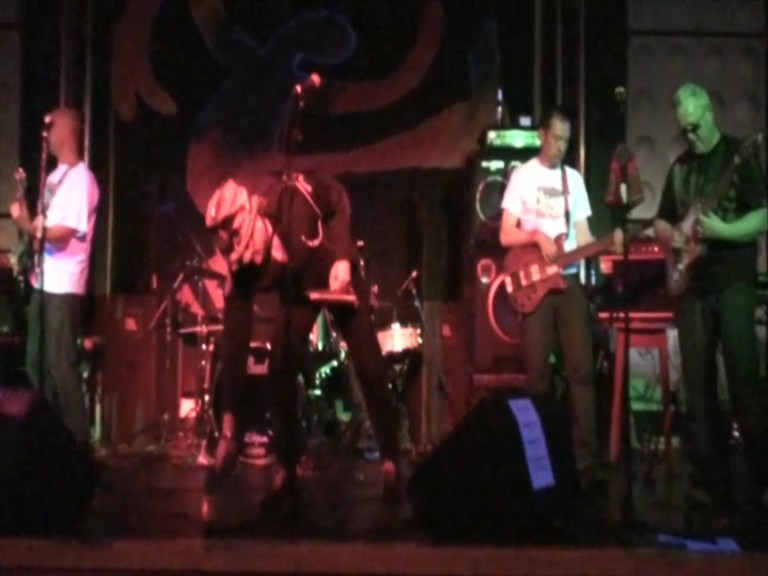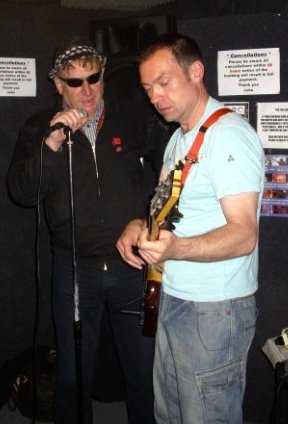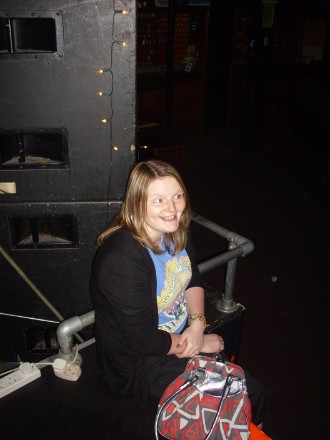 LINDSEY ANNE ROBERTSON..PHOTOGRAPHER.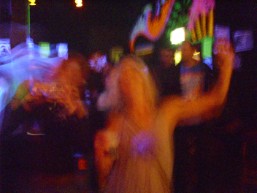 ABOVE. OH WHAT A COLOURFUL NIGHT!.
ABOVE THAT...LINDSEY ANNE ROBERTSON, GIRLFRIEND AND PHOTOGRAPHER!
BELOW...THE THREE MUSKATEERS...RUSS CUMMINGS..TIM FISHER AND ROBERT HILL...CLUB 85.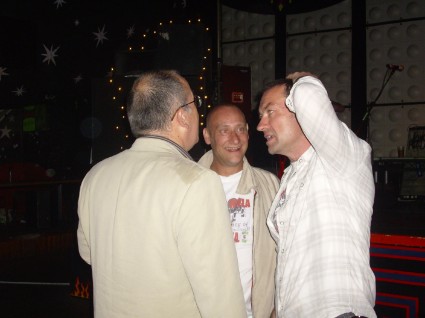 AID AND BEVXXXXXXXTHERE AT THE STARTAND THERE AT THE BEGINNING..! NOTHING MAKES SENCE!!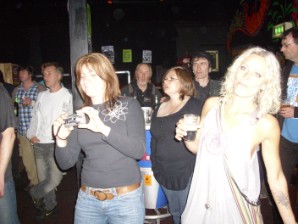 LOOK IM AN AEROPLANE...I CAN FLY... oh no it,s the new doctor who!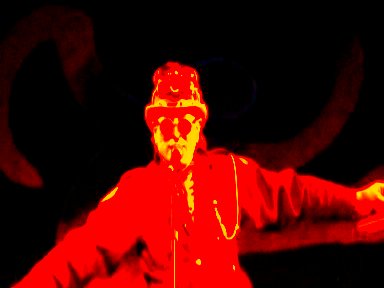 NO ONE CAN STOP US NOW!...KING RIZLA STOMPING THE NIGHT AWAY!!!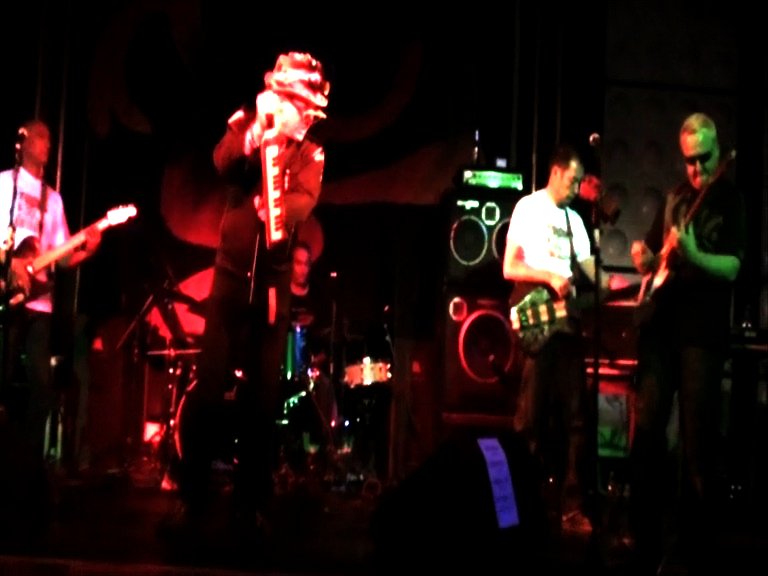 BELOW...ROB AND DEN IN YET ANOTHER SING OFF!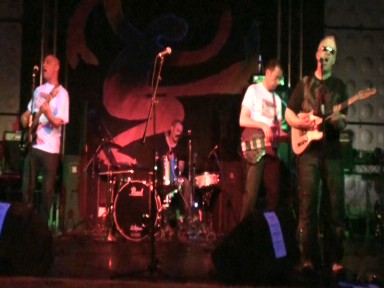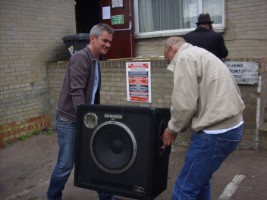 ABOVE LIVE FOOTAGE THE DREAMER...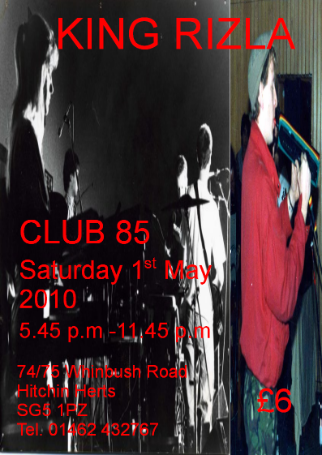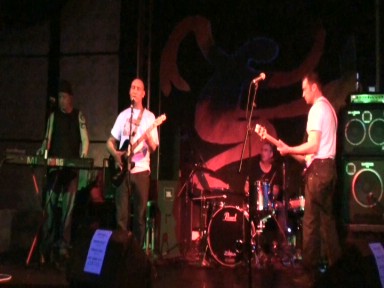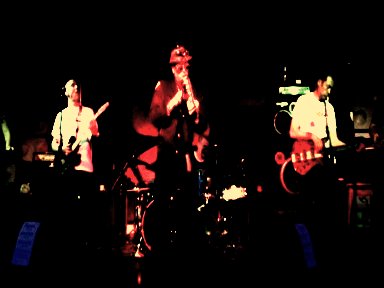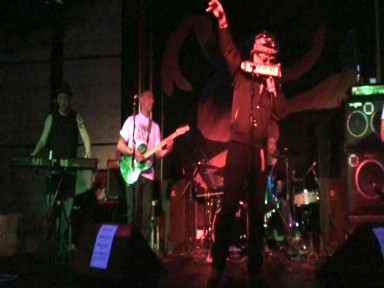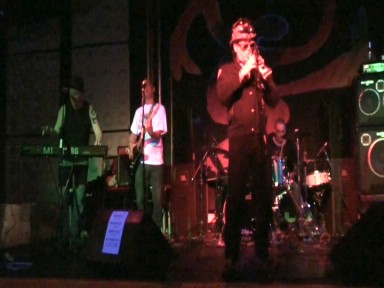 BELOW...WHAT TIMES THE PHOTO SHOOT?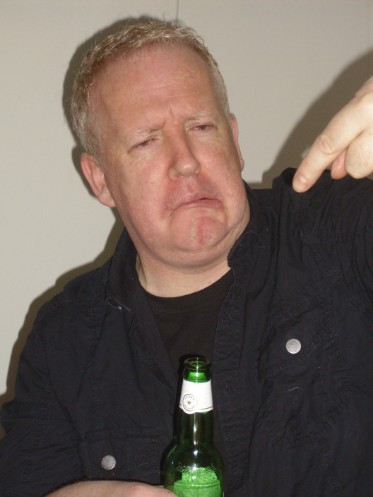 GOOD NIGHT EVERY ONE..BACK IN NOW!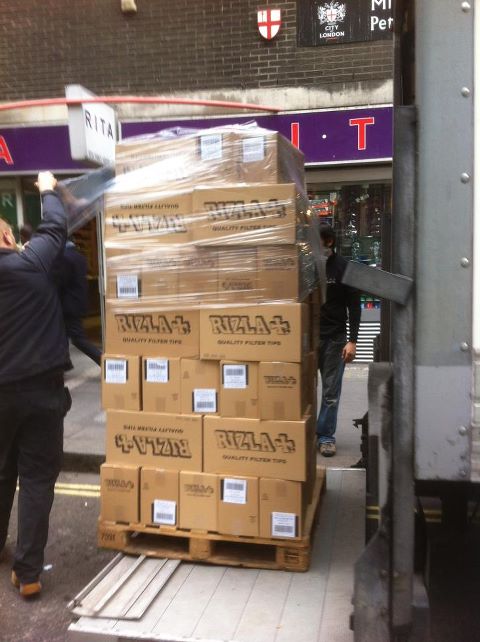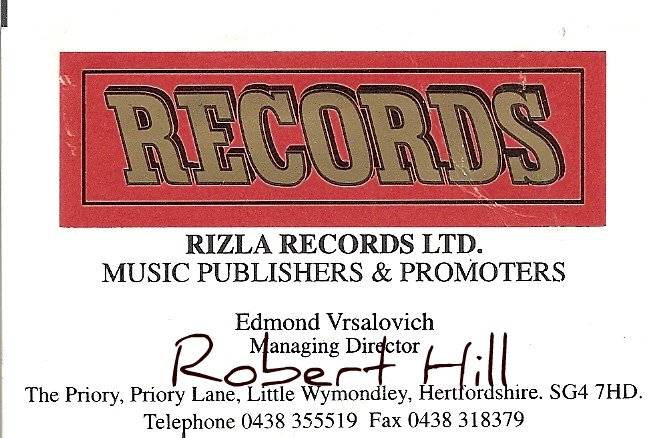 below. cLIVE eNDERSBY, bARRy Hawkins, roBErt HiLL, NidgE sCALes. Thetford Forest,1983/4.[Tim Fisher took the photograph].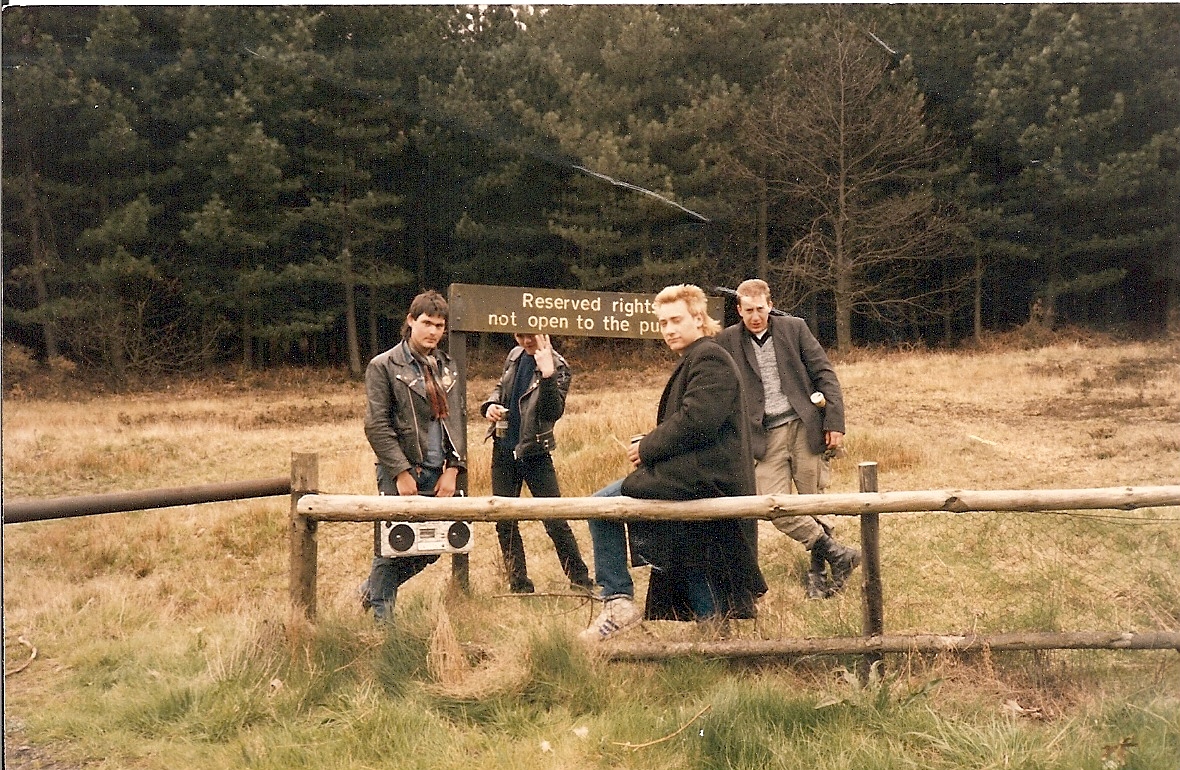 BELOW. Original words to ,"Highwood Soldiers". Aron B. mARK doWNIE. TiM fIshER. 1986/7.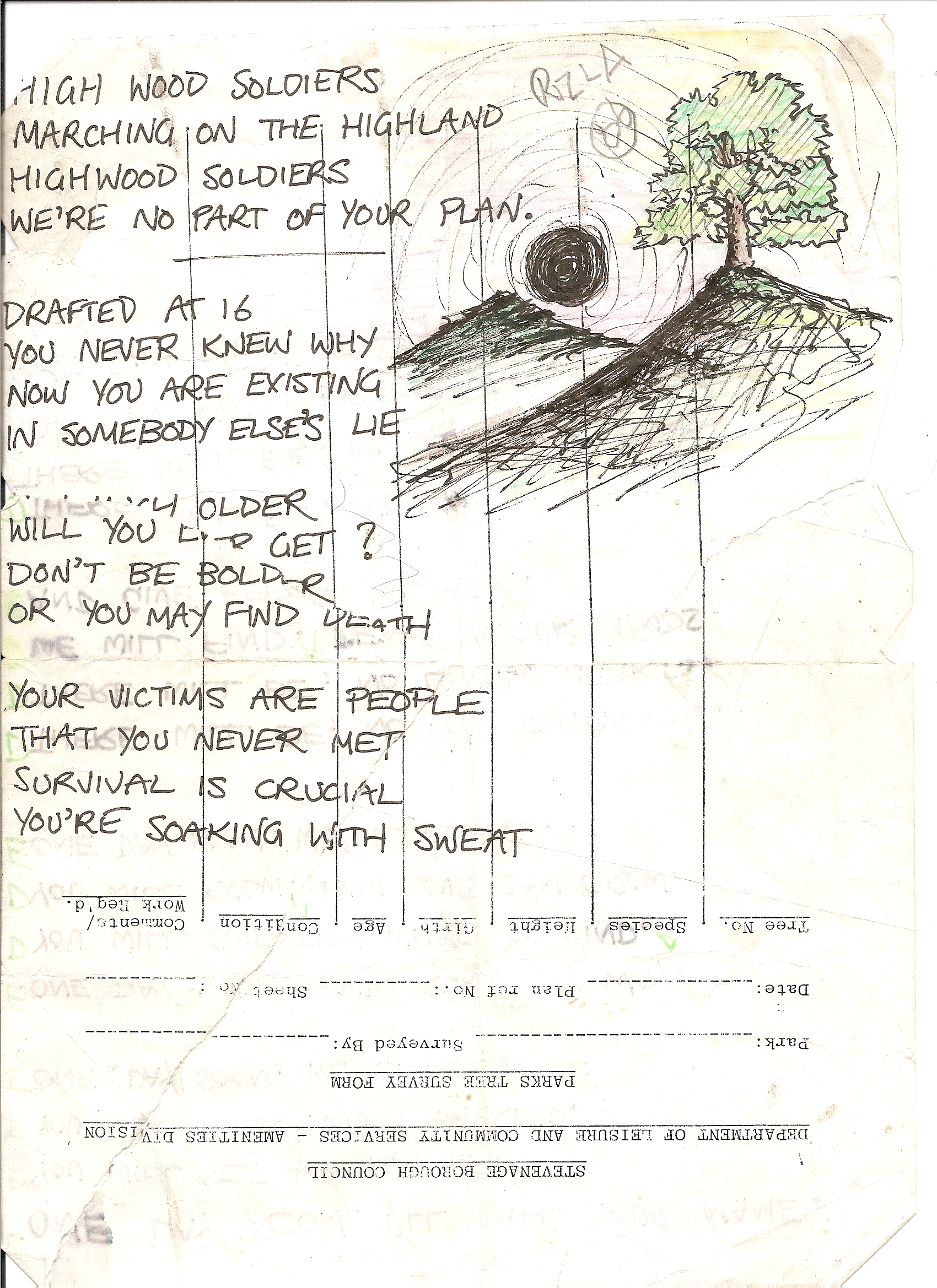 Below.Studio 6.Russ Cummins and Mark Downie.1985.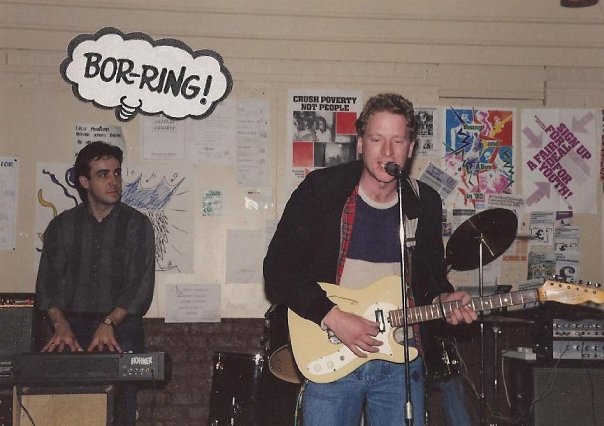 WHEN I,M DOWN IN THIS TOWN
AND THERES NO ONE ELSE AROUND,
I NEED YOU, I NEED YOU.
SITTING AROUND,
I,M HEARING EVERY SOUND,
WHILE I,M WAITING,
FOR YOU TO COME AROUND,
WHILE I,M WAITING
FOR YOU TO COME AROUND,
WHILE I,M WAITING
FOR YOU TO COME AROUND..
"I NEED YOU". A. LAKE. 1986.


Below.jONNIE dREAD And ROBbie RizLa,1987.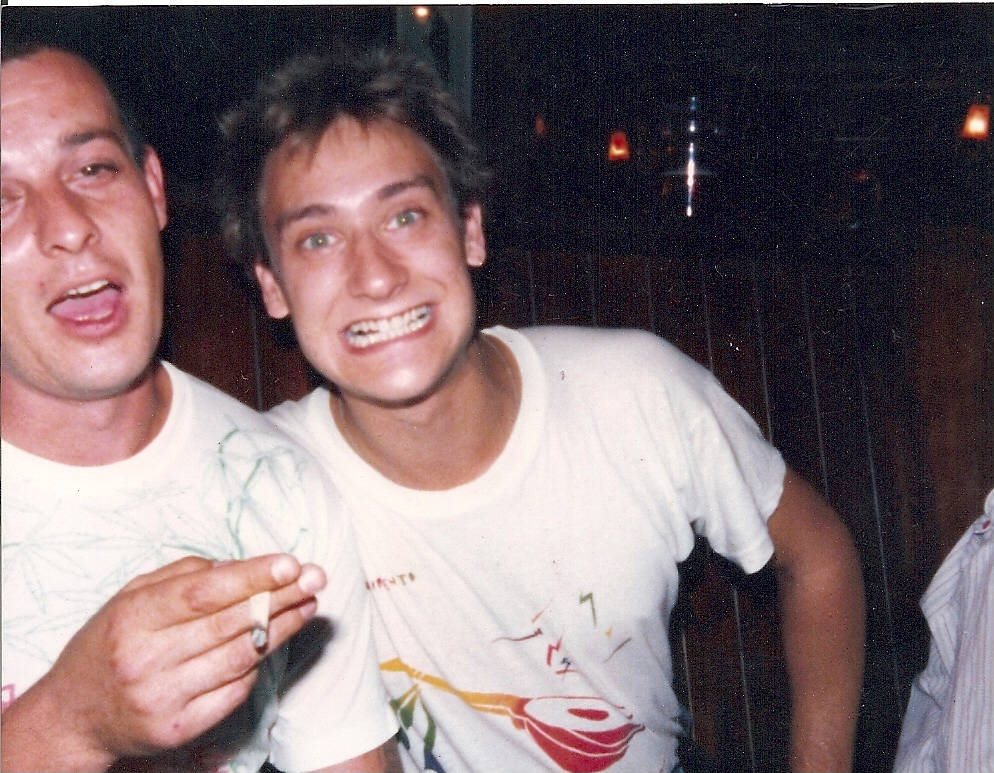 BELOW. King Rizla first line up. "CrEAte A sTORM ". 1987. Top to bottom. Robert Hill, guitar/vocals. Jo Hill, keyboard/vocals. Tim Fisher, bass/vocals. Mark Downie, vocals/guitar/melodica. Aron.B, drums/percussion/vocals.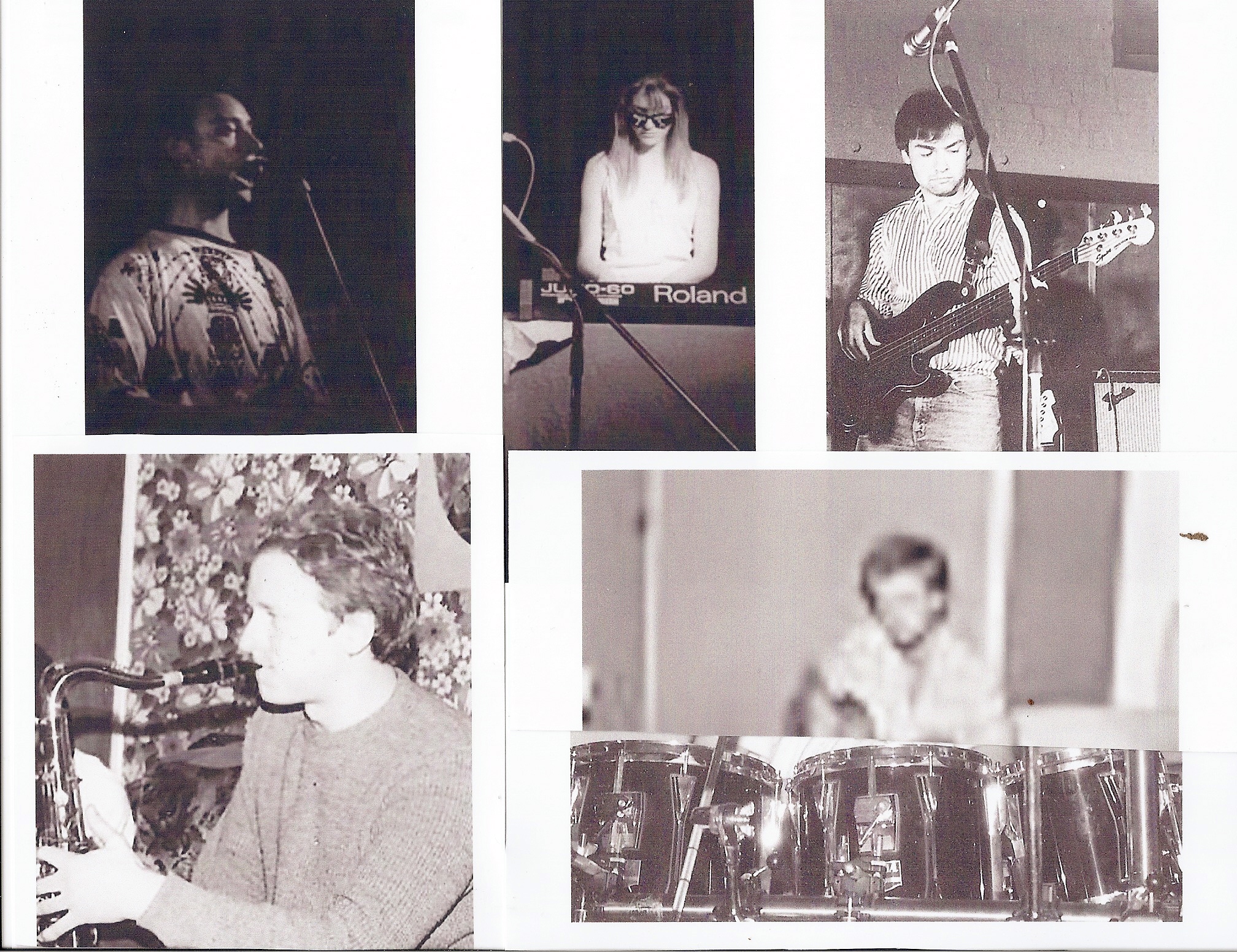 King Rizlas first recordings were at 25 bungeon rd and 10 b Old howe Way,Hitchin Herts and consisted of 10 original songs , recorded on a reel to reel, in Mark or Jo,s frontrooms in March 1987 . I remember these times to be pot filled and hilarious. The group couldnt play that well and were all very nervous, so in order to combat their nerves, everything the band did just descended into fits of laughter, none the less they made their first recordings. Track Listing. King Rizla, Highwood Soldiers, She,s Gone, Goodbye The Dawn Dub,[AjAM], steptoe And Son Dub, One Day Soon, Skin Up!, Mounting Thunder, Slipping Away,[ANOTHER JAM], She Vowed, City Woman and Under The Moon.
The groups next recording session was at Kev Greens Studio in Stevenage, where this time the band went over the same songs as previous,plus one or two new ones and recorded on an 8track studio with Kev Green and Mark producing. The album was ORIGINALY CALLED SKIN UP!, now renamed "Create A Storm",1987, [for marketing perposes] and to this day stands up to the test of time for the reggae genre they were trying to fulfill at that moment. [this album has recently been remastered and is on sale at this sites shop]. Track Listing, Skin Up, Create A Storm, Mounting Thunder, City Woman, Slipping Away, SkinUp Dub, Unity Rock, Long Walk, She Vowed, To Have Or To Be, Long Dub, plus a version of ,loosen up.12/08/1987.
BELOW. "tHE gORDAN cRAIG THeAtrE",1987. The back of Manazeek,Mark Downie,Tim Fisher.
BELOW THAT. SAME GIG.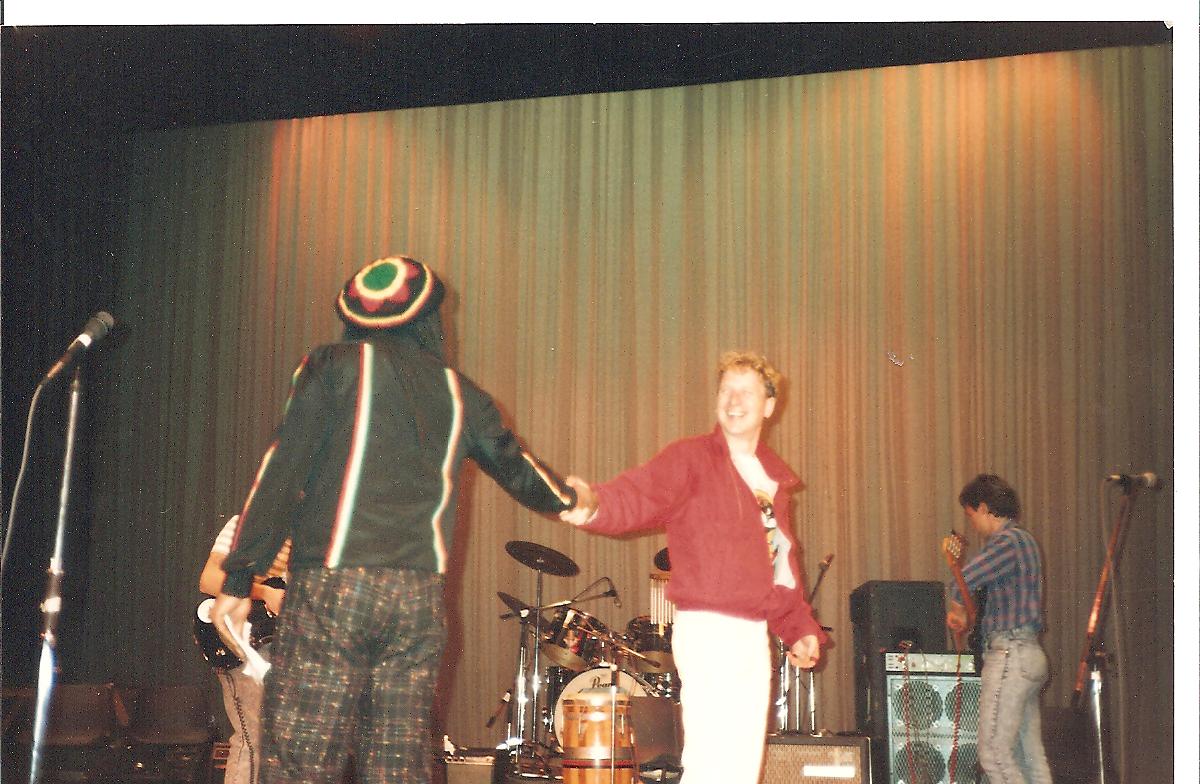 BELOW...FIRST ALBUM COVER. 1987.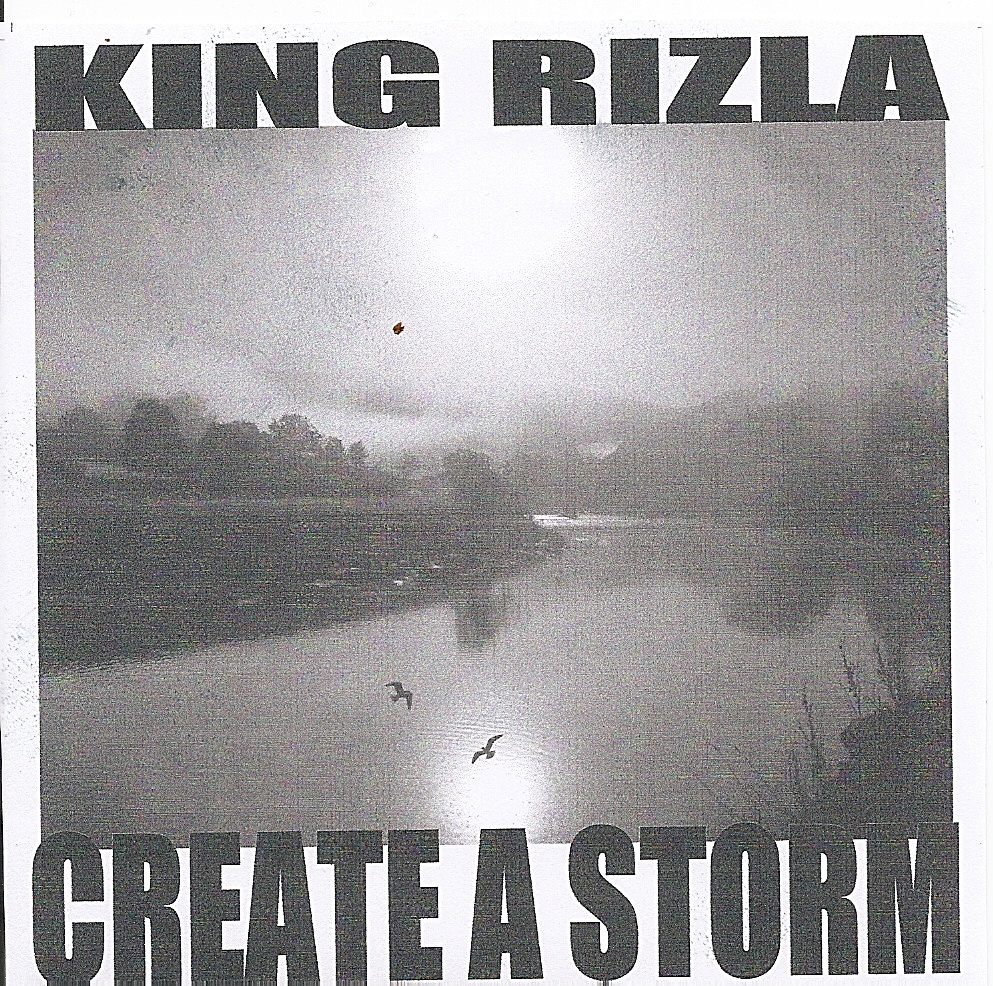 KING RIZLA FIRST RADIO INTERVIEW..1987..MANAZEEK SUNSHINE SHOW..
BELOW..KING RIZLA..FIRST STAGE PERFORMANCE...GORDAN CRAIG THEATRE..NOV..16th.1987. MOUNTAIN THUNDER. 1987..KING RIZLA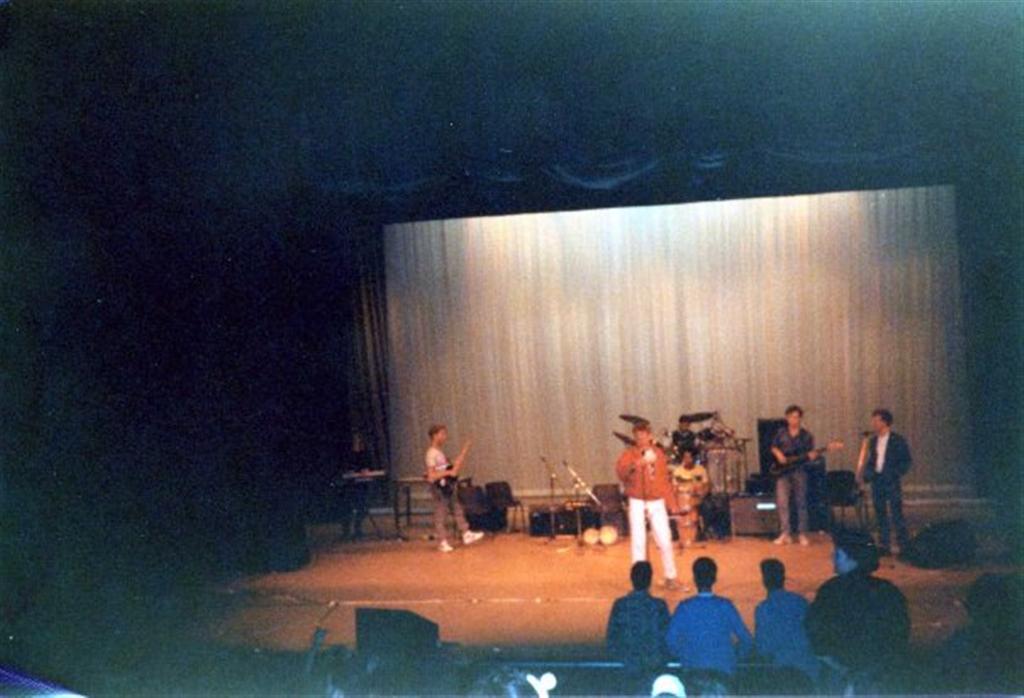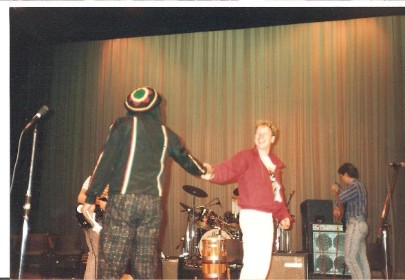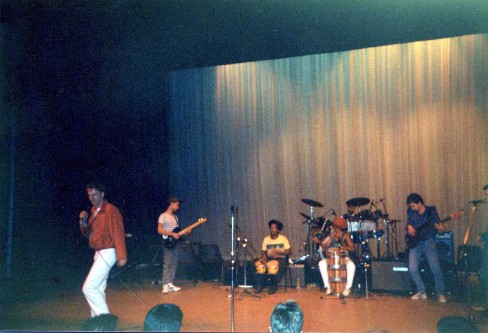 BELOW DALY AND FISHER THE LIESURE CENTRE STEVENAGE..THE GORDAN CRAIG THEATRE..OUR FIRST OFFICIAL GIG..1987..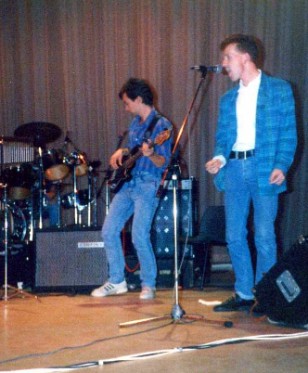 BELOW..ROB HILL AND CLIVE ENDERSBY BACK OF BOWES LYON HOUSE..1988.. THA FLATS IN THE BACK GROUND ARE WHERE WE USED TO LIVE..15th FLOOR..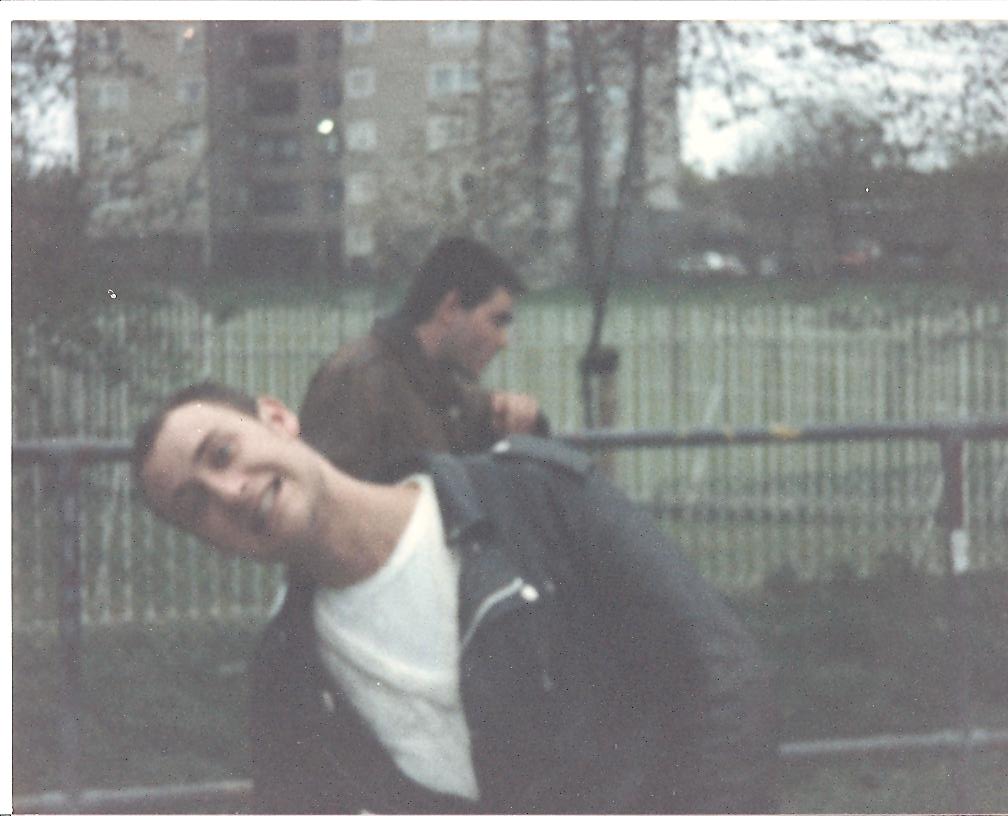 APPLES WINE BAR..1988..FINISHED UP IN A BIG PUNCH UP...US V THE CROWED...THE POOR FOOLS..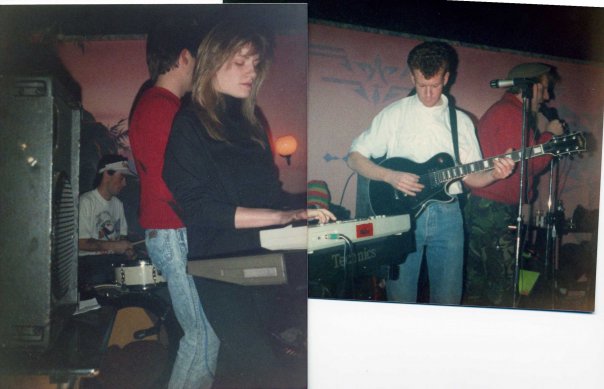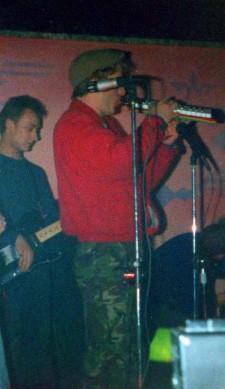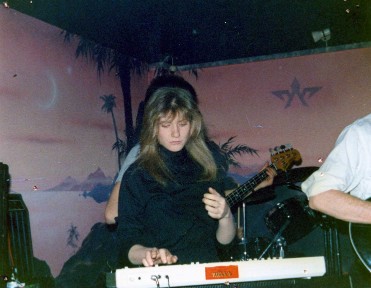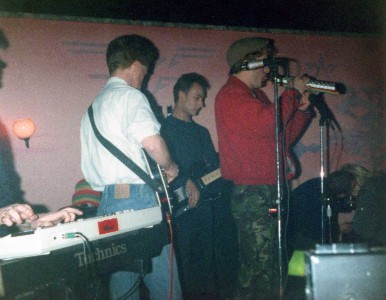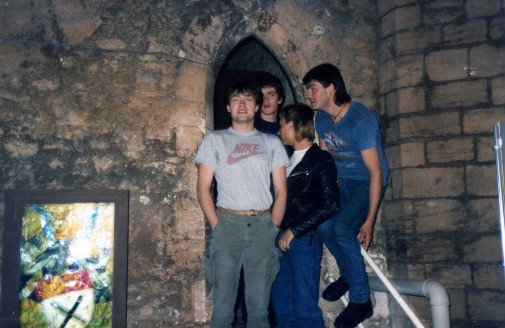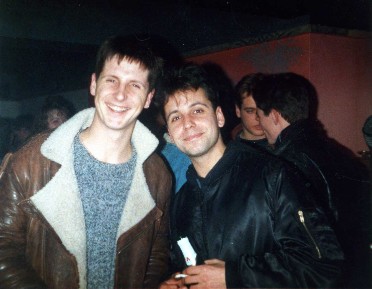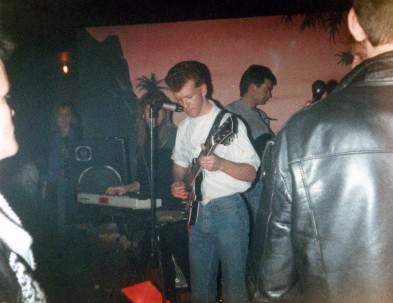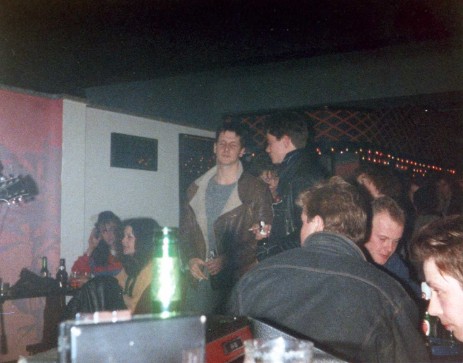 ABOVE. aPPLES wINE bAR. 1988. RIGHT TO LEFT..TONY PETTITE..KEV THE PLIMSOLE. NOT SUR. BARRY HAWKINS..GARATH STONE..JO REED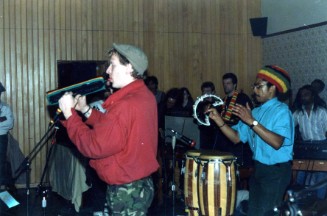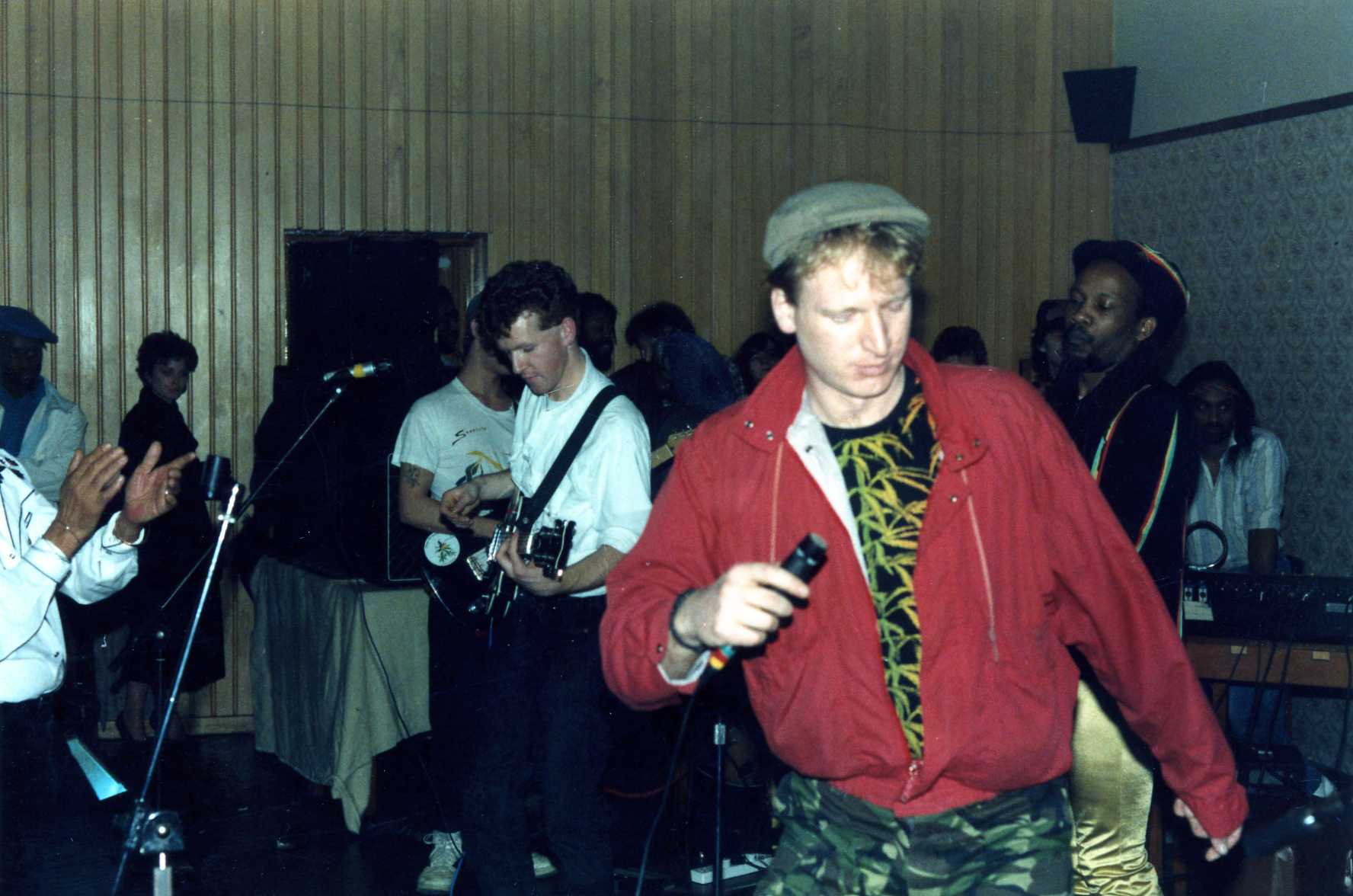 ABOVE. THE ANGELS REPLY, Hitchin,1988. Mark Downie skanking the night away..
BELOW. bEV FoX, GeOff DILLy,RUsS cUMmiNs,THe AngELS rEPly,1988. Below That, Jo Hill same gig.

BELOW. Jo on her keyboards...1987. "The Angels Reply.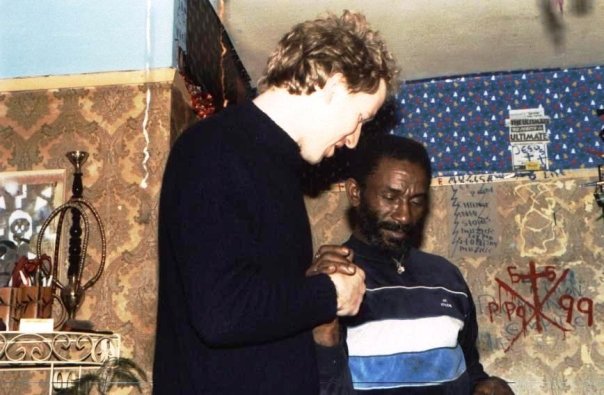 BELOW. Jonnie Dread. 1988. ANGELS REPLY..

BELOW. Dennis Daly and Mark Downie.1988. JAN..APPLES WINE BAR..

ABOVE. mARK WitH,"LEe SCratCH pERry".
BELOW..ORIGINAL WORDS TO ONEDAY SOON WRITTEN BY ARON.B. 1986..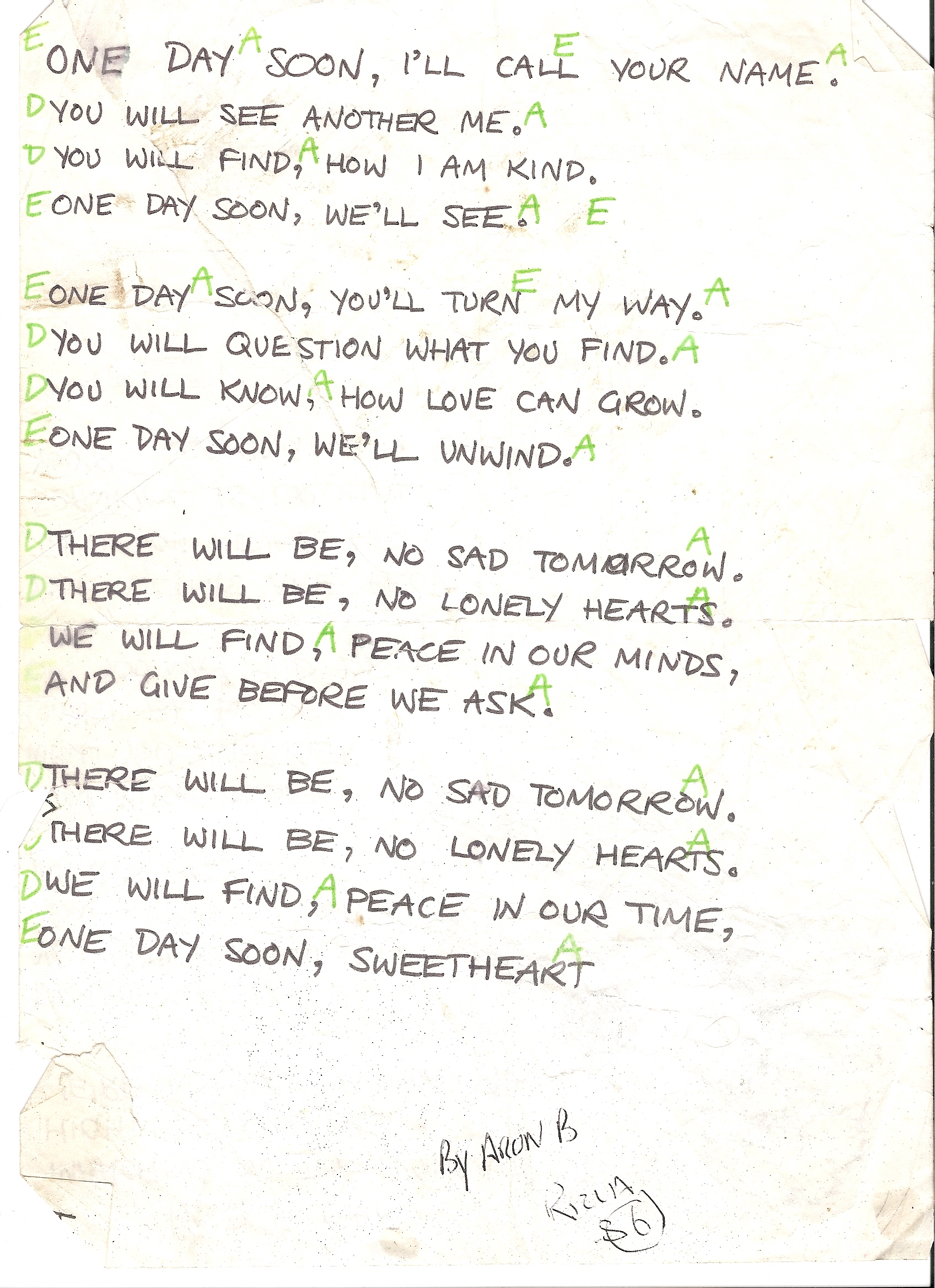 AS SUN SET SCARS,
THE END OF DAY LIGHT,
I TROD THESE PATHS
AND THOUGH WITH OUT SIGHT,
THE TASTES HUNGER,
ON MY TONGUE,
HUNGERING,
FOR YOU TO COME.
IF I WAS A BIRD,
A BIRD OF PREY,
I HUNT FOR YOU,
THROUGH MOON AND SUNRAY,
BUT I FEEL DRED,
WHERE YEARS APART,
I HUNT FOR HER
BUT SHE IS GONE.
I CAN,T BELIEVE,
I CAN,T CONCIEVE,
THAT IT WAS NEVER MEANT TO BE,
I CAN,T BELIEVE,
I CAN,T CONCIEVE AND IF I SAW YOU,
I,D TELL YOU SO,
YES INDEED..
"SHE IS GONE"..LAKE/HILL..1989..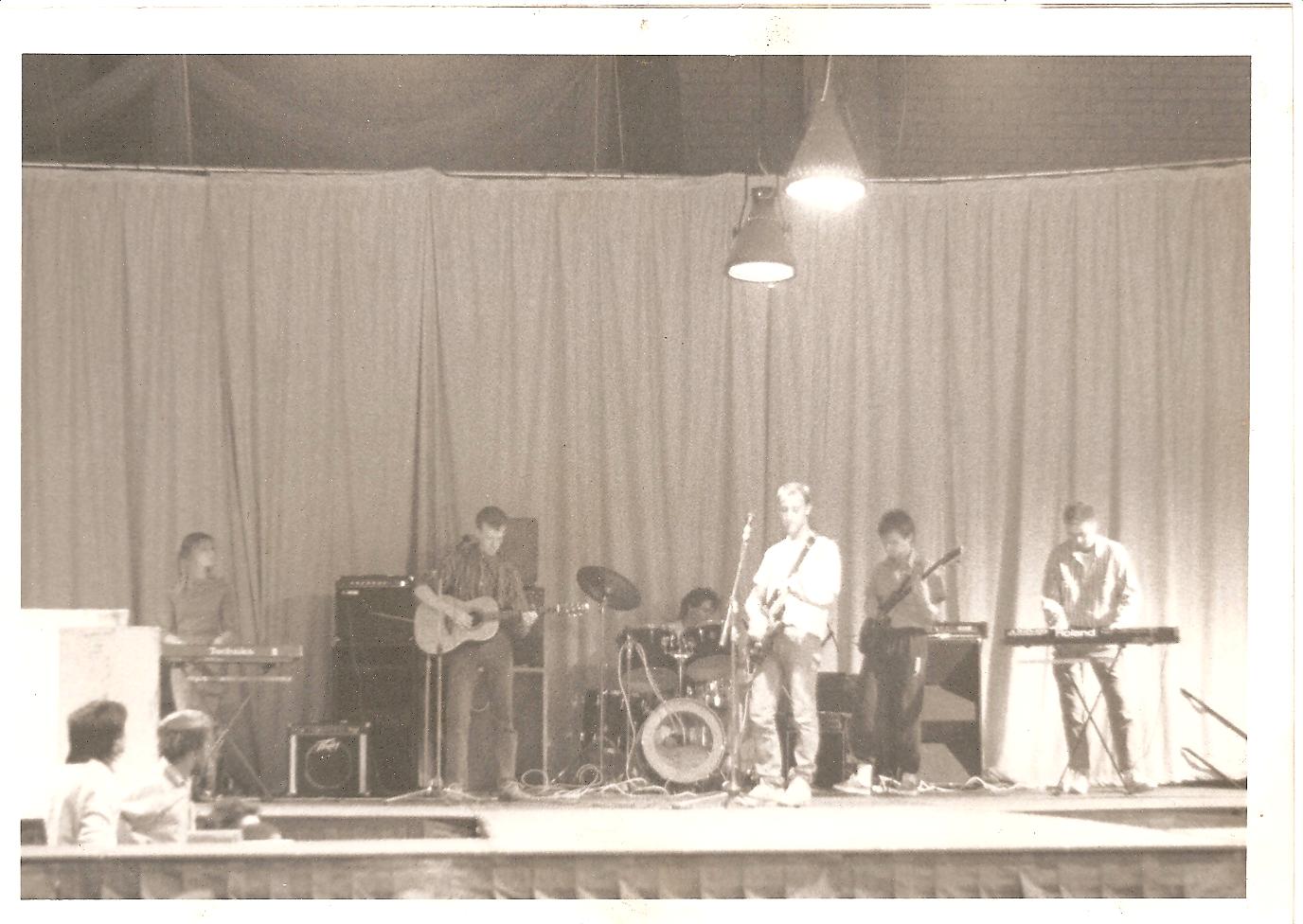 ABOVE.King Rizla,1989,Stevenage Leisure Centre."Fashion Show". A classic KING RIZLA line up, Aron rejoining us for one night only....class act!
Jo Hill,keyboards, Dennis Daly, guitar. Mick Simmonds, Drums. Robert Hill, guitar,vocals. Tim Fisher,bass. AronB,keyboards. The two chaps at the mixing desk are,Tarlock,now with Number1station and his friend.
BELOW Rob Hill,Mick Simmonds,Tim Fisher and Zebbe,Bowes Lyon House,1988.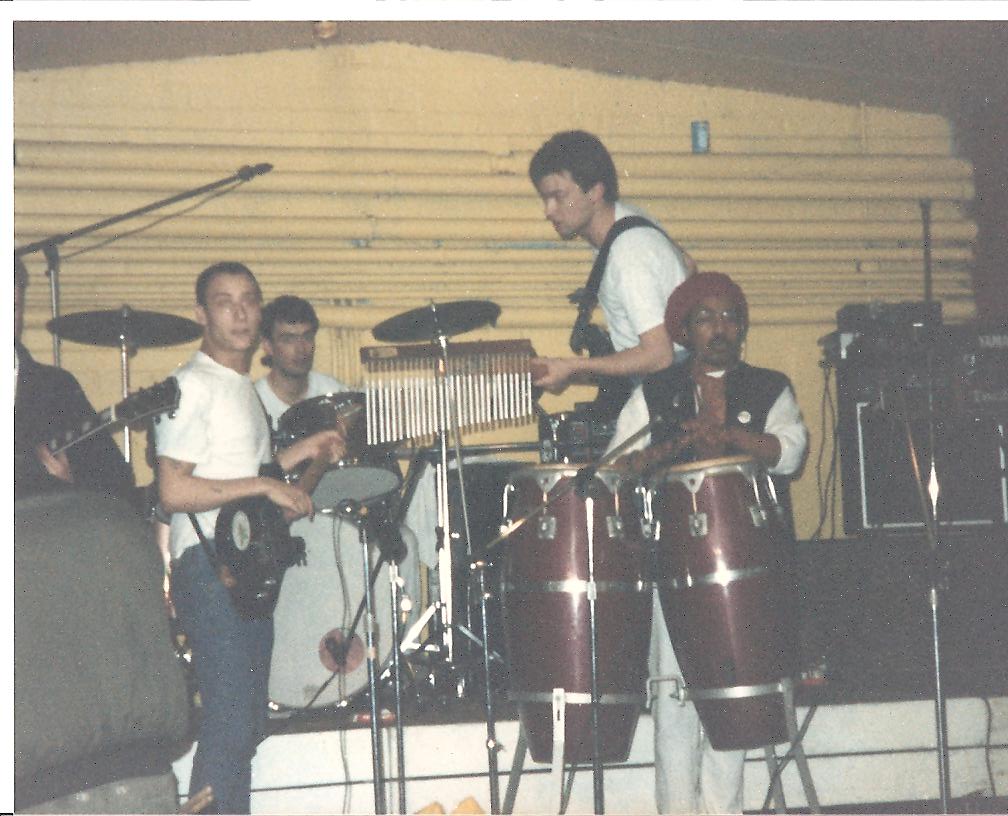 BELow Daly,Simmonds,Steve Walters[singer with Columbia] and Hill,outside Bowes.88.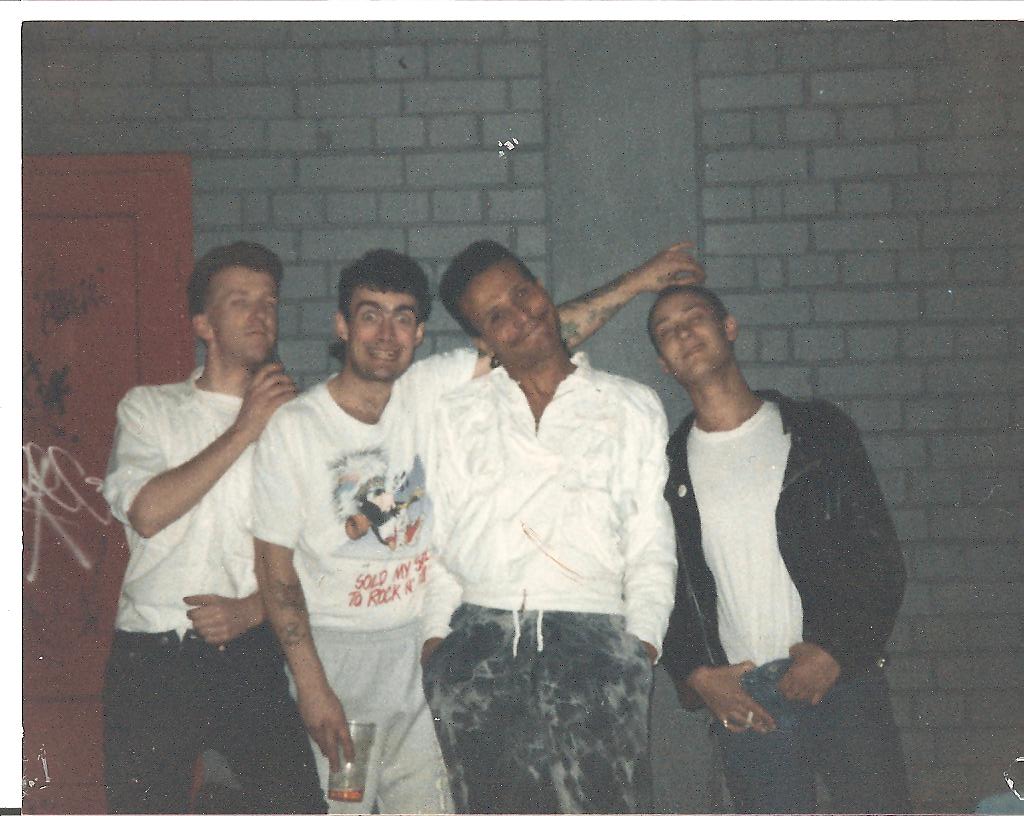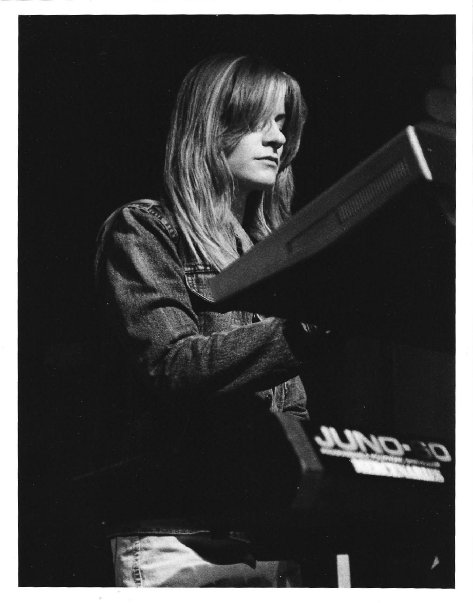 ABOVE. JO HILL. 89.
BELOW.JO Hill. fIshER. DAly. Rob HiLL. "nice and sleezy". 1992..aron.b memorial gig..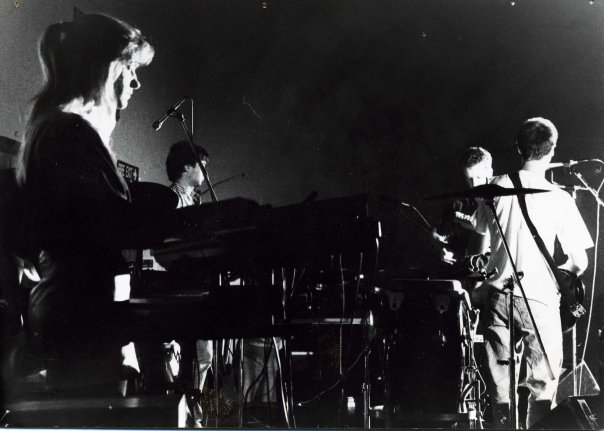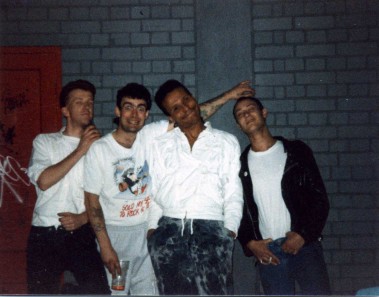 BELOW. Daly. Hill. Simmons, Bowes Lyons..88/89.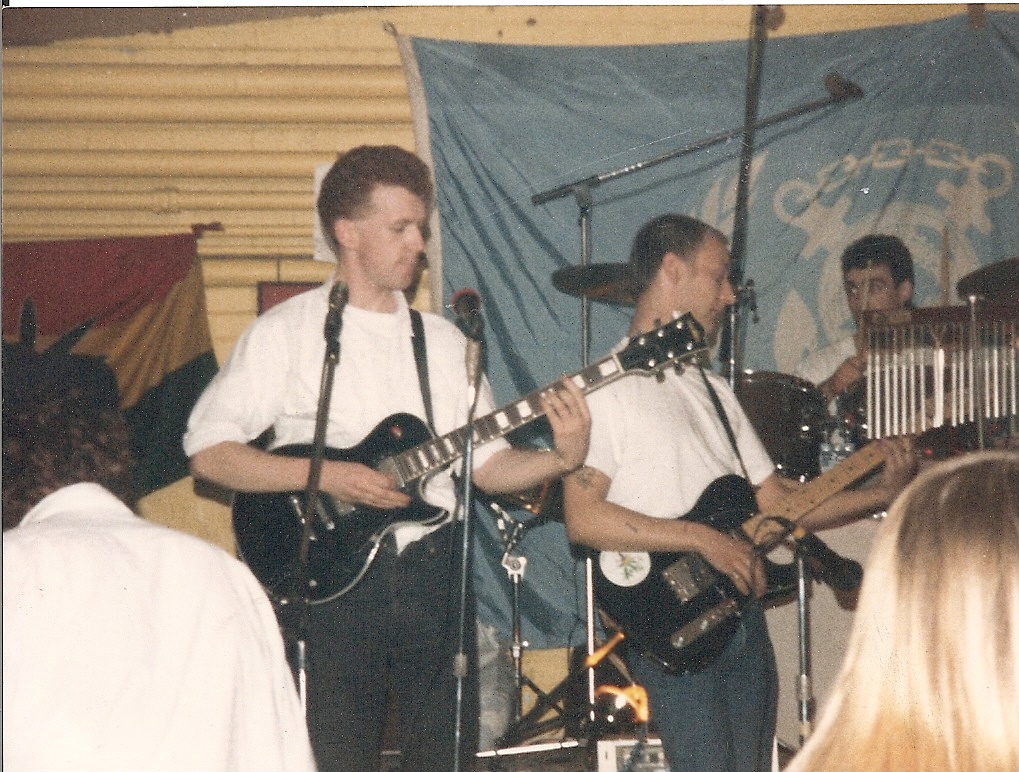 King Rizla by this time were beginning to lose focus and another change of line up was eminant., Mean while Jo Hill left and went off to play with Columbia and was replaced by Russ Cumins who had previously been playing with Columbia, pretty much a straight swop. Mick Simmons left on drums and was replaced by Geoff Sewel, previously with,"Optional Xtras","Chelsea"and the "U.K.Subs", and Peter Dimmock was brought in on guitar,previously with,"Chron Gen"and"Chelsea". This new line up once again went back to Kev Greens Studio,now stationed in Hitchin and recorded four new songs. Hell Or Highwater, Shiehallion, a rewritten verson of She,s Gone and a revampt version of Skin Up in Dub ,which was now sporting a ska/rock sound as opposed to a straight forward reggea beat.1989. Dennis and Rob shared the vocals and king Rizla began to formulate a new set. Tim Fisher and Dennis Daly were putting together some music to lyrics that Aron had previously written and with Rob Hill trying to carry the band on what was then a very poor vocal , the set was filled out with "Clash" and "Ruts" covers, whilst trying to write new songs. Here we are left with a part of the bands history and in hindsight listening to recordings of old gigs from this period of time, which incadentally went down really well, "including the vocals", are not really that bad and the audience responce helps us to anticipate the atmosphear that these gigs generated, including a classic version of "Deny" by "The Clash" and a rip roaring exstended version of, "Jah War" by"The Ruts" I think everyone involved including the audience and exstended crew had a good time, which is what King Rizla were out to stand for. "A smashing night out at The Red Lion Shephal".
BELOW. King Rizla. 1989. "The Red Lion".. Hill. Sewel. Fisher. Simmonds. Dimmock. Cummins.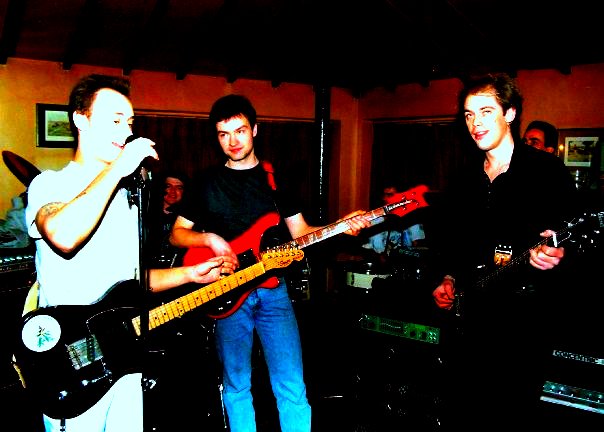 COME HELL OR HIGH WATER,
LIKE A LAMB TO THE SLAUGHTER,
WE SHOW YOU THAT WE A CLEAN,
WE SHOW YOU
JUST WHAT WE REALLY MEAN,
COME HELL OR HIGH WATER,
COME HELL OR HIGH WATER.
"HELL OR HIGH WATER". 1988..DENNIS DALY.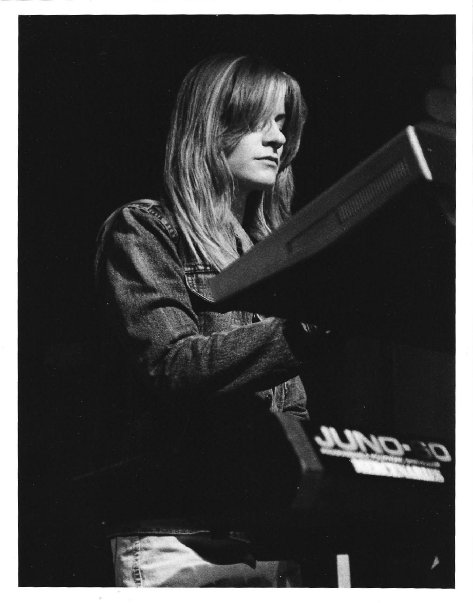 BELOW. Gene October. Chelsea.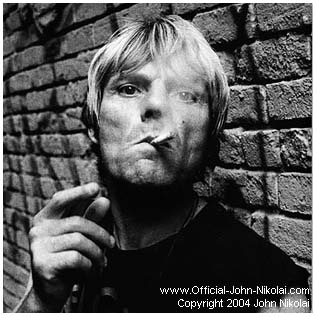 ABOVE. Jo Hill.
Below."Columbia",left to right back row,John RIDLEY,RuSS cUMmINS,CoLIn HitcHINS,MiCK louIS.jO HiLL AND gARy LoUis.1989.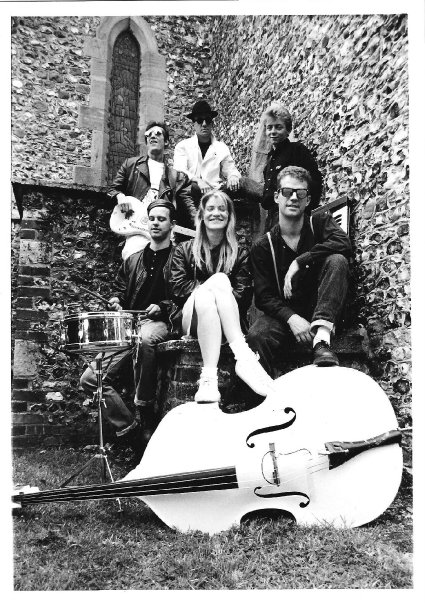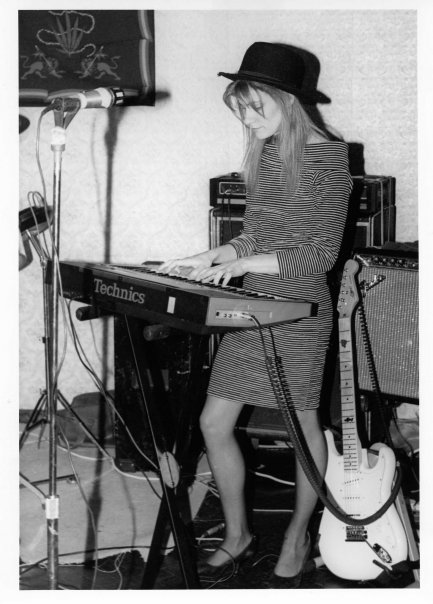 Above. Jo Hill in a hat.
BELOW..PETER DIMMOCK. died 2011..r.i.p.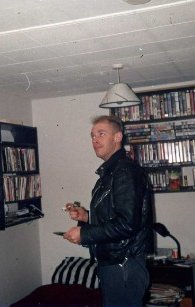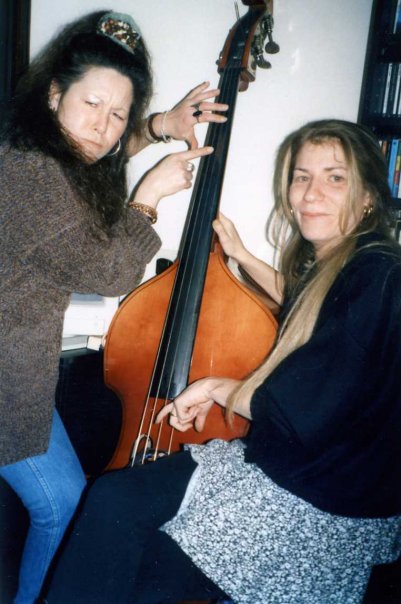 Above. Jo Reed and Jo Hill go solo, only so-low. 1990.
BELOW. FisHER,DImmOCK,dALY,"CLUB WITH NO NAME".1990.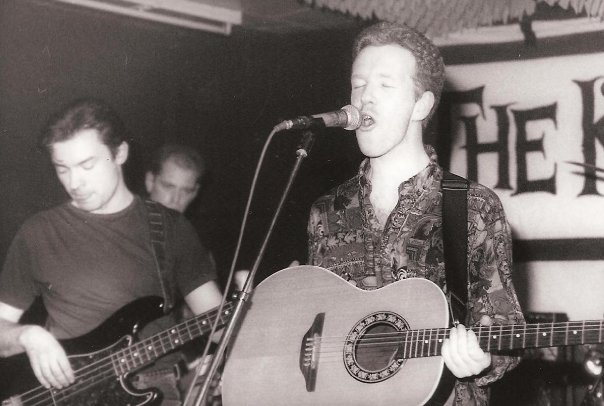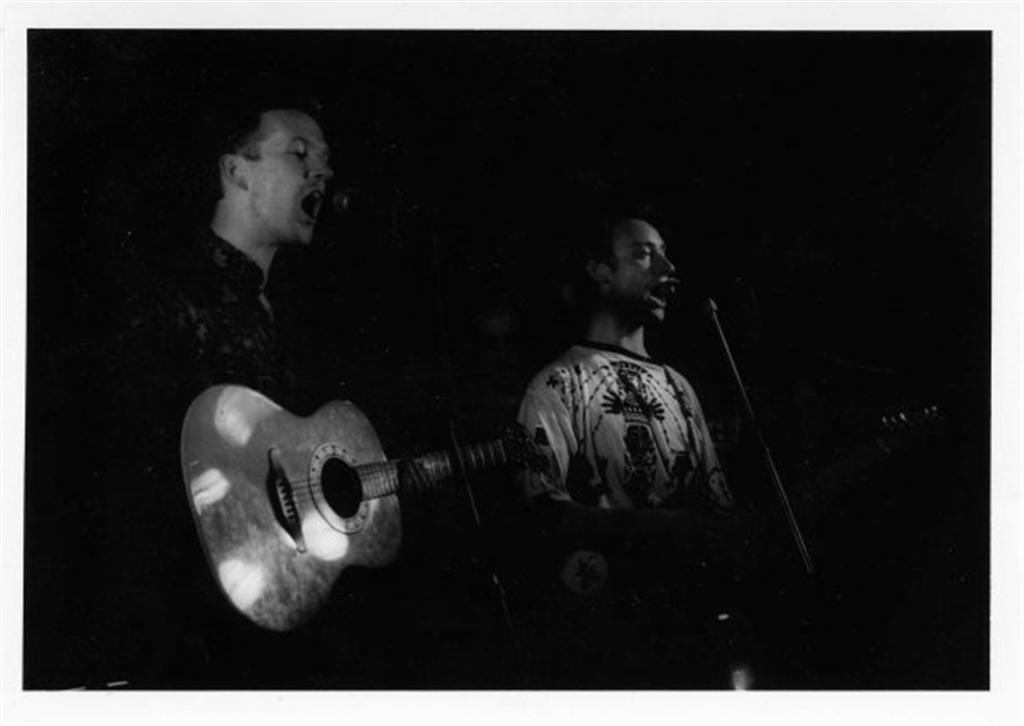 ABOVE...Den Daly and Rob Hill.CLub Wid No NaME. 92.
Below."ScuM Of tOYtOWN ".Nick Hooper,Craig,John Thurlow[x chron gen], Toad and .?.1992.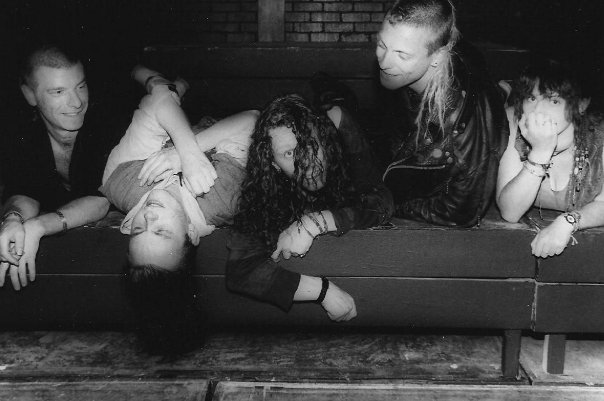 Below,cartoon drawing of king rizla at commerative gig for AronB..[drawing by R.Hill ]. left to right,Dimmock,Cummins,Hill,Sewel,Fisher,Jo Hill,Downie,Daly. Bowes,1992.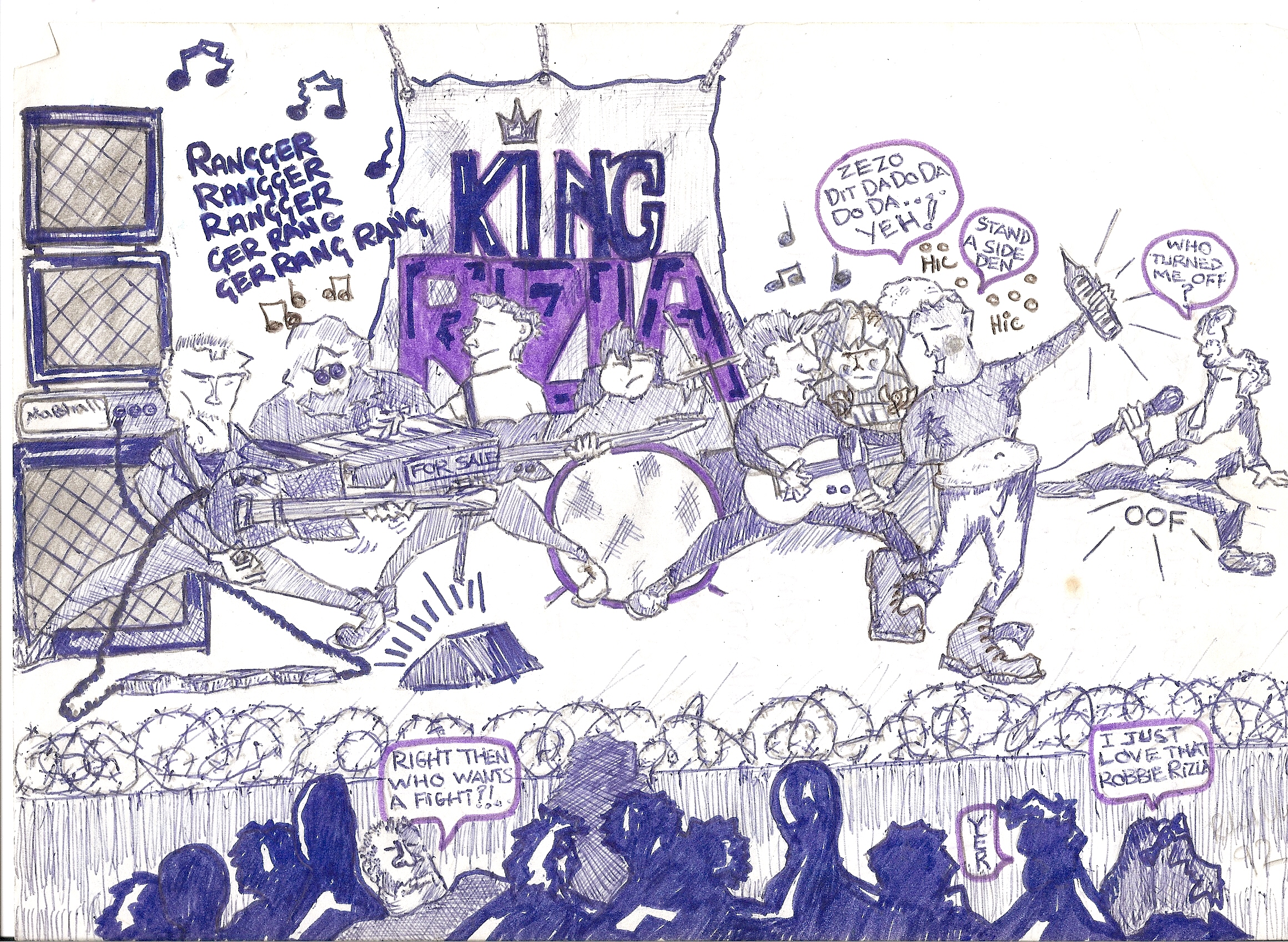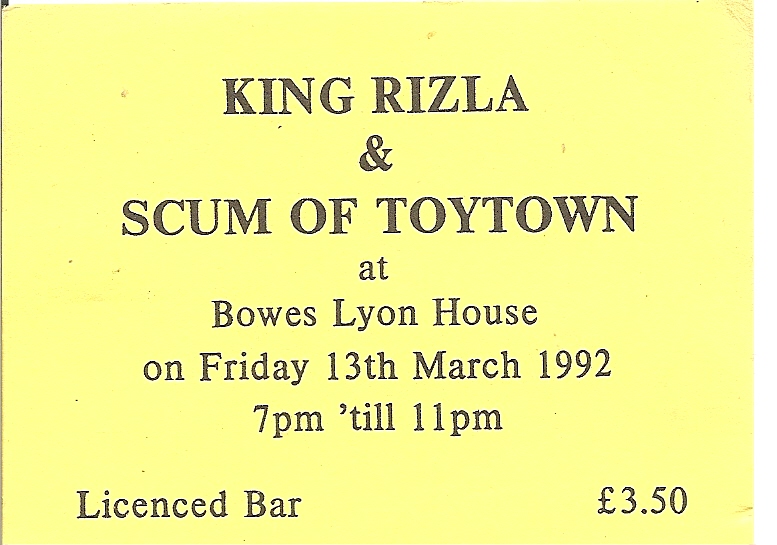 The loss of Aron as a friend and band member took a heavy toll on King Rizla as a unit and the very essence of the band seemed to depleat with any unity that perhaps was once there and was now tumbeling into a disjointed disaray of dispair. Long term partying had taken it,s toll also with certain members and it was sure that at some point something had to give.
Below, Ickleford, 1993, Fisher, Hill, Daly. "oh Billy Reilly oh"!.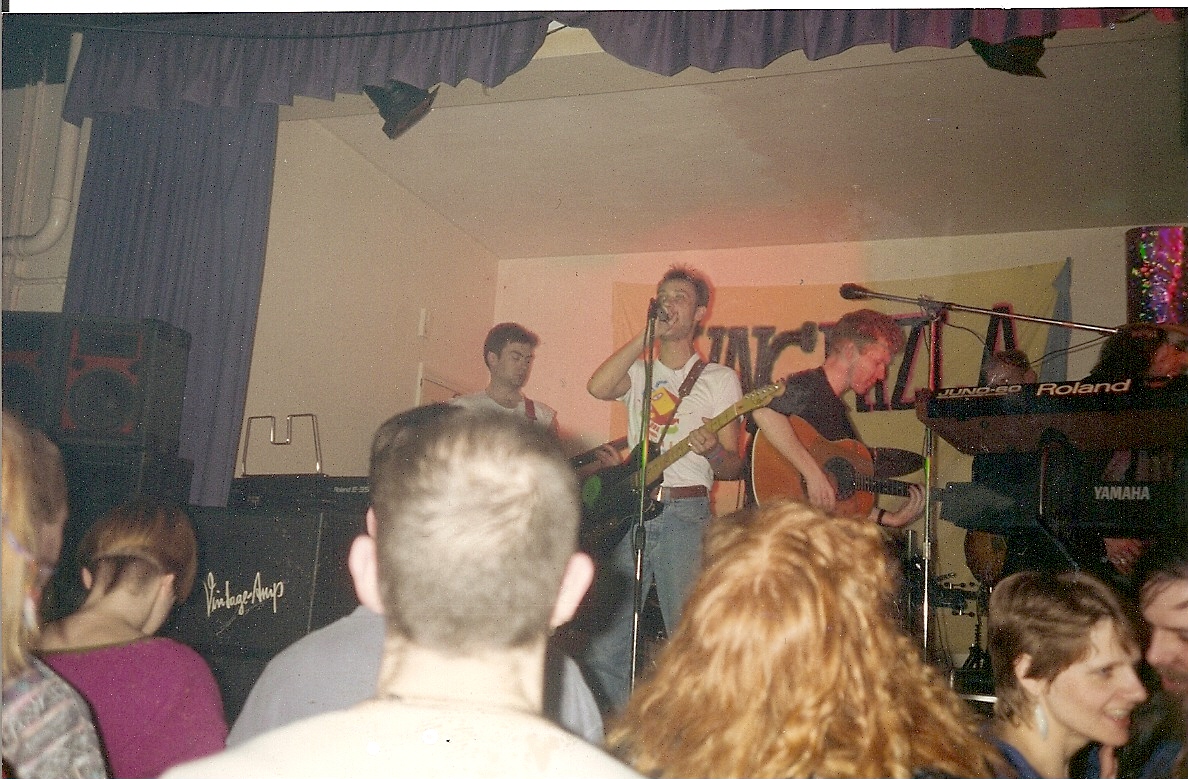 BELOW.King Rizla Fanzine ,1993.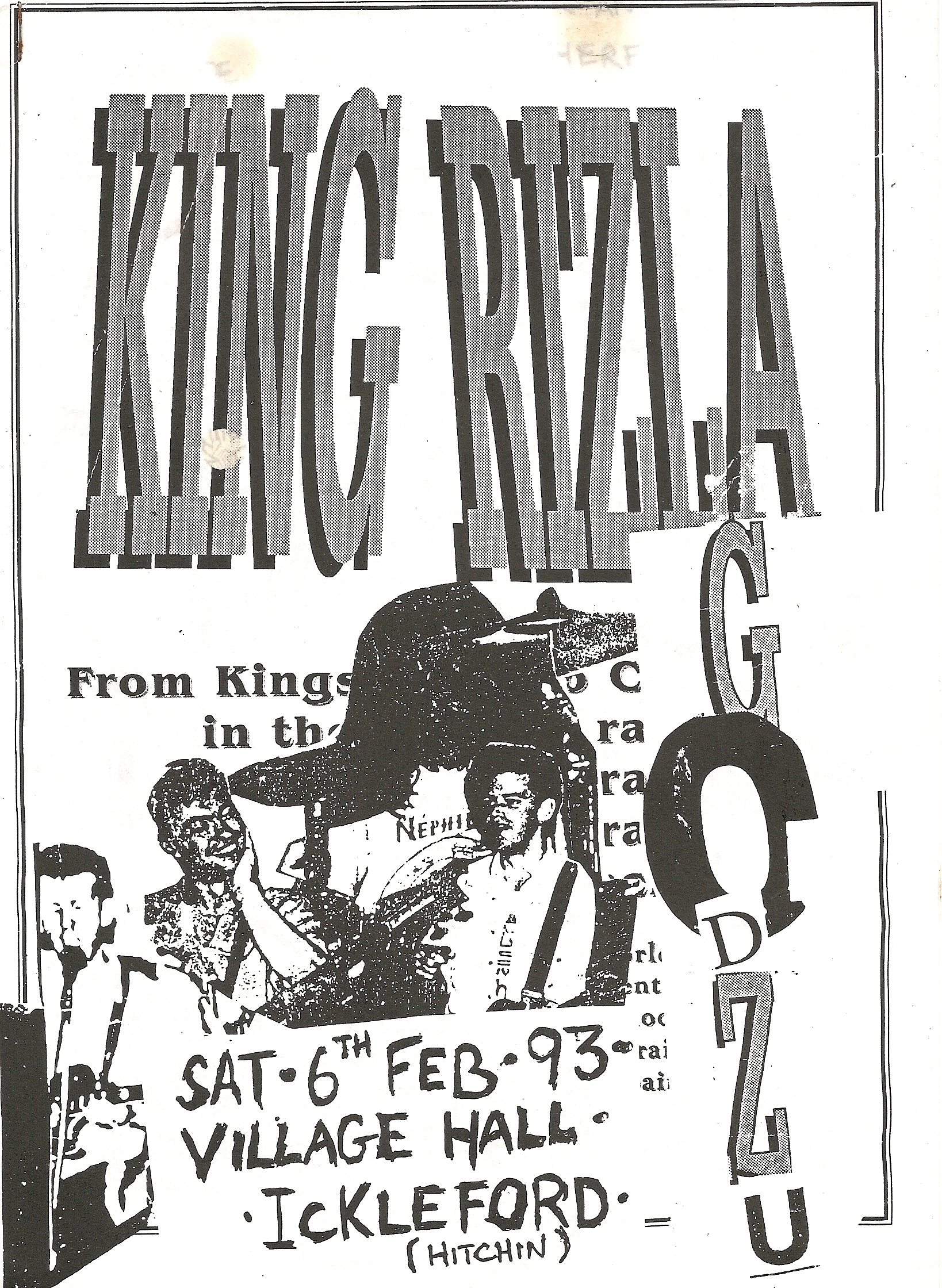 BELOW. front left to right. SpeNCe,DeNNis,some bird,mAt, geOFf,tOnY,PEter,lISa,TiM,ICKLEFORD,93.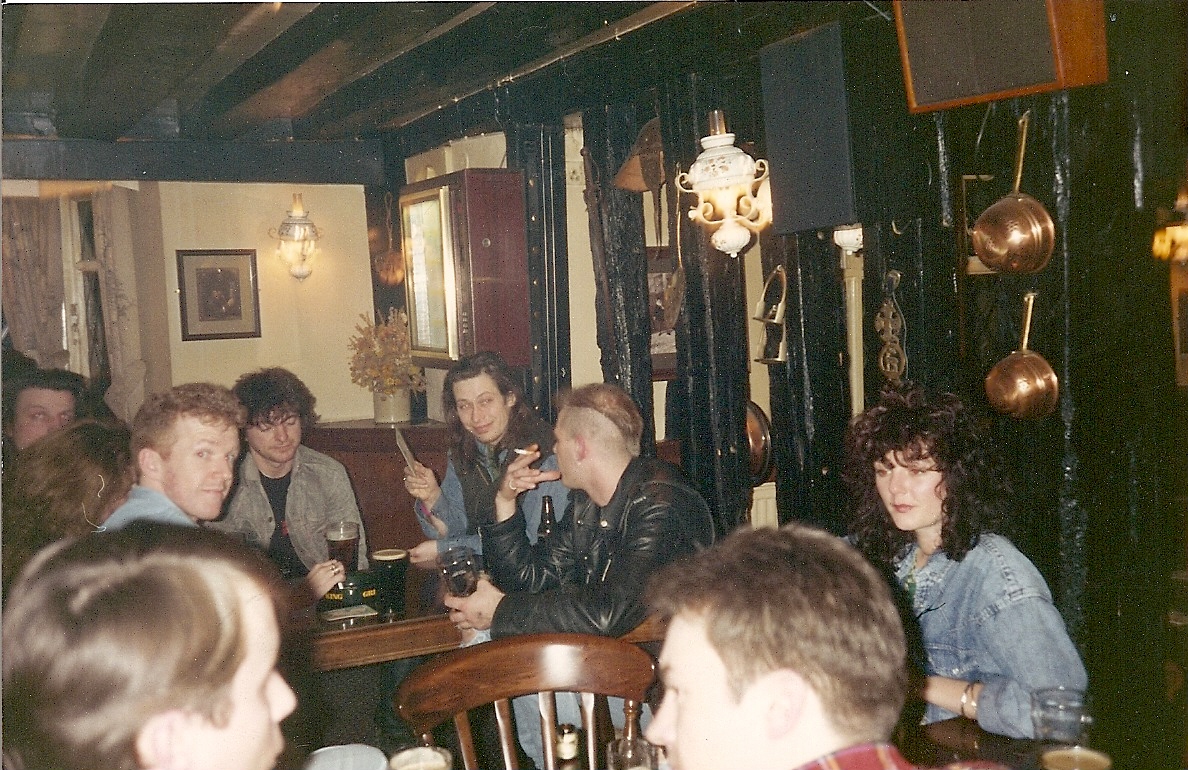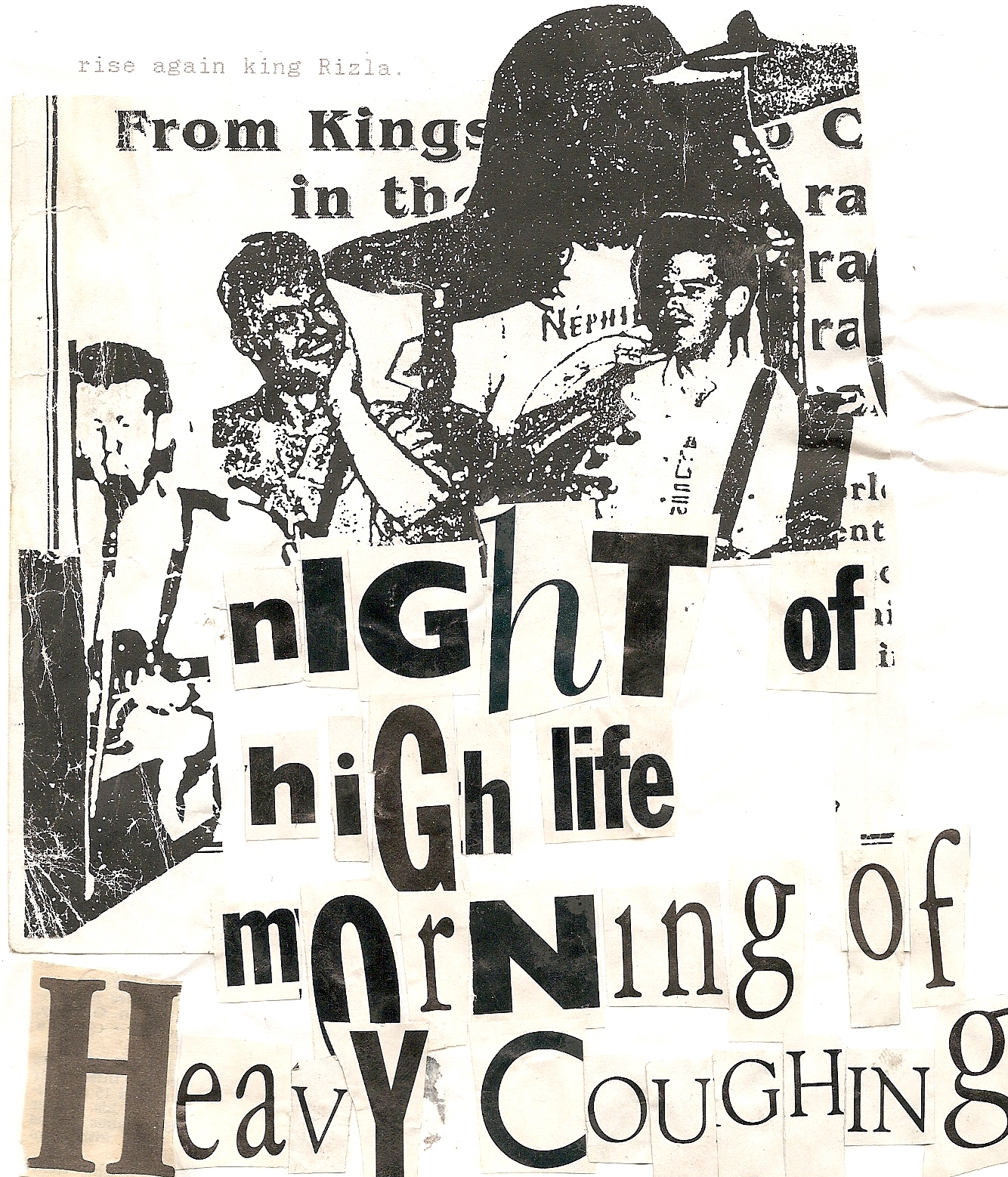 As they say,"a change is as good as a rest" and the following year King Rizla finish,"tIME fOR a nEW dAY",1994, THIS WOULD BE THEIR FIRST FINSHED ALBUM SINCE "crEAte a StOrm" back in 1987 ,long over due and comprising of a mishmash off,"old and new songs" which echoed the past and present sound in music of "King Rizla",of which had been developed through each change the band had gone through over the years.
BELOW.Front cover for "tiME fOR a NEW dAY"1994. Design, Russ Cummins.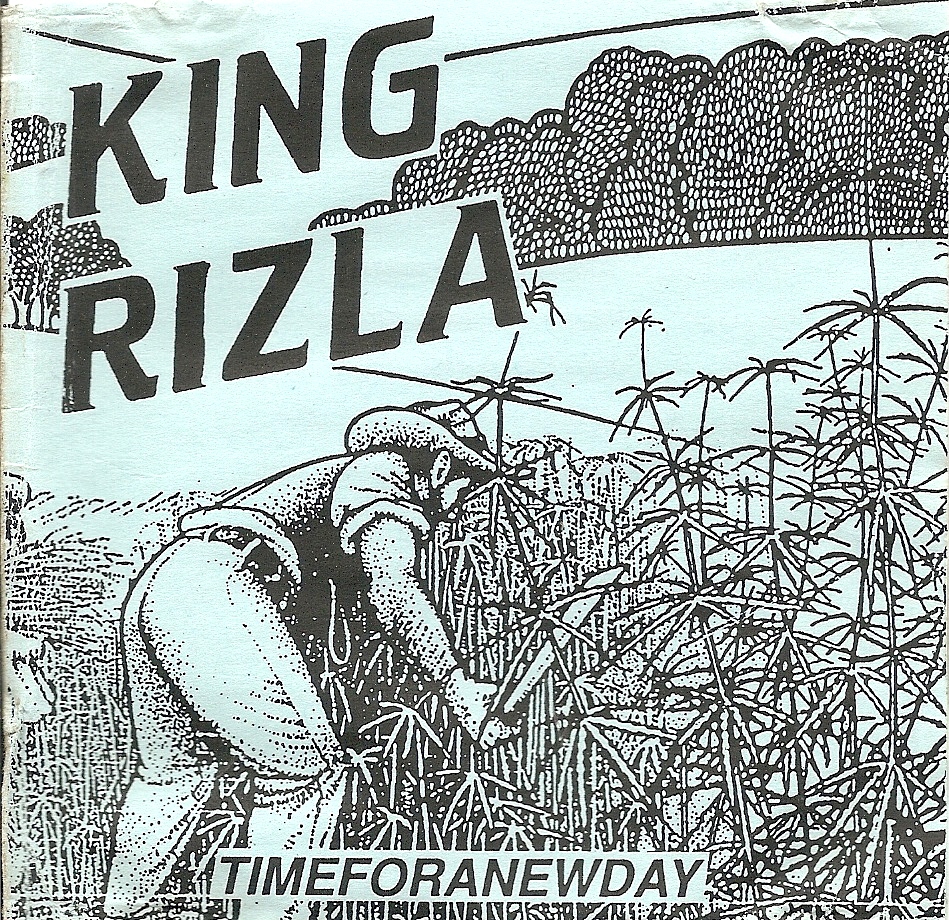 www.myspace.com/kingrizlareunited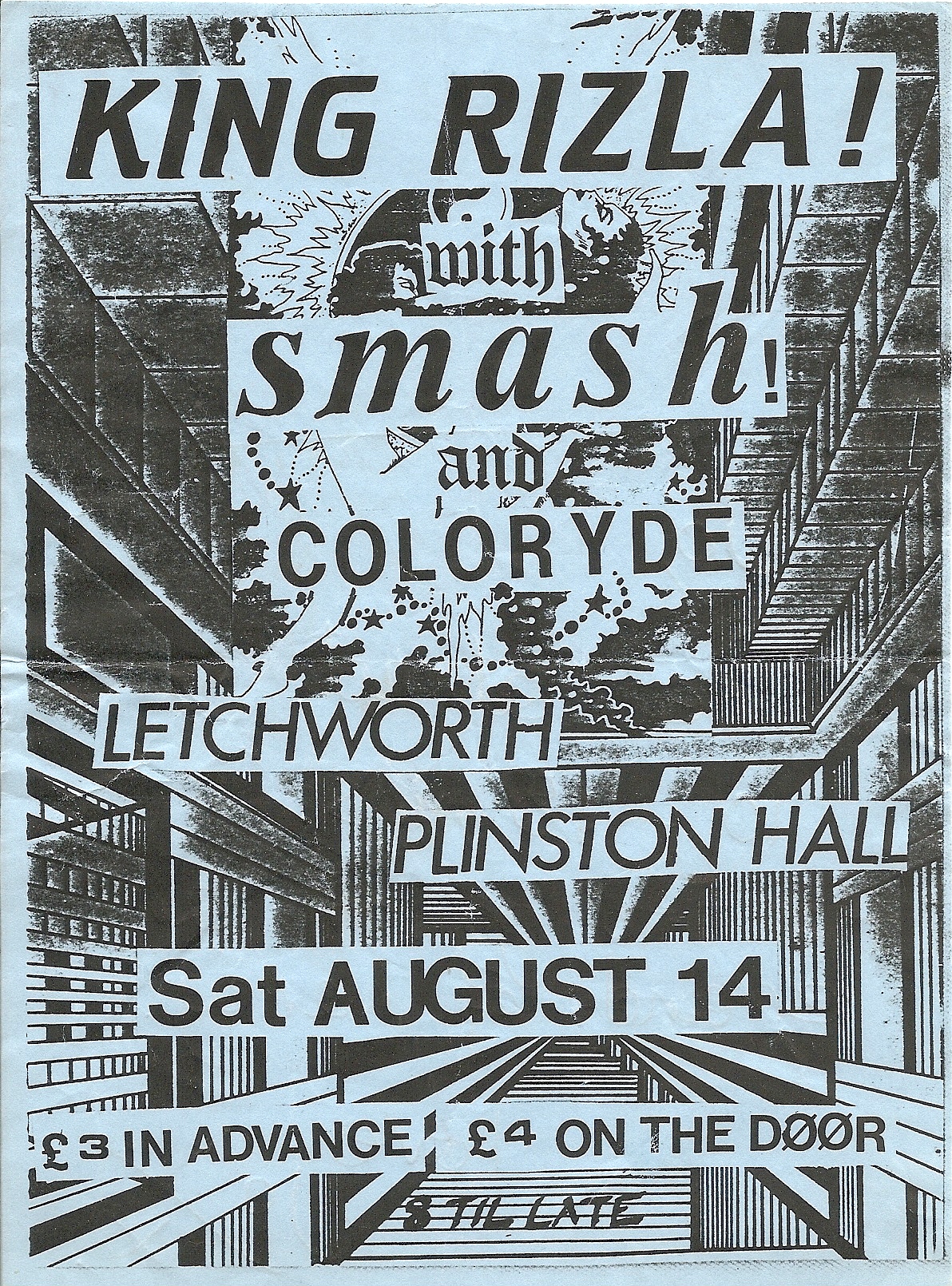 below..Hatstanhill..e.p. front cover..JUST MY OWN. BREATHE IN. HALF WAY THERE AND NOT ALONE..98.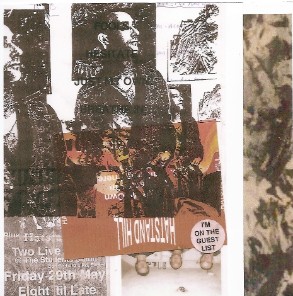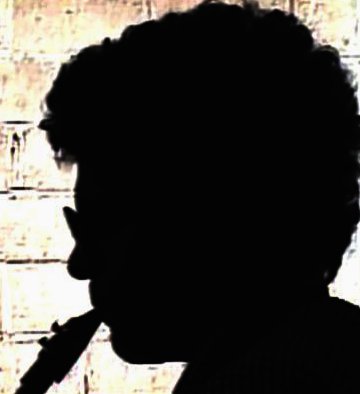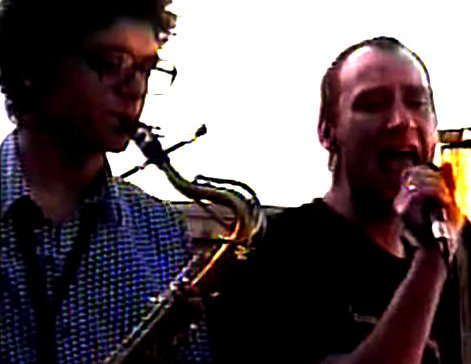 SAM MOSCROP AND ROBERT HILL.A.K.A. W.G.PAINE. HATSTANDHILL.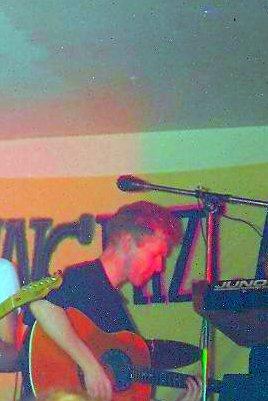 This E.P.,being KINGRIZLAS, last finished studio recording AND PERHAPS REFLECTING IN THE TITLE, "hOLE iN My sOUl" the battle torn emotion of a band that had seen so many changes in its line up, so many upheavals, twists and turns through out each page of their struggle, reaching out into endless pain, crying under the strain, come again, come again.
BELOW..ROB HILL, CURTIS IRISH AND JO HILL .ANGELS REPLY.88.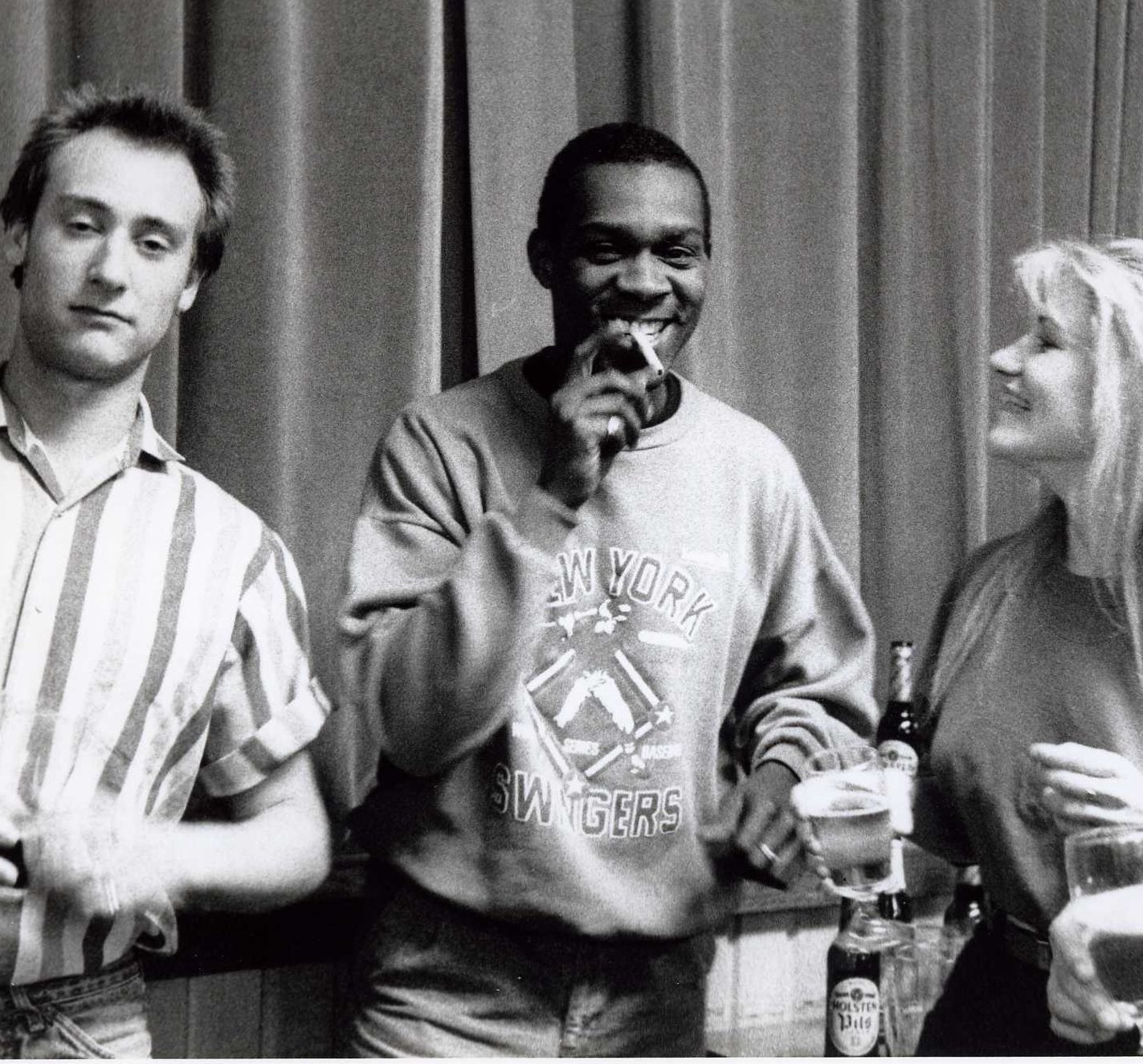 BELOW..ROB AND DEN. BOWES 1988.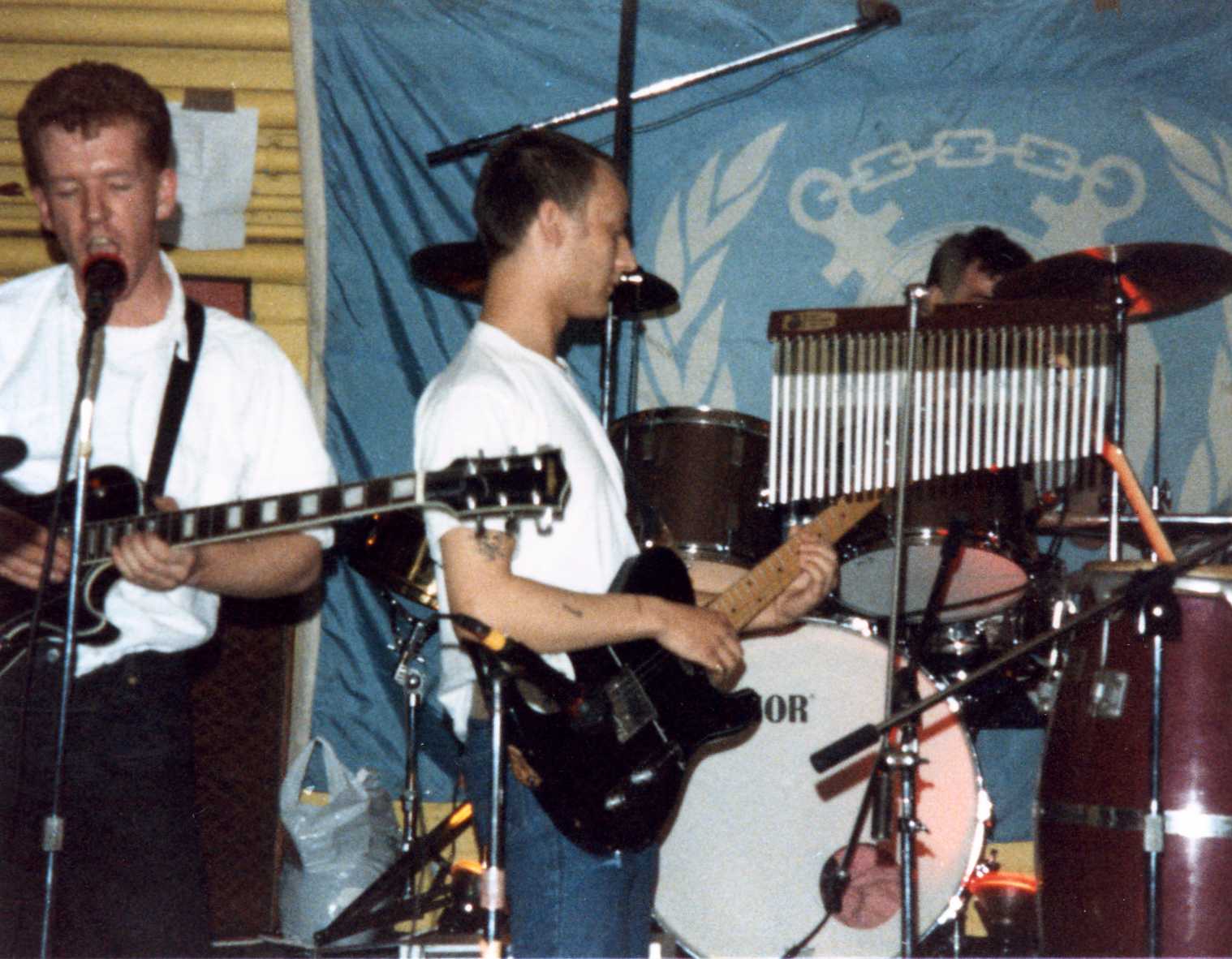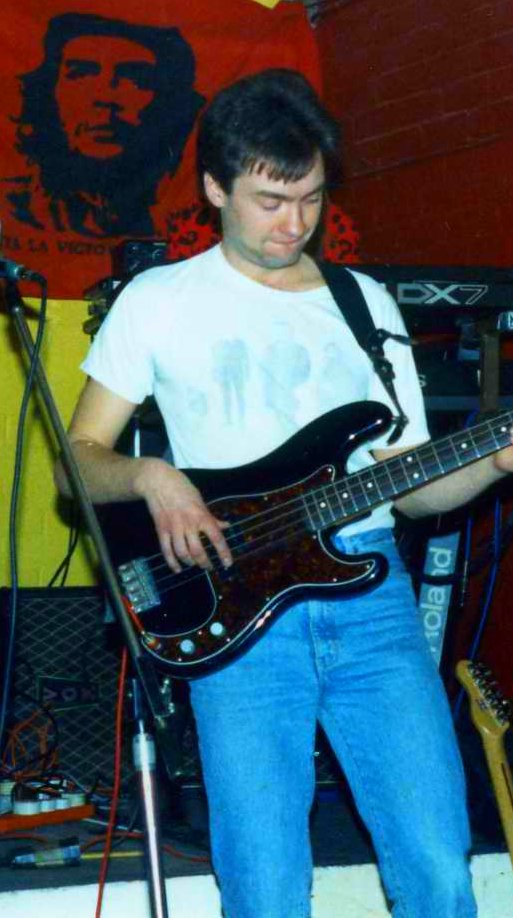 below..ras zebenia kwesi genesis. bowes 1988.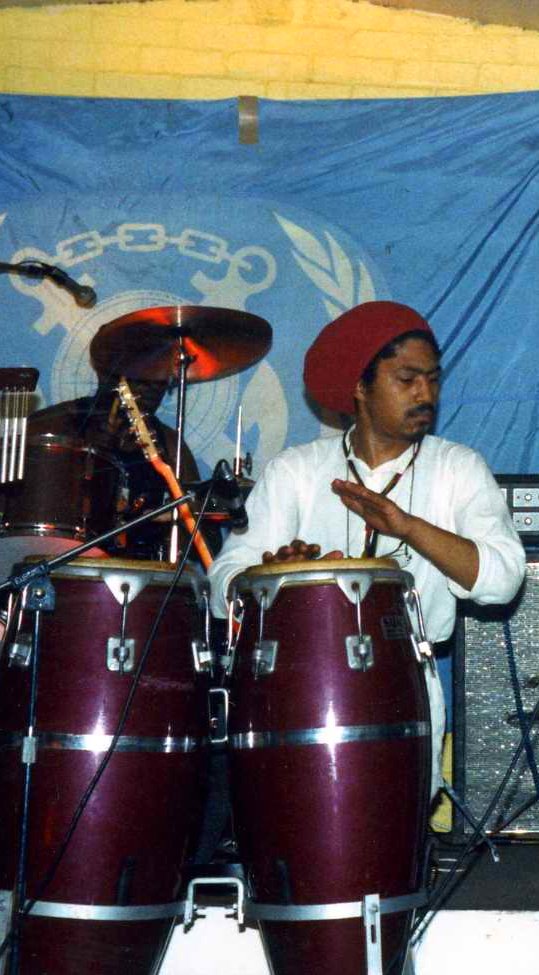 BELOW.. MICK SIMMONS. THE ANGELS REPLY. 1988.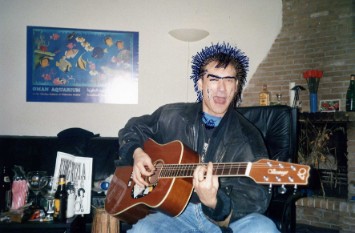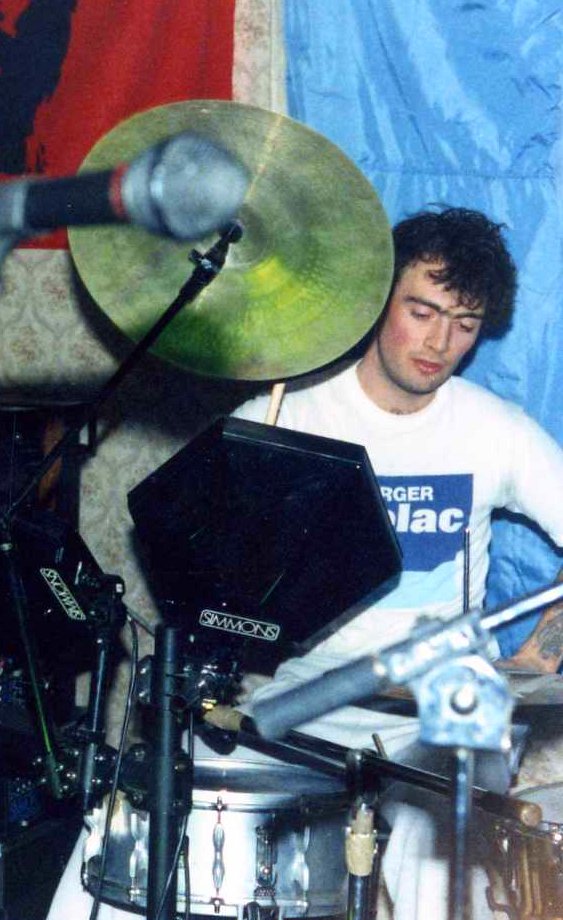 BELOW. DENNIS..GUITAR AND MARC DOWNIE. MELODICA/VOCALS. ANGELS REPLY. HITCHIN..1988.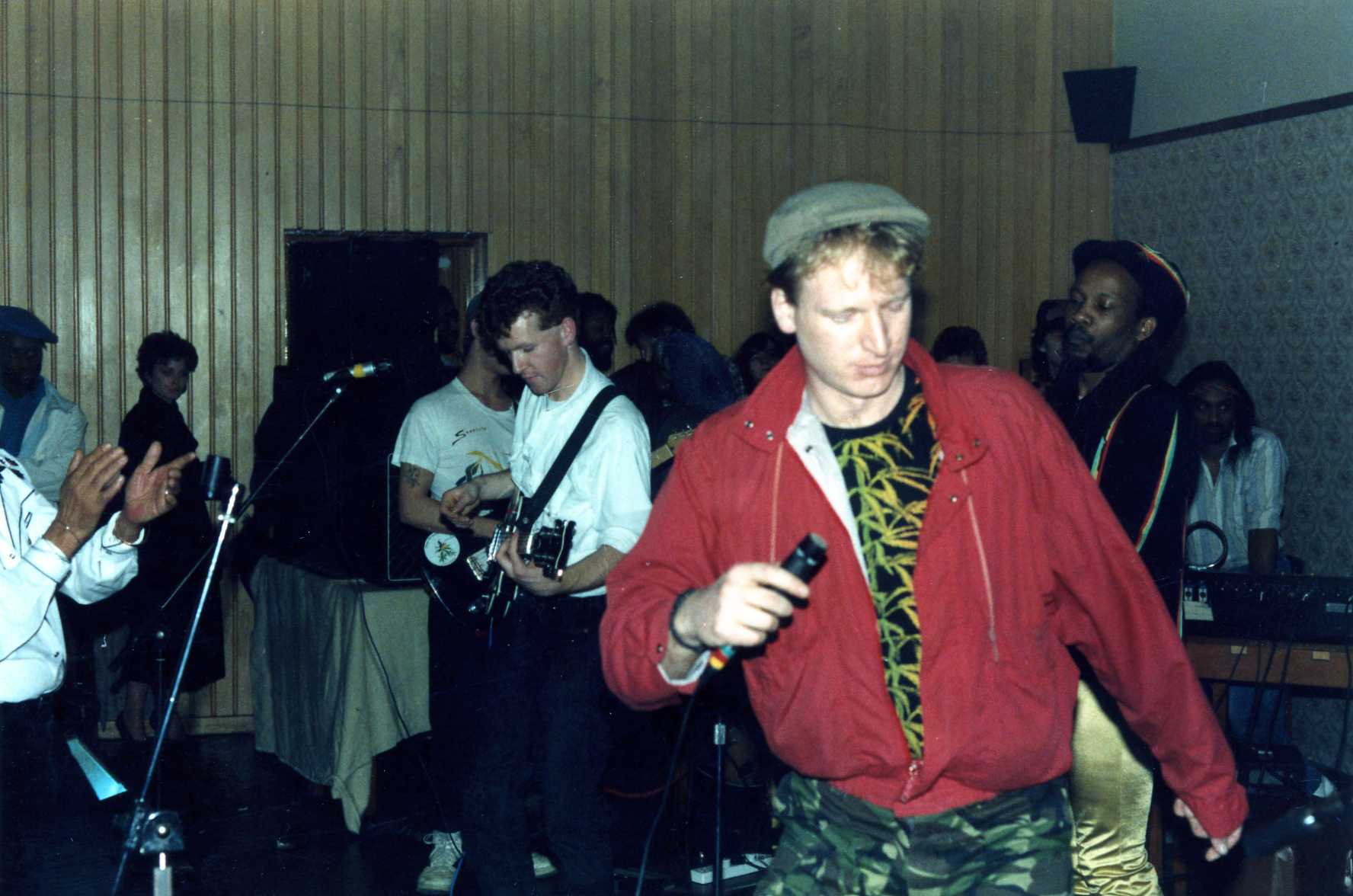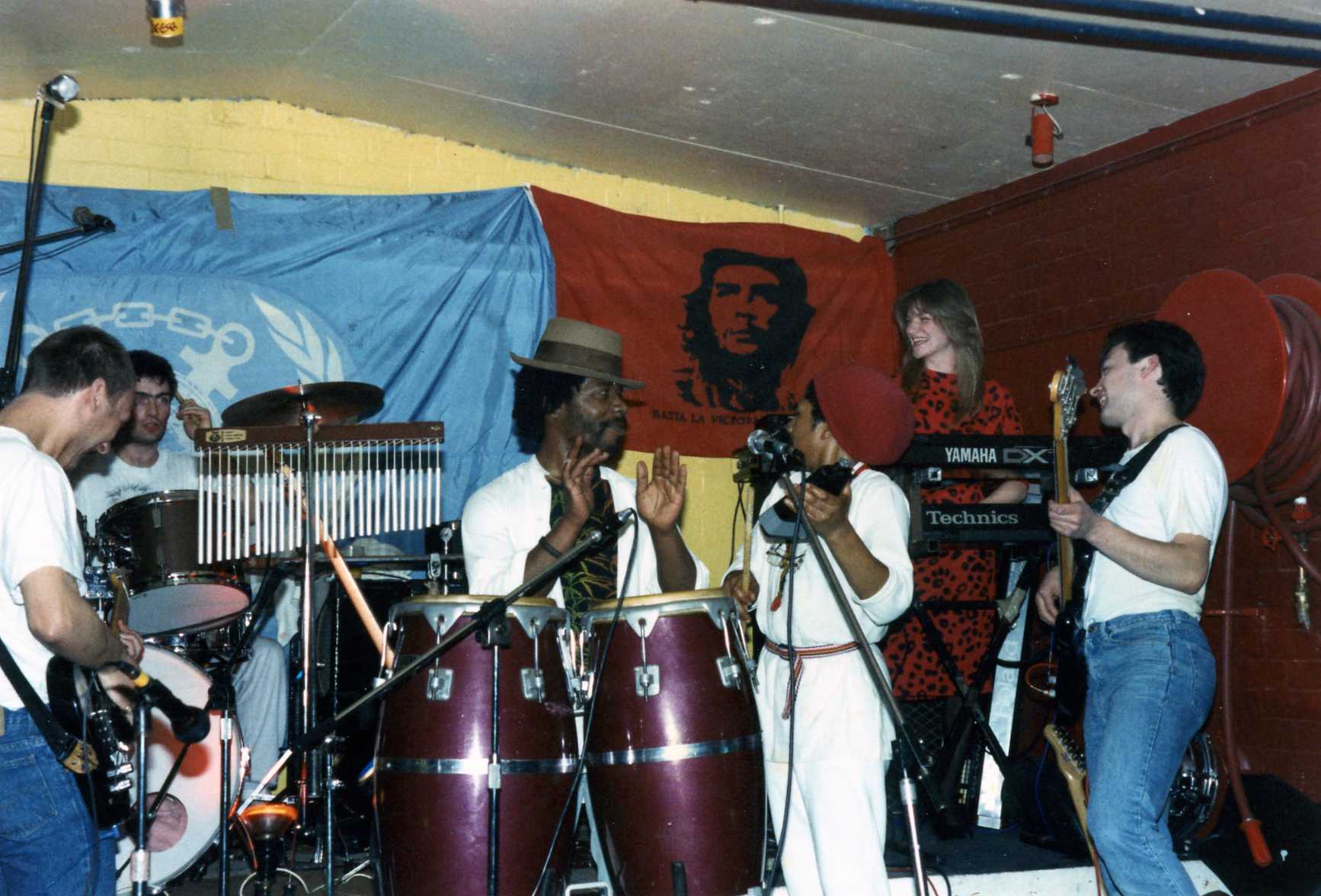 BELOW..ANGELS REPLY..88
BELOW THAT..MARK AND ROB..THE GORDON CRAIG THEATRE.. STEVENAGE..1987.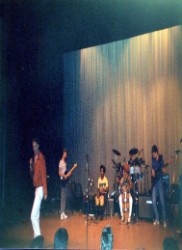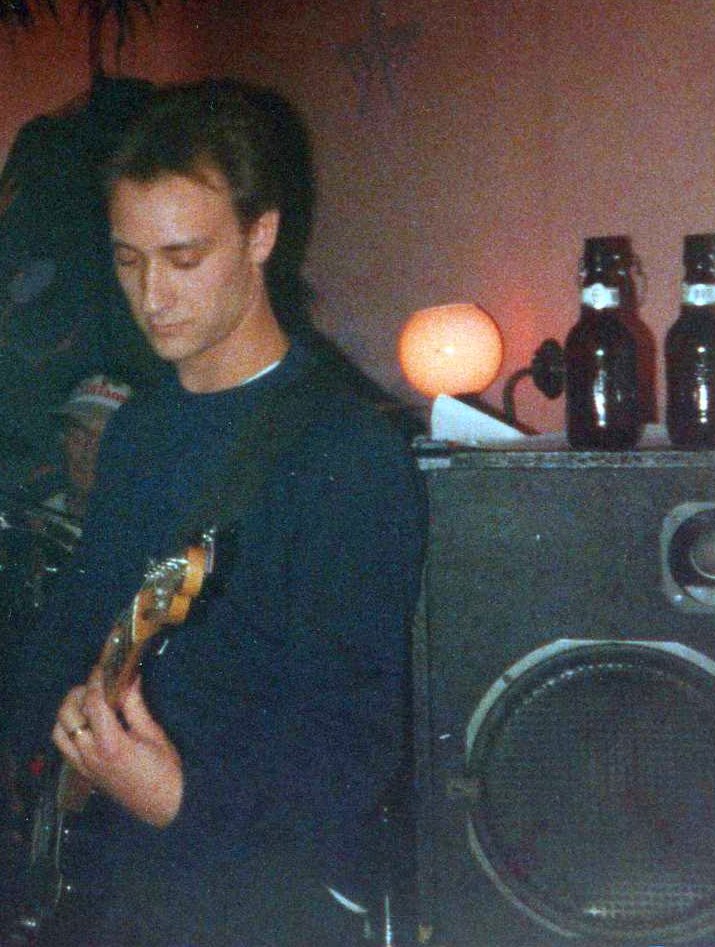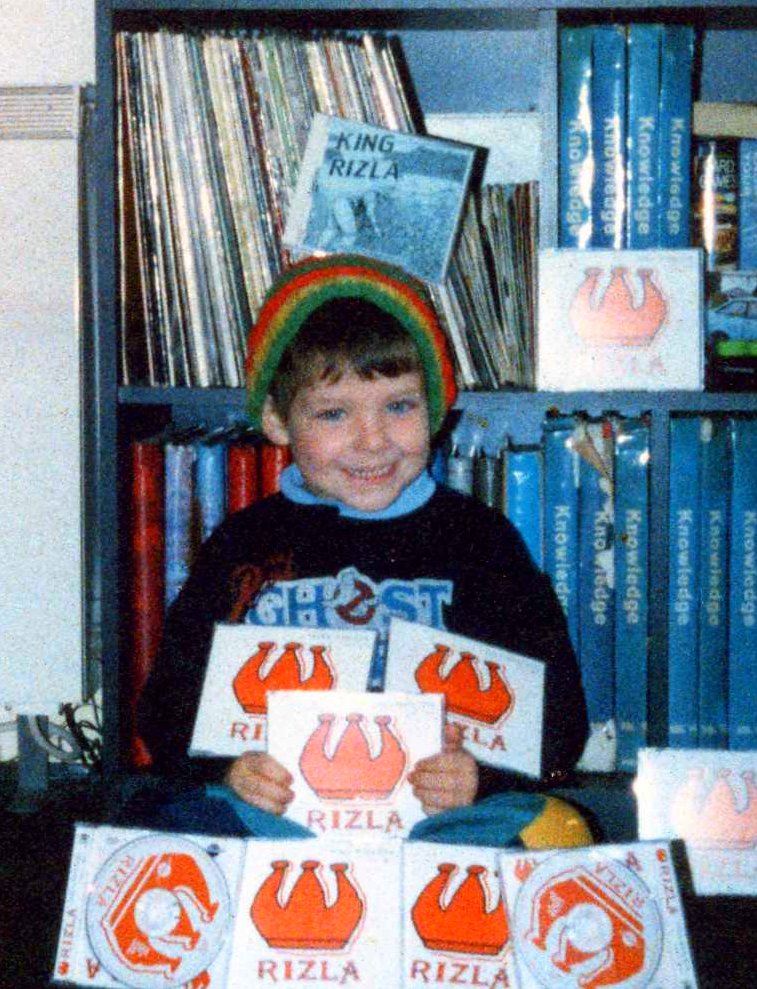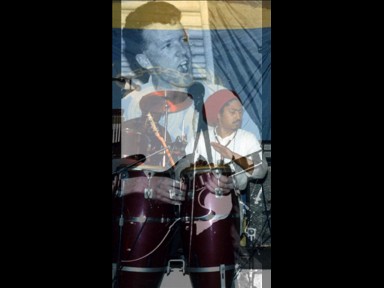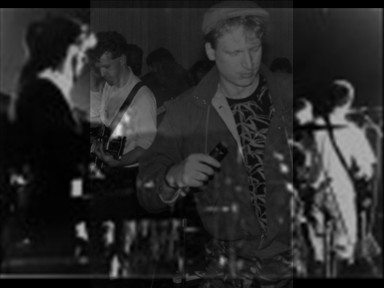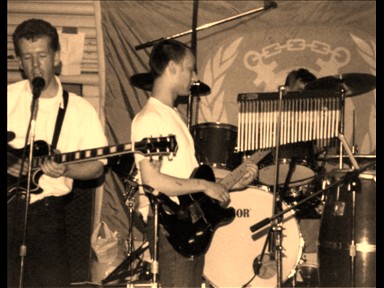 BELOW..TIM FISHER AND DENNIS DALEY..THE LEISURE CENTRE..1987.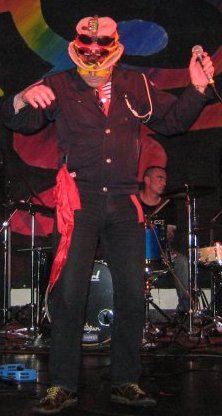 ABOVE...MARCUS DOWNBEAT STRUTS HIS STUFF AT CLUB 85..1st MAY 2010.
AND BELOW WITH MARKS CURRANT BAND..THE MIGHTY NO1. STATION..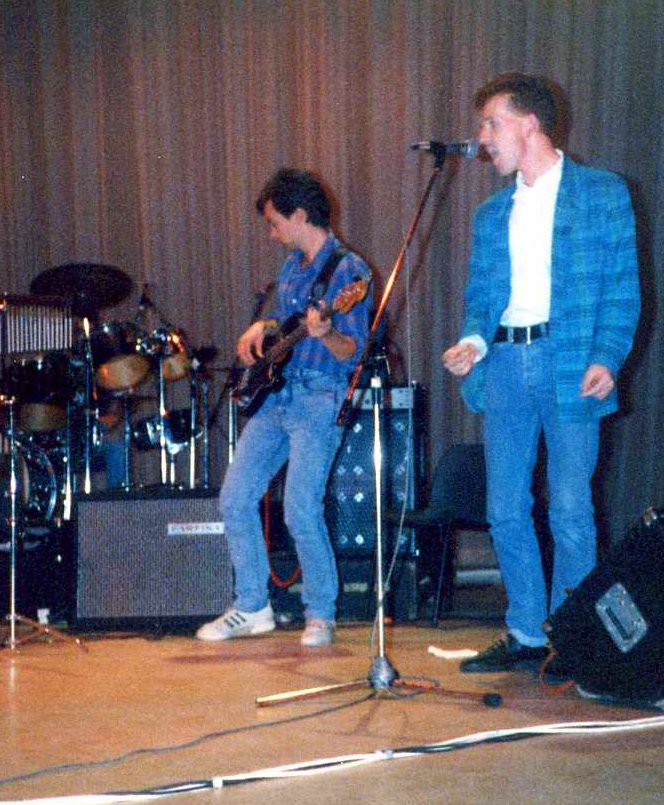 FUCK ME DEN WE,RE SUROUNDED BY RASTA,S!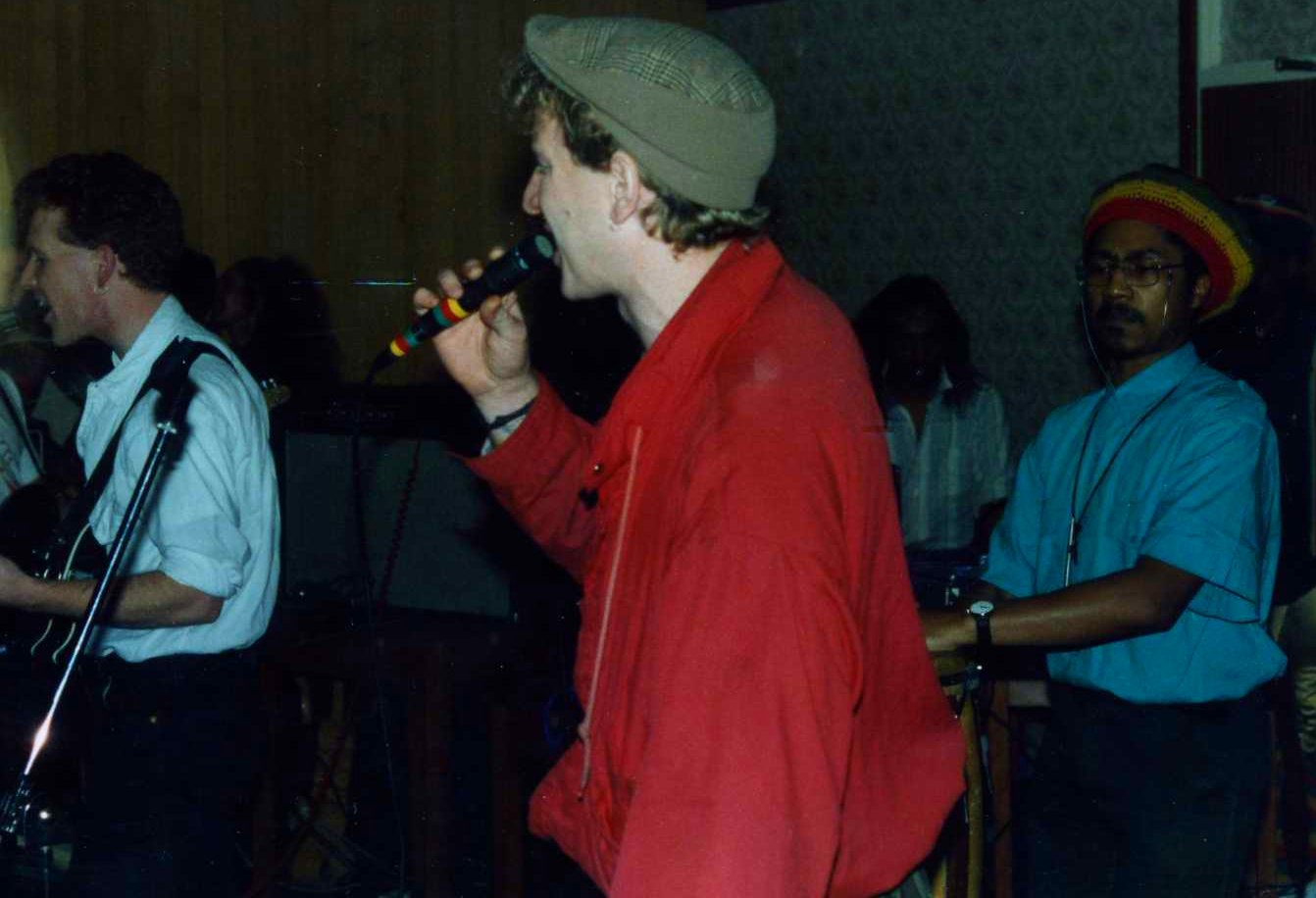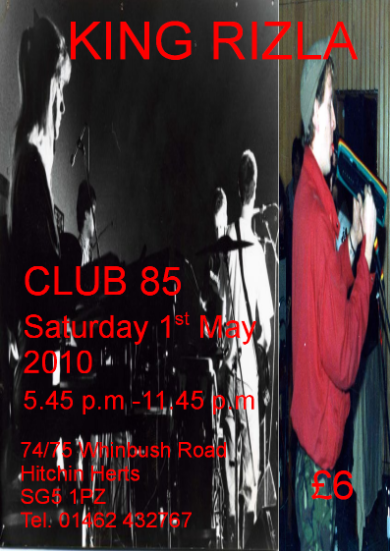 ABOVE..LEFT TO RIGHT..DEN DALEY. MARK DOWNIE. ZEBBY. THE ANGELS REPLY. 1988..
BELOW..RUSS CUMMINGS AND JO HILL..1989. KEYBOARDS UNITE!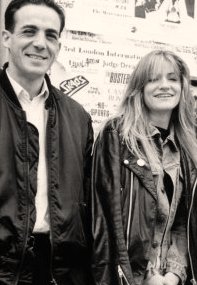 BELOW..HILL. DOWNBEAT. THE RED 2010..RIZLA REUNITED...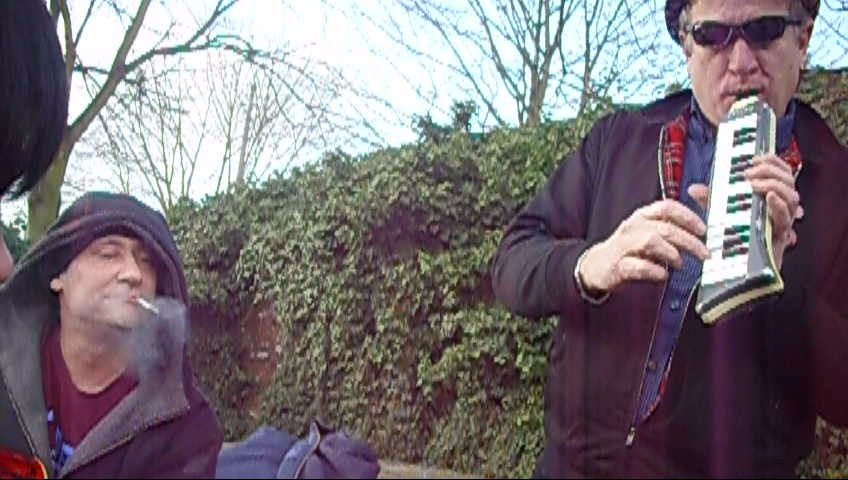 BELOW..Ickleford village hall...6th Feb 1993..
BELOW...FUCK IT MARK LETS GET THE BAND BACK TOGETHER!!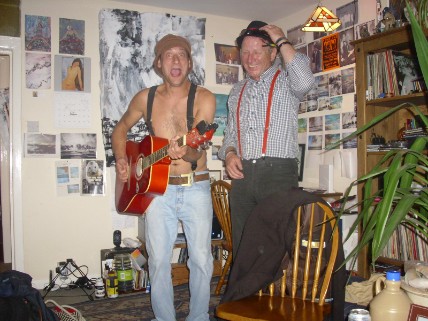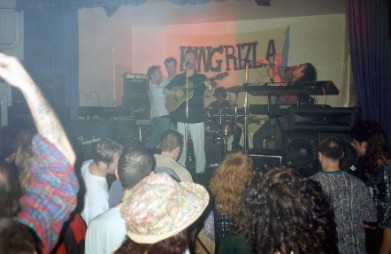 CELEBRATY CORNER...ROBBIE RIZLA AND SIR MARCUS DOWNBEAT BACK ON THE ROAD AGAIN!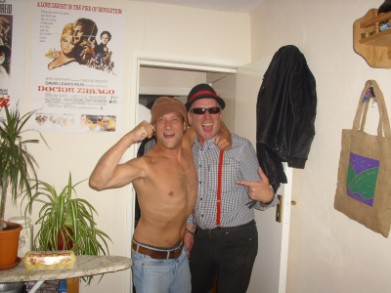 ABOVE GEORGE FISHER..KING RIZLA VOCALIST.. "come on lads, lets get this band back on the road"!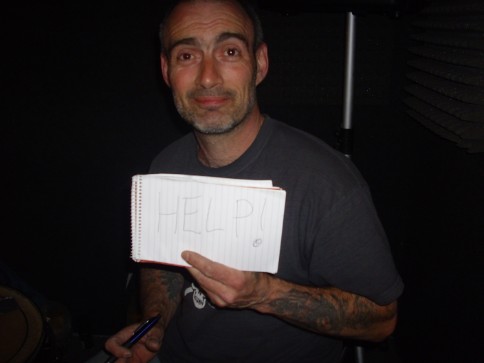 ABOVE THE ONLY...MICK SIMMONS...KING RIZLA REHEARSAL 2015
ABOVE...King Rizla live at club 85....MOUTAIN THUNDER!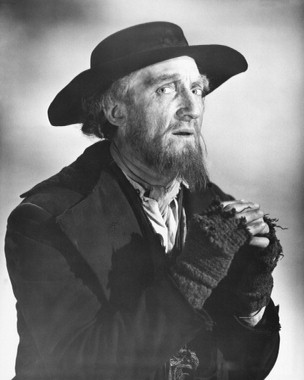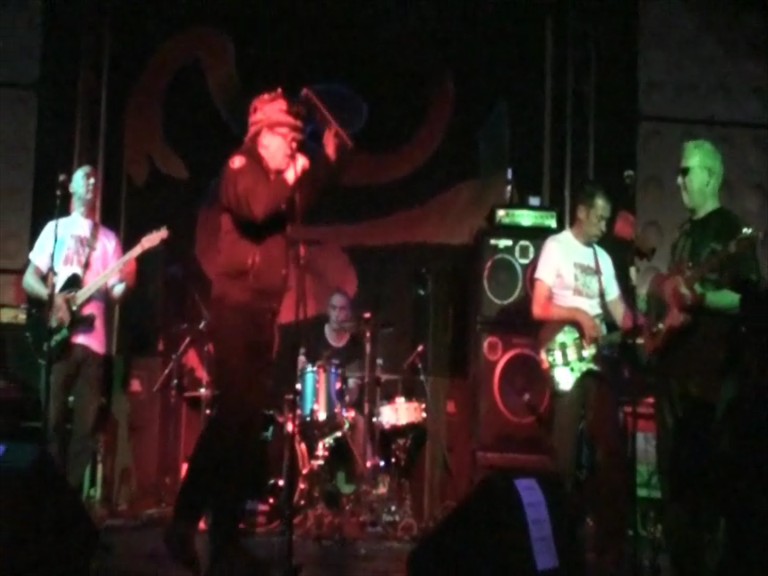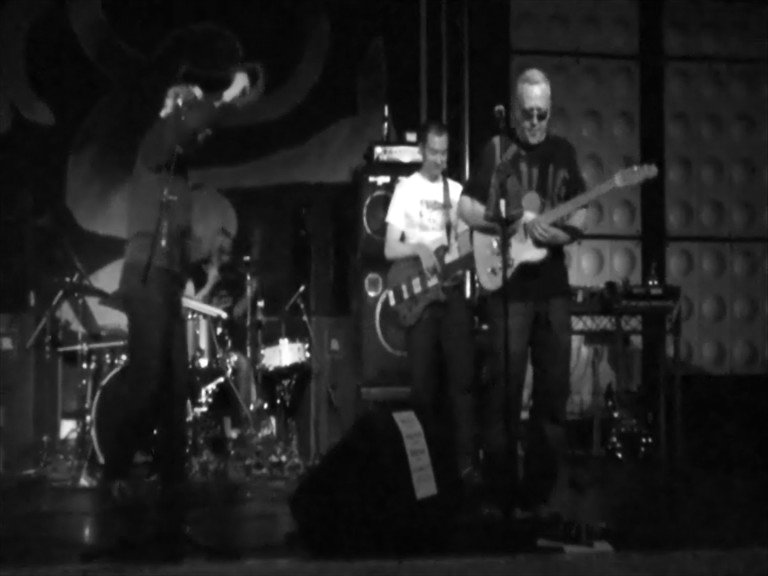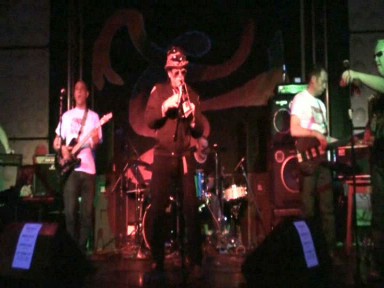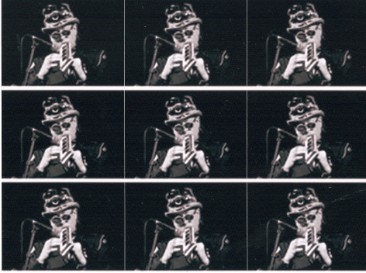 ABOVE..AS THE PIDE PIPER AND BELOW IN JASON AND HIS TECHNICOLOURED RAIN COAT..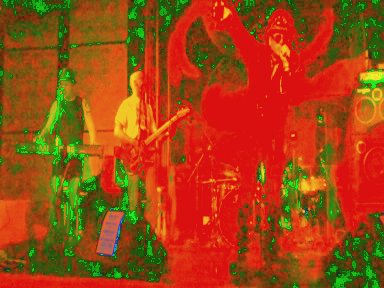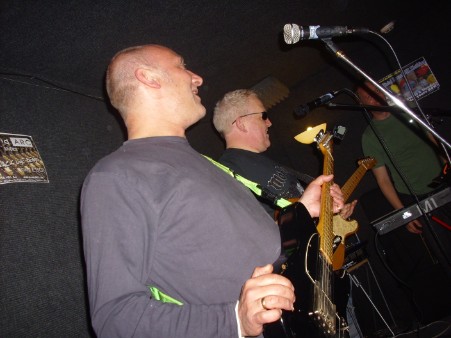 BELOW..Sir Marcus Downbeat...Gather round, "i wanna tell you a story"!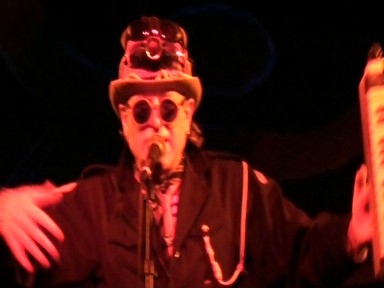 below, Dennis with the opening act!...love you den!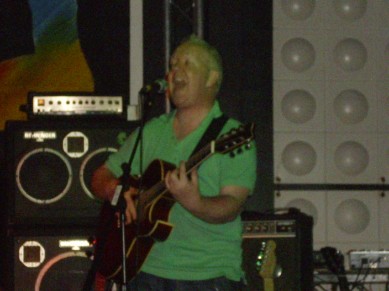 BELOW...Daly, Fisher, Hill, A DEADLY KING RIZLA COMBINATION!...CLUB 85 2010..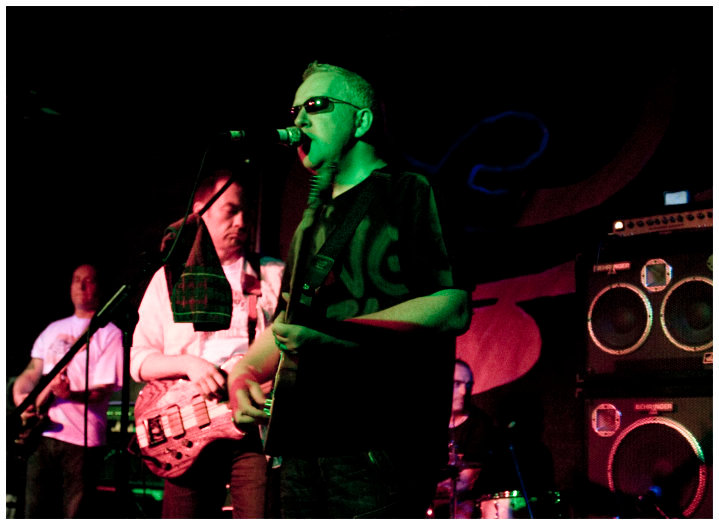 BELOW...RIZLA POSSE..NIDGE SCALES, BARRY HAWKINS, DEN DALY AND ROB HILL..WE WERE FRIENDS FROM THE BEGINNING AND FRIENDS WE WILL REMAIN! LOOK WERE OUT CLUBING! AND AT OUR AGE!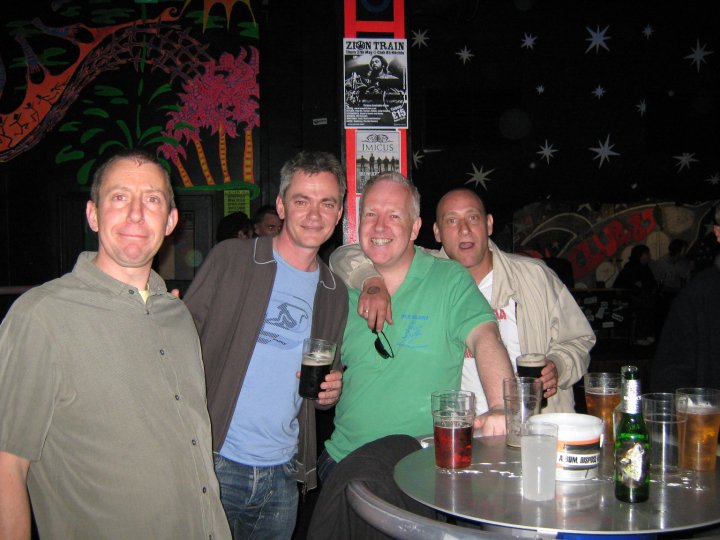 BELOW...YESTERYEAR YESTERDAY...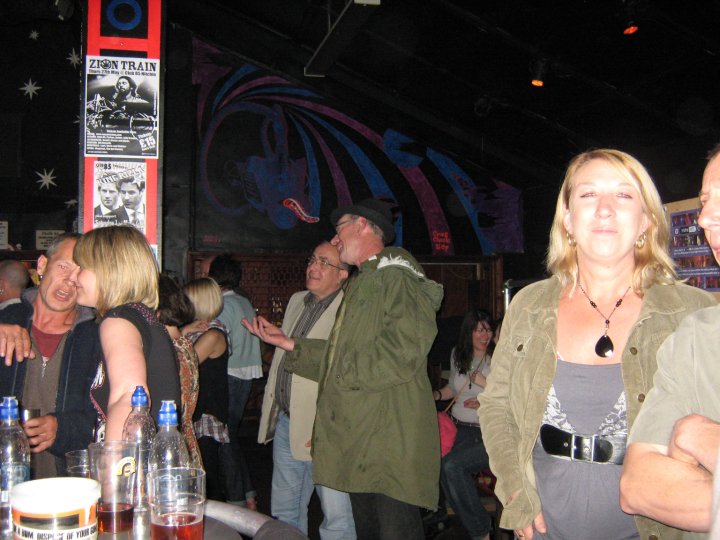 TIM AND DEN SLOG IT OUT..I SAY DEN QUITE ALOT OF KNICKERS HANGING OFF YA MIKE STAND!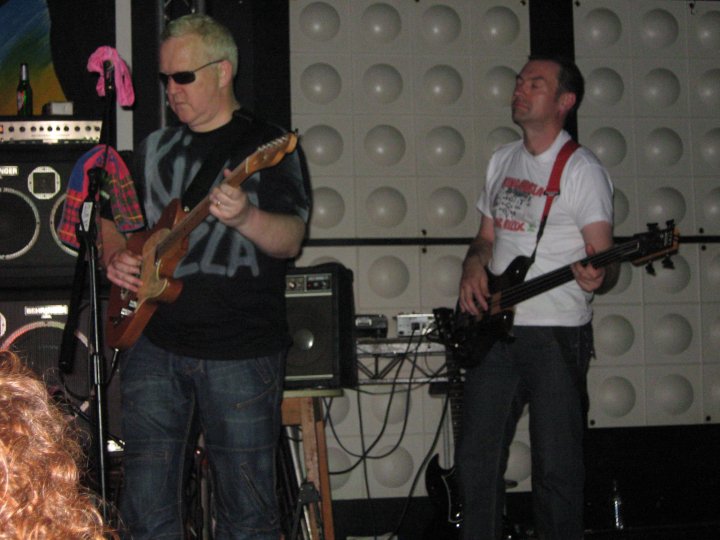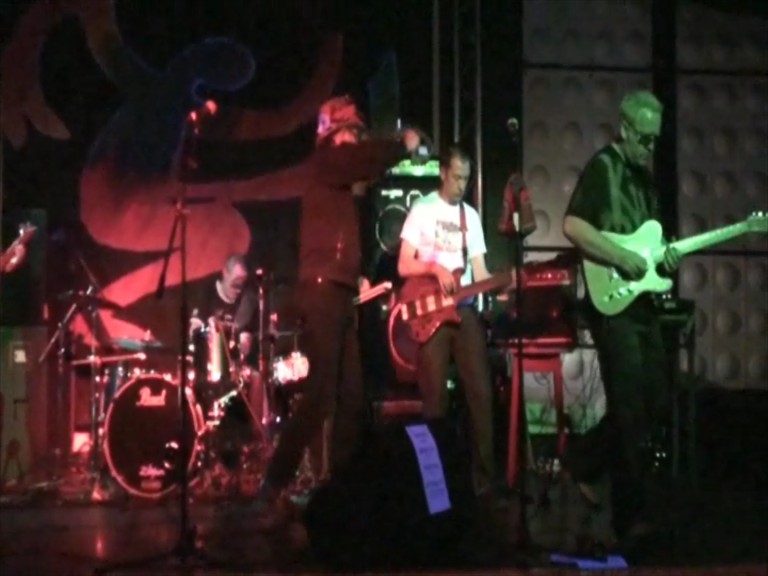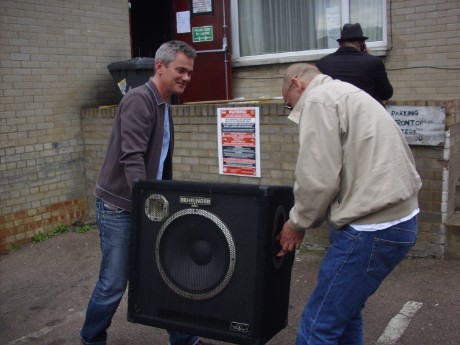 ABOVE...NOT LIKE THE OLD DAYS BARRY, HAVING TO CARRY ME OWN STUFF..NO ROB IT,S JUST LIKE THE OLD DAYS WHEN WE HAD TO CARRY OUR OWN STUFF! [is that art daily standing by the wall]?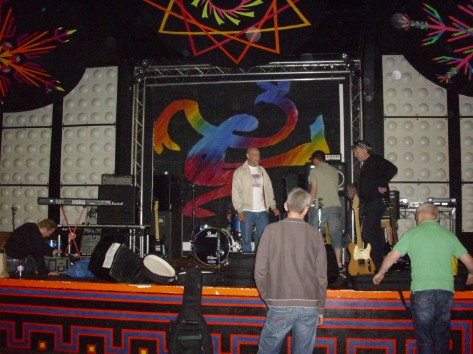 ABOVE..SETTING UP SHOP.....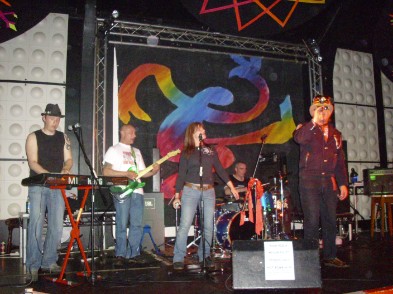 BELOW...VARIUOS CANDIDATES ...FRONT ROW...CHRIS COOTE..JO HILL AND ZOE!! OH THE MEMORIES!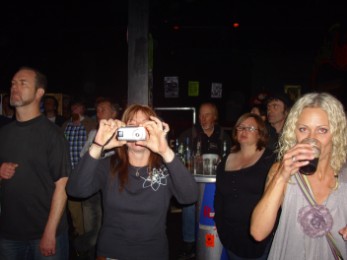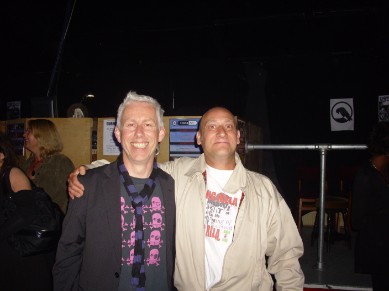 AND A MILLION YEARS LATER IT,S, JOHN THURLOW. [chron gen/scum of toy town] AND ROB HILL..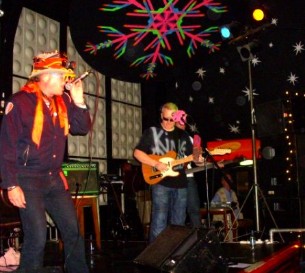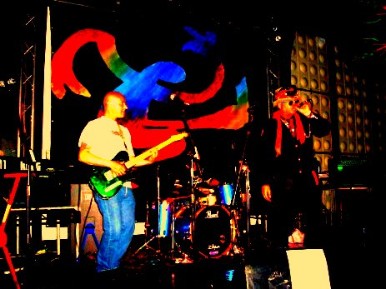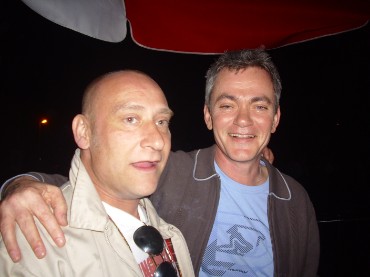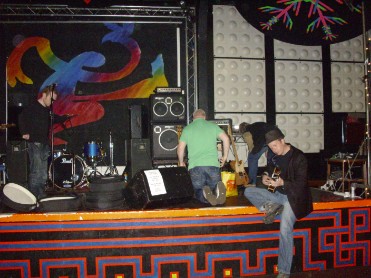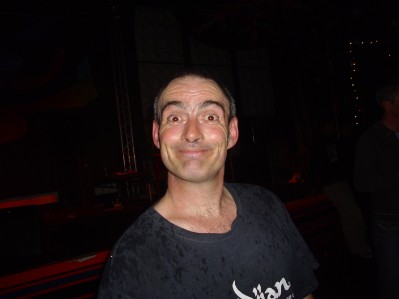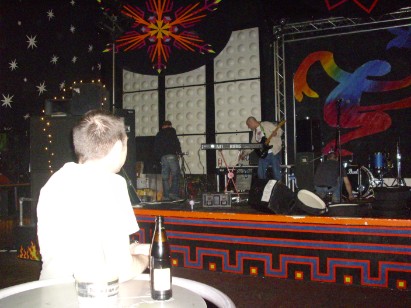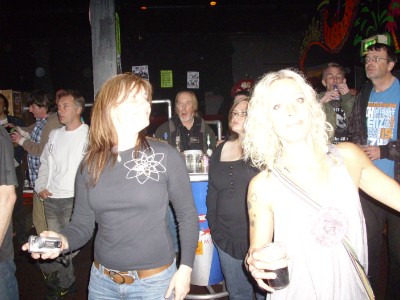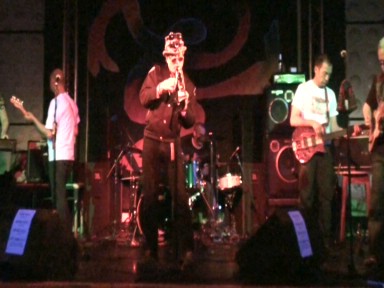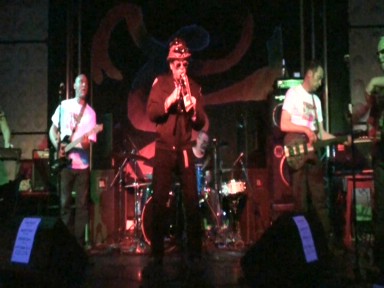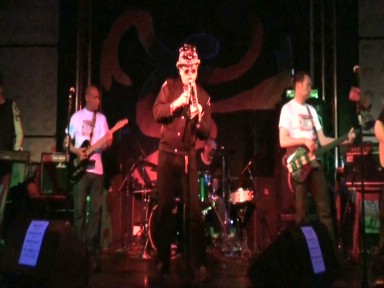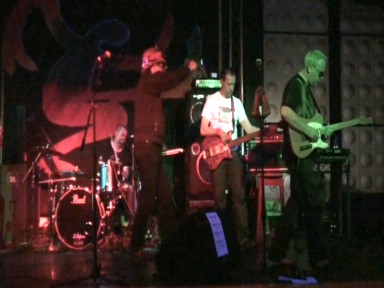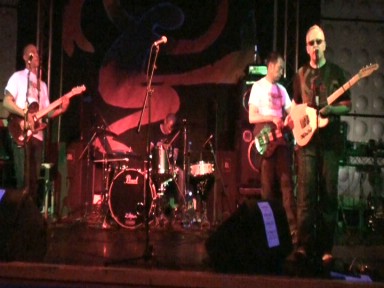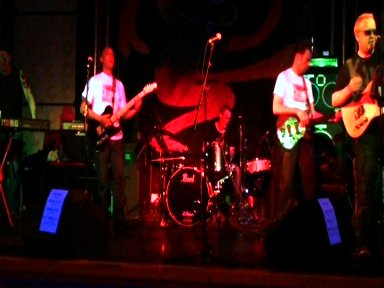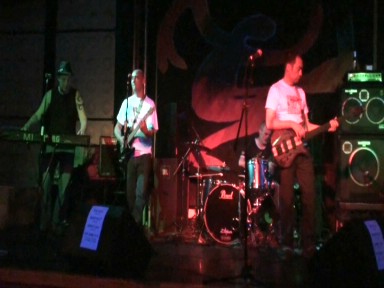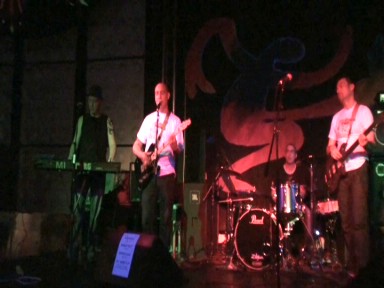 KING RIZLA,,XXXXXXXXXXXXXXX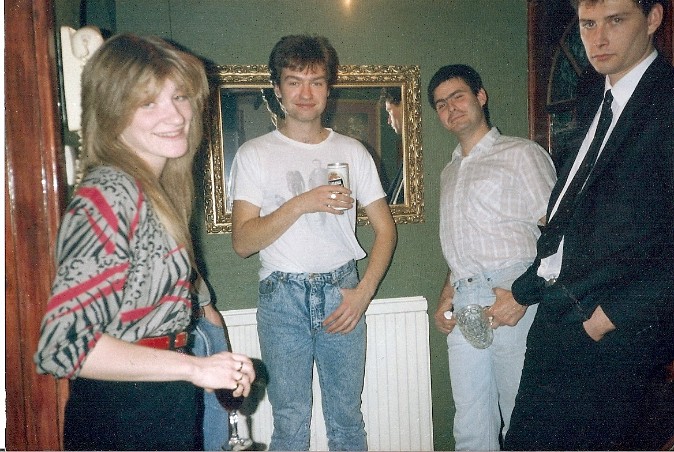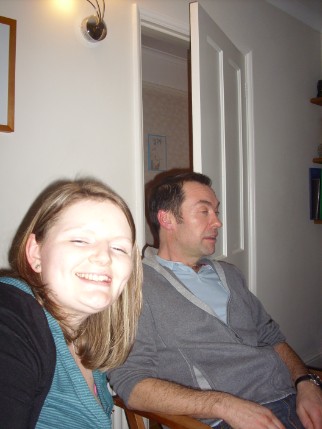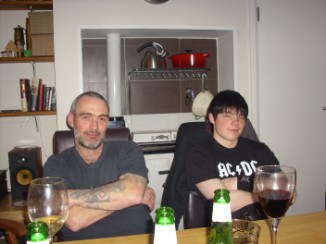 SIMMONS AND HILL RECLINE..2010.
ABOVE LANTERN HILL 2015...LAST SUMMER VIDEO
ABOVE..FS1E...LOADED GUN Live 1014...left to right...DENIS DALY..HUGH BRANIN...TIM FISHER..