COLLAGE AND MIXED MEDIA WORK SHOP.
CAEN SCHOOL, JAN 20th To JAN 24th 2014.
The work below has been produced by students aged 7 to 11
Caen school is in Braunton situated within the lush countryside of North Devon and ever so slightly off the beaten track, so i was highly delighted to be invited into the school to work with the children, on a collage and mixed media project.
The children worked hard and steady throughout the weeks lessons and I could see that working from photographs in mixed media had enthused their imaginations encouraging them into the activity and grabbing their focus. This focus can clearly be seen in the pictures created and some of the work produced reveals some strong, colourful and well planned images, some of which I have exhibited on this site.
I hope you enjoy the journey...thankyou Robert Hill.
THIS SITE WILL BE UPDATED. UNFORTUNATLY WE WERE UNABLE TO PHOTOGRAPH ALL WORK CREATED SO I PICKED A RANDOM GROUP IN ORDER TO SHOW ALL STYLES AND GIVE AN IDEA OF THE OVER ALL QUALITY OF THE WORK THAT WE PRODUCED.
STAGE.1. DAY.1.
WE BEGAN BY CUTTING UP MAGAZINES AND STORING OUR COLOURS INTO INDIDUAL TRAYS. THIS WAS A MESSY JOB WITH CUT UP PAPER EVERYWHERE, A MESSY JOB BUT BY THE END OF THE DAY WE HAD ALL OUR PREPERATION WORK FINISHED AND STILL MANAGED TO TIDY UP AFTER OURSELVES.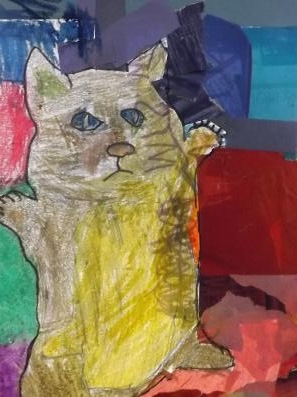 STAGE.3. DAY.3.
TODAY WE BEGAN TO ADD COLLAGE TO OUR DRAWINGS. THIS LESSON SET US TO TASK AND THERE WAS A NOTABLE SERGE IN ENERGY DURING THE SESSION, TESTING OUR IMAGINATIONS AND PLUNGING US DEAP INTO THOUGHT ON HOW WE MAY ACCOMPLISH OUR AIM VIA THIS MEDIA.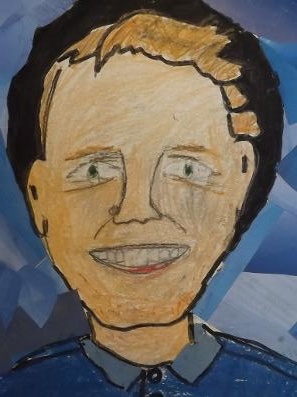 THE STUDENTS AT CAEN SCHOOL BEGIN TO BUILD A STRONG BODY OF WORK.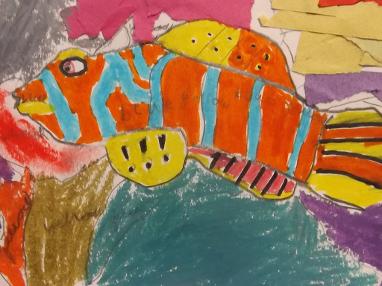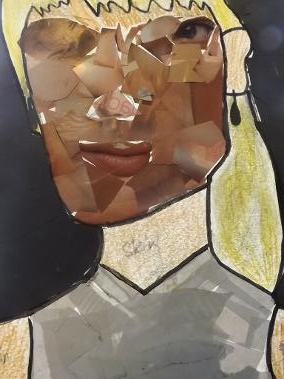 THE CHILDREN ALSO TOOK TIME TO WORK ON THERE CLASSROOM PROJECTS.... ANCIENT EGYPT.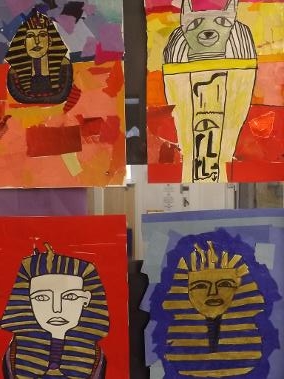 STAGE.5. DAY.5.
TODAY WE CURATE AND HANG THE EXHIBITION AT CAEN SCHOOL AND ANDREA IS SET TO TASK...THANX ANDREA.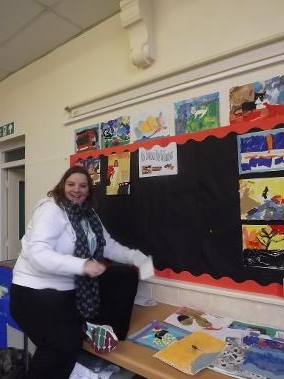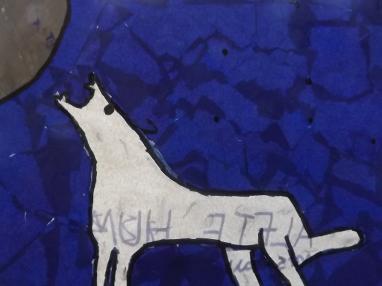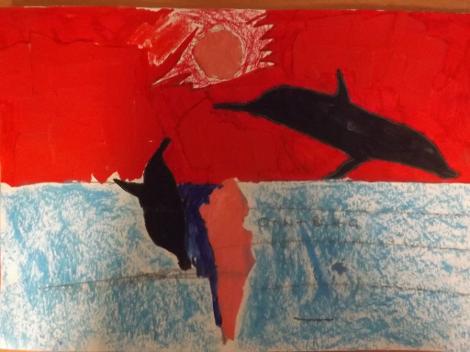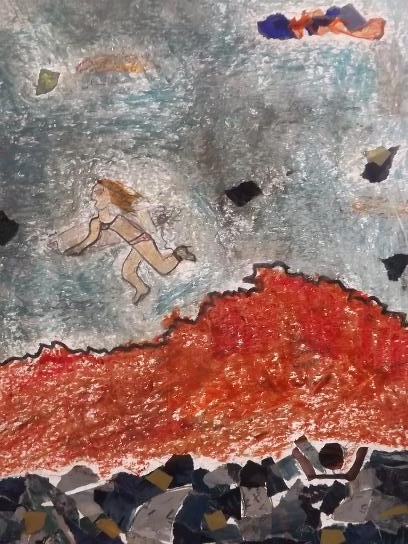 STAGE.2. DAY.2.
WE PREPARED OUR IMAGES AND BEGAN TO DRAW FROM THEM.
THE DRAWINGS PRODUCED ON DAY TWO, WHERE POWERFUL, FULL OF VITALITY AND EASY TO DECIFER, THE CHILDREN WORKED HARD ON THIS STAGE OF THE PROJECT AND SET A VERY HIGH STANDARD OF CREATIVITY, WHICH CAN CLEARLY BE SEEN IN THE FINISHED PICTURES.
BELOW. THE 3 CUP CAKES...3 DIFFERANT APPROACHES TO MAKING A CUP CAKE.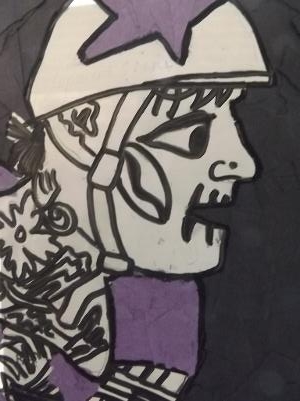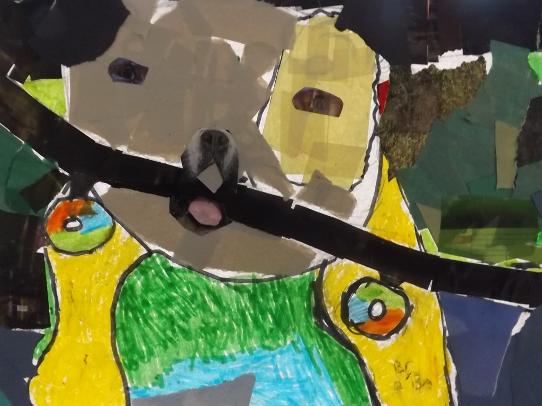 STAGE.4. DAY.4.
TODAY WE FINISHED OUR PICTURES, ONCE AGAIN WE USE A CHANGE IN APPROACH AND WE FINISH OUR PICTURES WITH A MIXED MEDIA . [collage,crayon, ink, paper, pastil].THIS APPROACH TO FINISHING OUR PICTURES ALLOWS US A NEW FOUND FREEDOM IN OUR CREATIVITY WITH THE USE OF VARIOUS MATERIALS ALLOWING US TO FILL OUR PAGE QUICKER AND PRODUCE A WIDER RANGE OF MARK MAKING, AS APPOSED TO THE JUST USING A PENCIL OR COLLAGE WHICH TENDS TO NARROW THIS FREEDOM DOWN.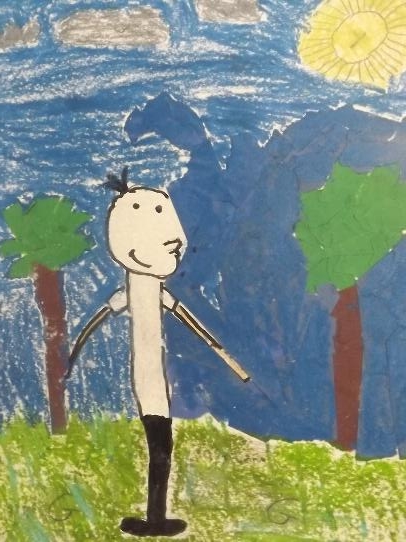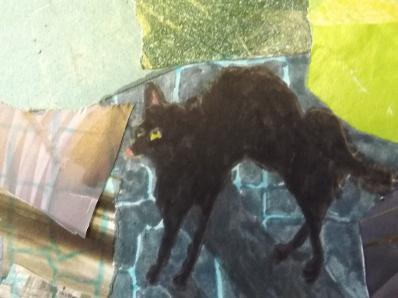 ANDREA HANGING THE EXHIBITION.
THANK YOU TO EVERYONE AT CAEN SCHOOL FOR YOUR HELP, KINDNESS AND SUPPORT, THE CHILDREN WERE INCREDIBLE, WITH AN ABUNDENCE OF TALENT AND PERSONALITY. THANK YOU FOR THE GREAT OPPOTUNITY YOU OFFERED IN ALLOWING ME TO TEACH YOUR CHILDREN IN A FIELD THAT I HOLD VERY DEAR. LOTS OF LOVE TO YOU ALL AND THANK YOU VERY VERY MUCH.
ROBERT HILL B.A. ARTIST.