Some time during the summer of 2008 I was introduced to the sea lion and aquatic zoo keeper,[ Nikki Morrison], at combe martin wild life park. After a short conversation with Nikki I realised, besides one or two other attributes, that she was very switched on and absolutely into her job, she also showed an incredible amount of love for the animals that she cared for. As our conversation continued she began to tell me how she had managed to train her sea lions, with specially adapted brushes, to paint pictures onto canvas, in order to try and raise some money for the animals upkeep...This I found most intriguing and I must admit after listening further to what she had to say and the fact that she had extended this idea to penguins, we both thought that it might be quite an amazing chance to exhibit, side by side at chosen local venues, in the hope of raising even more money for chosen charities..We met on several other occasions to discuss ideas and how to set about this task..I was introduce to the two sea lions of whom I was to exhibit with.[Morgan and Aero]. Which for me being that close up to these magnificent creatures was a, joy and a tremendous experience in it,s self. Nikki and I spoke of possibilities on how to approach this particular idea and the project began to move along. I began to paint in my studio whilst Aero and Morgan began to paint beside their outside swimming pool. The venues we chose to exhibit at were, The Landmark Theatre,Jan 2009, in Ilfracombe and The Queens Theatre, in Barnstaple, Sept 2009. Local venues we thought would be good as a beginning point. We both realised that there was an incredible amount of work to be done, even beyond painting the pictures and it soon became clear that what we were about to attempt had also captured the imagination of other people, not just the press but also Shaun Ellis, [wolfman] and indeed the lord of Bath himself..and as the exhibition dates became confirmed and we moved closer to opening dates and private views....the press as in, national and international began to publicise this event and we began to appear in nearly every newspaper reaching as far a field as America and Brazil...We decided to try and extend our chances of raising money and introduced a raffle and two open evenings, one at the Landmark and the other at the queens Theatre, open to all, in the hope of having fun with what we were doing and involving as many people as we possibly could. Both events had a remarkable turn out, managing to raise thousands of pounds for the, Marine Conservation Society and Combe Martin Wildlife park.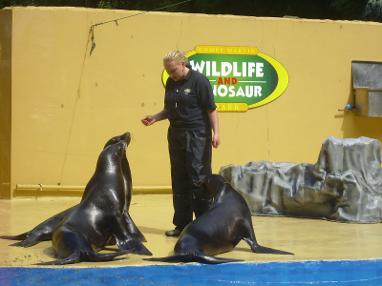 The sea Lion shows proved to be very popular amongst the visitors at, Combe Martin Wild Life Park. 2008.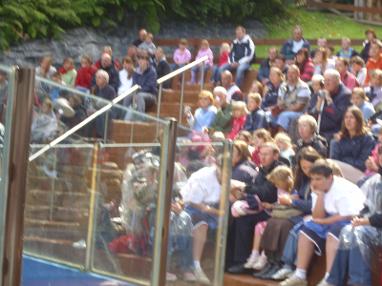 BELOW, PAINTING BY MORGAN THE SEA LION..2008/9.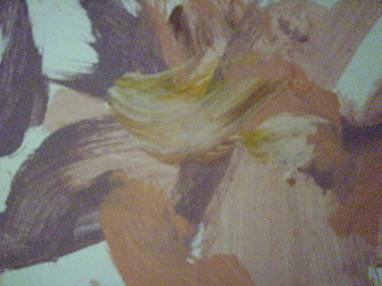 The Sea Lions set to work, it was quite incredible to watch how Nikki used the animals natural instincts to carry out the tasks she provided for them..Not only was this a great idea to exhibit and raise money for charity but she also informed me that the main reason for this exercise was to help stimulate these animals whilst in captivity......it would seem that even Sea Lions get bored !!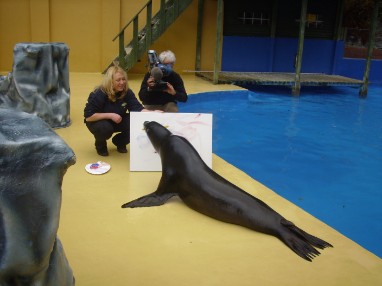 There was a lot of tabloid and television coverage during this time for, Morgan and Aero but I am afraid to say not so much interest in my good self...besides of course a phone call from The Western Morning News, The Daily Mirror and The Daily Mail but besides that, nothing.! oh yeah and arriving at Tesco one morning to find that nearly every national paper had run an article on our future exhibitions, a mention on The One Show, the radio, etc etc... my problem is, that I am just never satisfied !...for all information google, Robert Hill Sea Lion Paintings..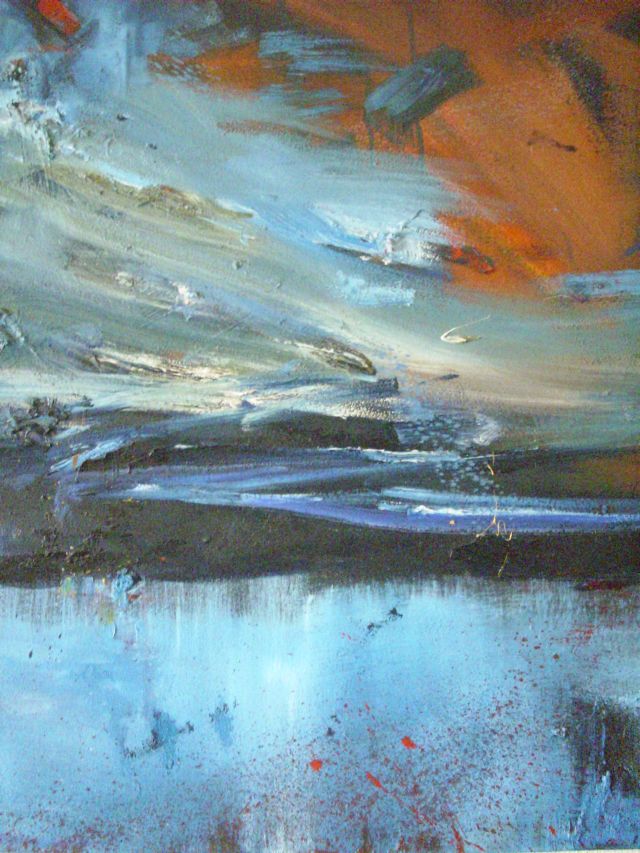 ABOVE..COMBE MARTIN IN BLUE. Sold
Robert Hill was born in London, Hampstead, 23/09/1964 . Studied Fine Art at Plymouth University station in Exeter, 97/00, obtaining a 2/1 honours degree and graduating in the year 2000. He has lived and worked in Devon since 1995 and his painting mainly consist of landscapes and seascapes of the local and surrounding areas.
FOR MORE INFORMATION GOOGLE, ROBERT HILL SEALION PAINTINGS.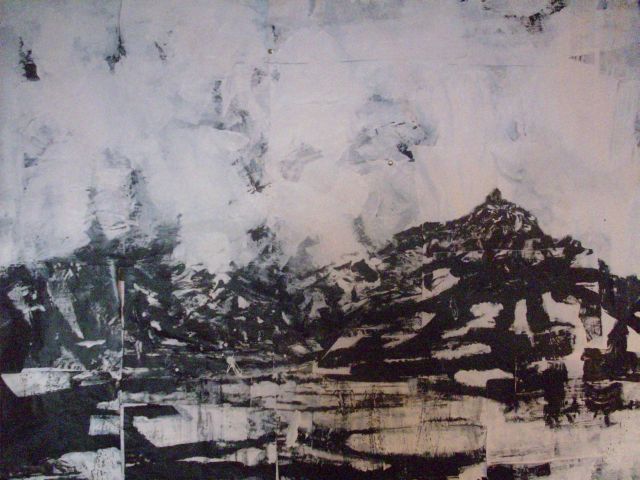 ABOVE, THE PIER, Ilfracombe, 2008.
BELOW, THE BAY, Combe Martin..2008.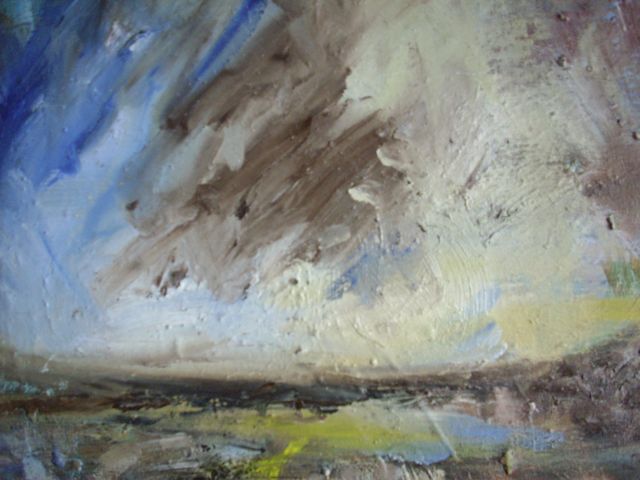 BELOW. SHORT DOCUMENTARY ON PAINTING BY ROBERT HILL. FILM BY HARRY SIMMONDS.ON LOCATION IN.ILFRACOMBE, WOOLACOMBE AND SAUNTON SANDS. MARCH 2011. REALEASED, JULY 1st 2011.

ABOVE..WOOLACOMBE..
below..exhibition at the tag gallery, fenstanton cambridge.2002..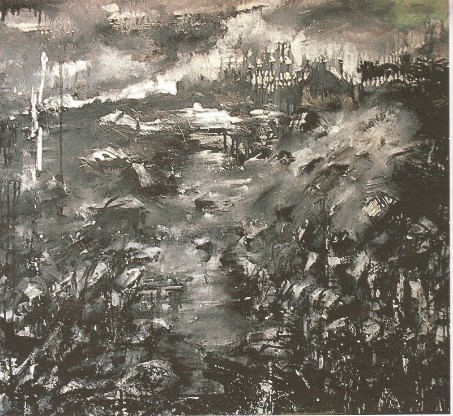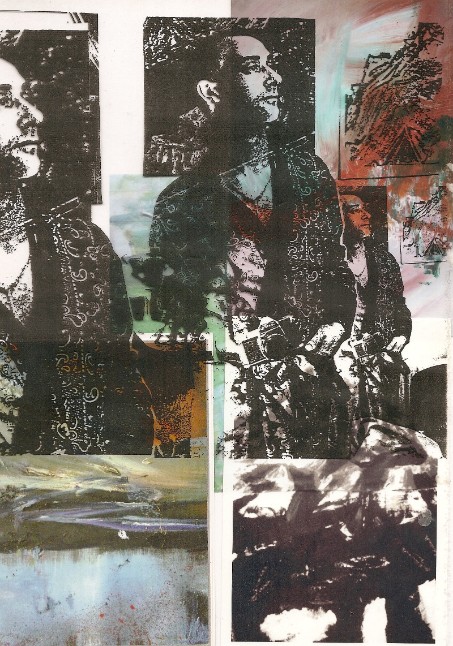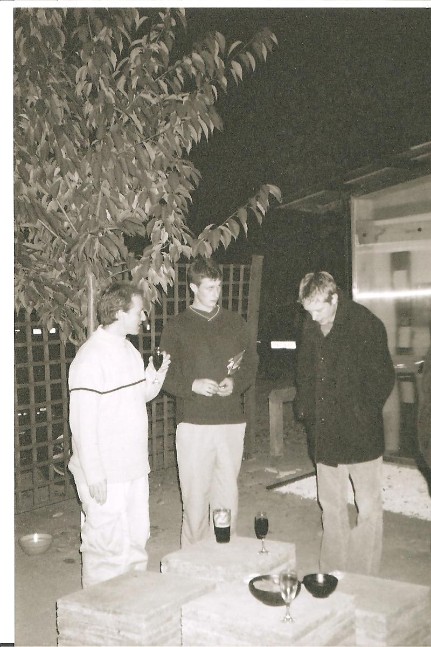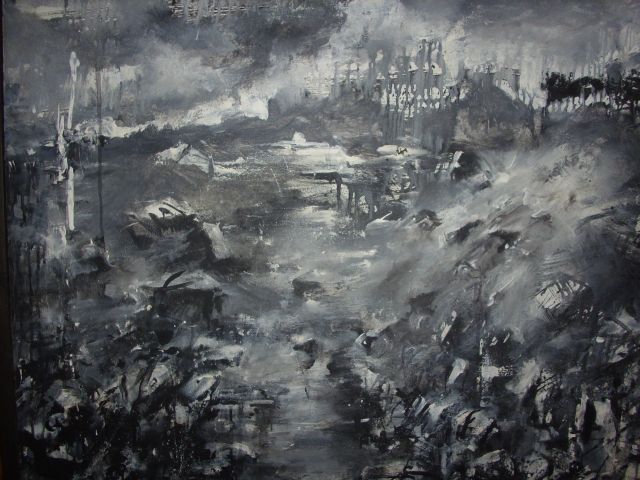 ABOVE. IAN HATSTAND. BIG NOSE DAN AND HARRY SIMMONDS. THE TAG GALLERY. FENSTANTON. CAMBRIDGE. 2002.

BELOW."Reflections", 2006. exhibited. DOVE TAILS GALLERY, ILFRACOMBE.2006..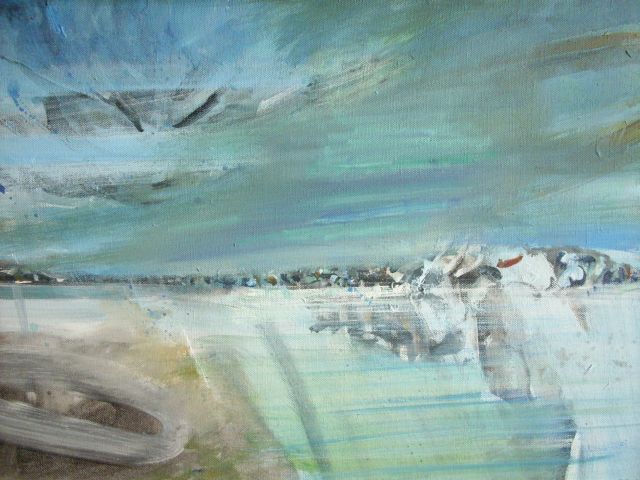 BELOW..GIRL ON STOOL.1.ACRYLIC ON CARD...SOLD..QUEENS THEATRE SEPT.2009.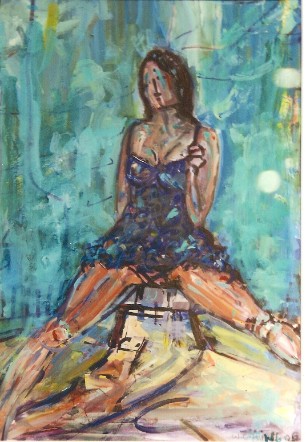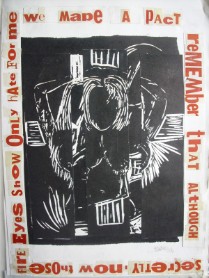 promotion t-shirt for the landmark theatre..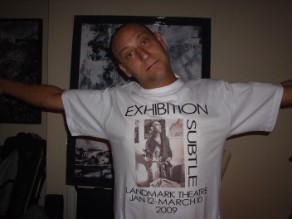 BELOW..NEPHEW LOUIE, NIC-O-LAS, CARL AND JO DISCUSS PERSPECTIVE!..2009. THE LANDMARK THEATRE.JAN.2009.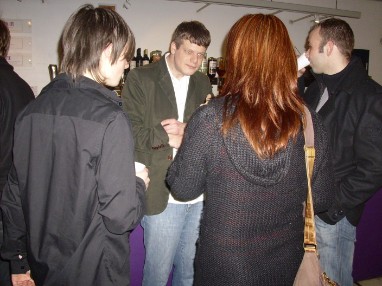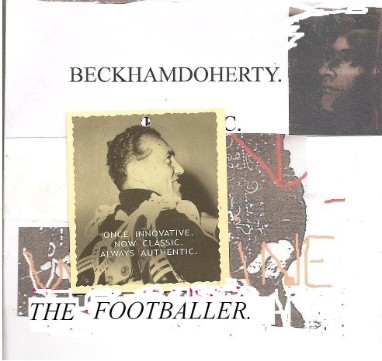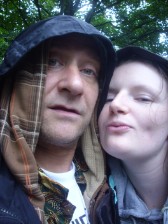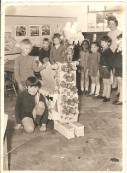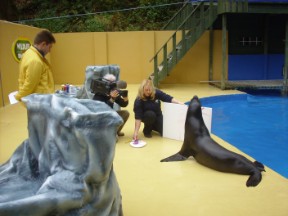 THE SEA LIONS AND MY SELF EACH HAVE A DIFFERANT APPROACH TO OUR WORK!
BELOW..NIKKI MORRISON SEA LION TRAINER, MORGAN AND SOME DUDE WITH A CAMERA..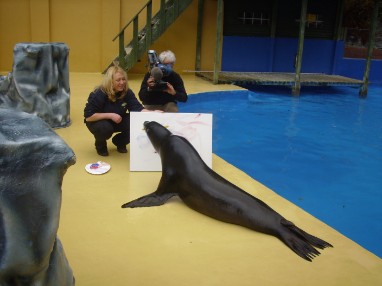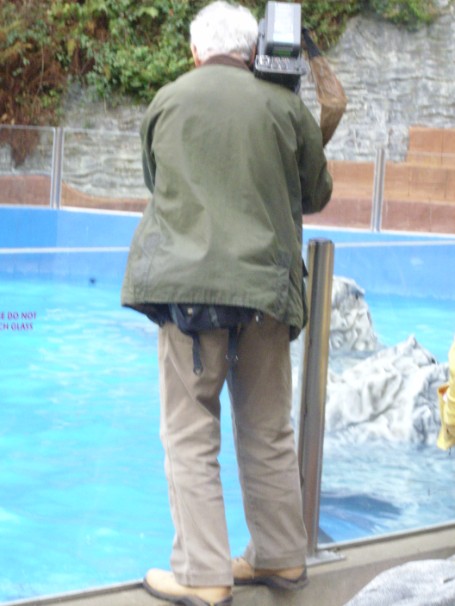 BELOW...St NICHOLAS CHAPPLE..ILFRACOMBE...FROM MY WINDOW..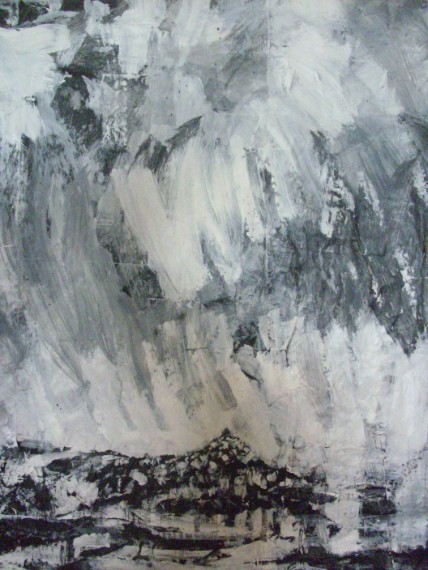 BELOW..ON MY OWN..9X12..acrylic on canvas..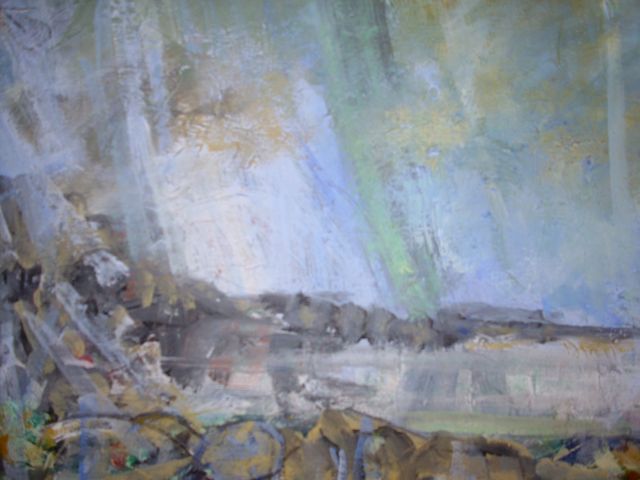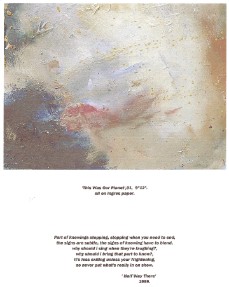 MY STUDIO ON A TIDIER DAY!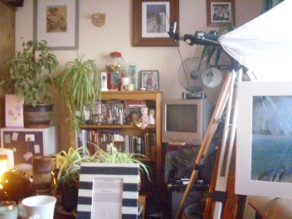 BELOW..JOLLY COLD..acrylic on canvas..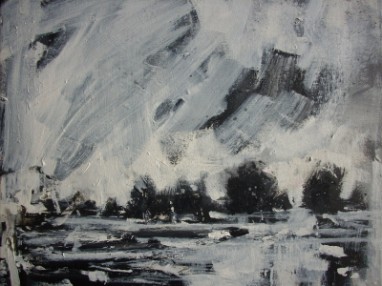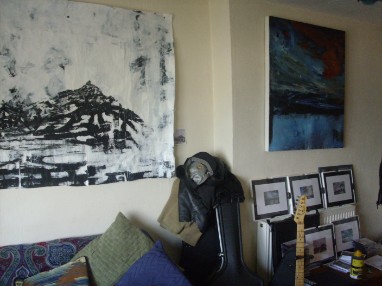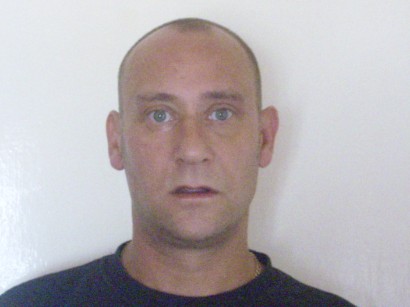 BELOW..TOMMY HILL..ROBERT HILL AND TONY HILL..SPAIN..2010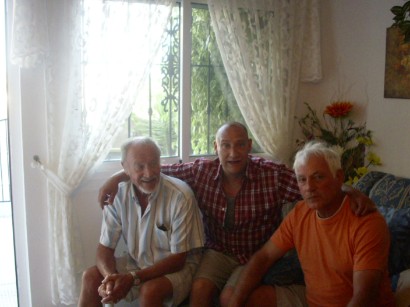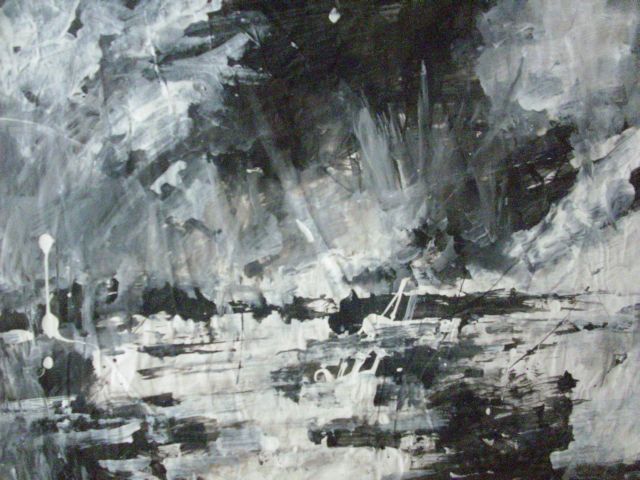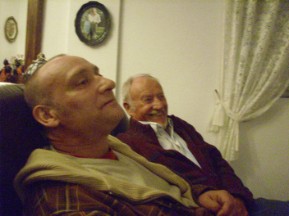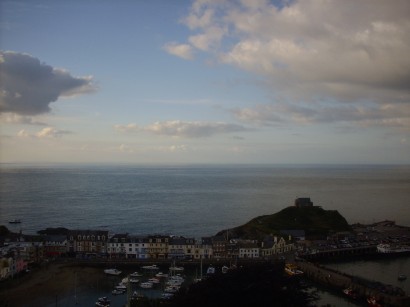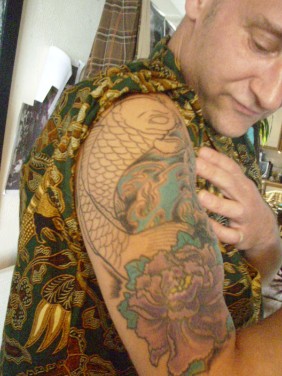 BELOW..FLAT ROCK COMBE MARTIN...acrylic on canvas..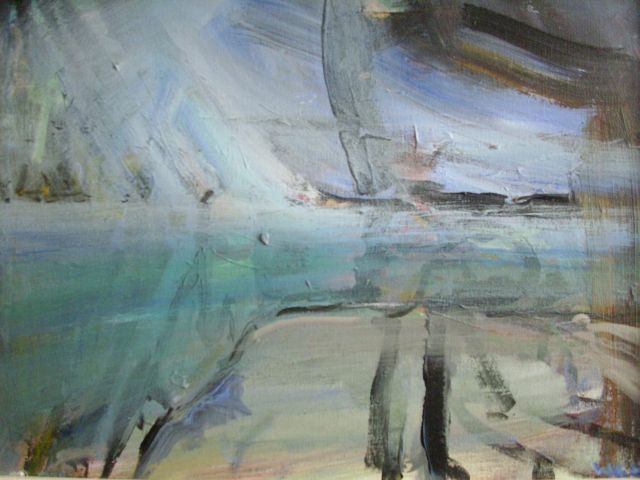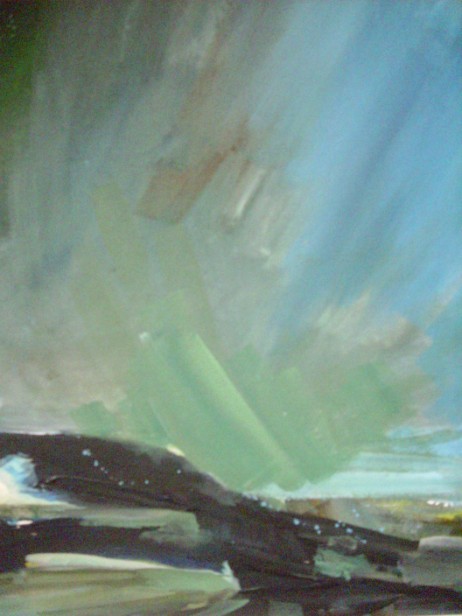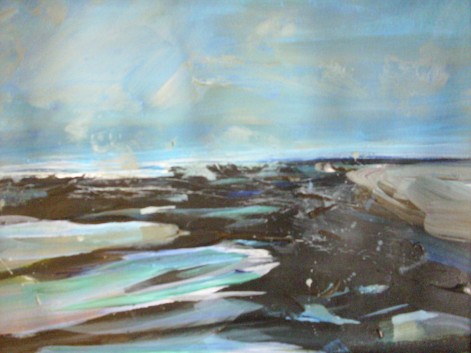 BELOW HARRY SIMMONDS FILMS WORK IN PROGRESS, SAUNTON SANDS 2011.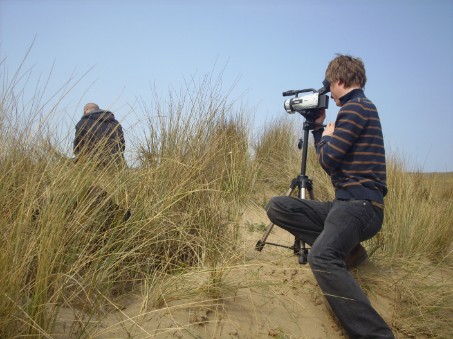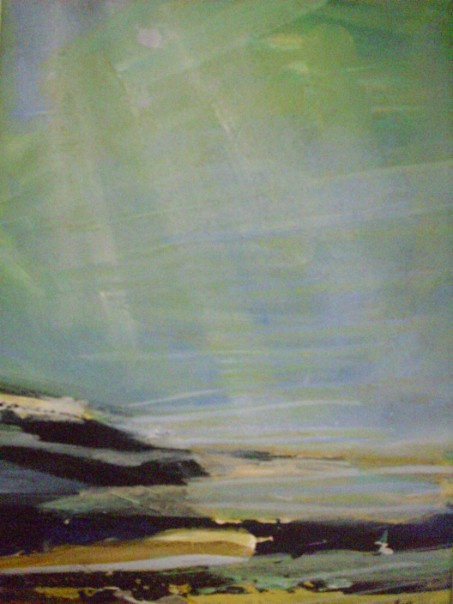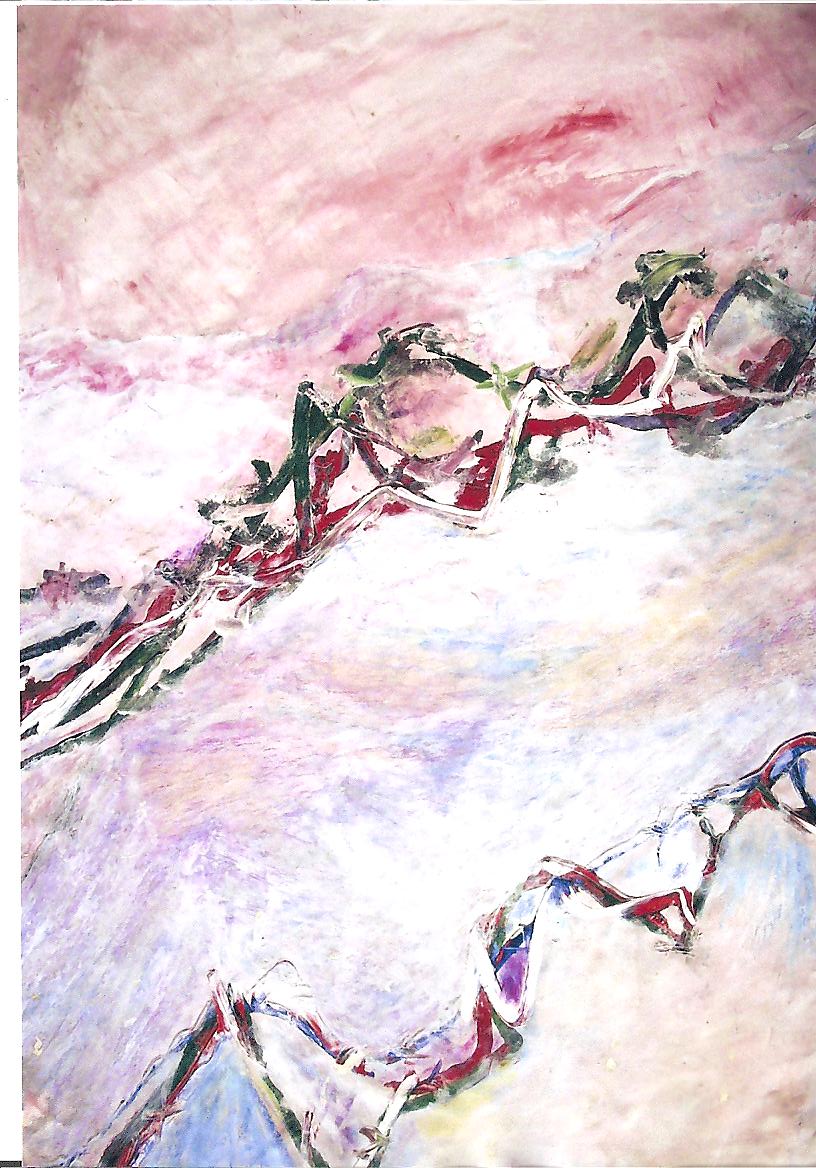 BELOW.Robert Hill in his studio.2008.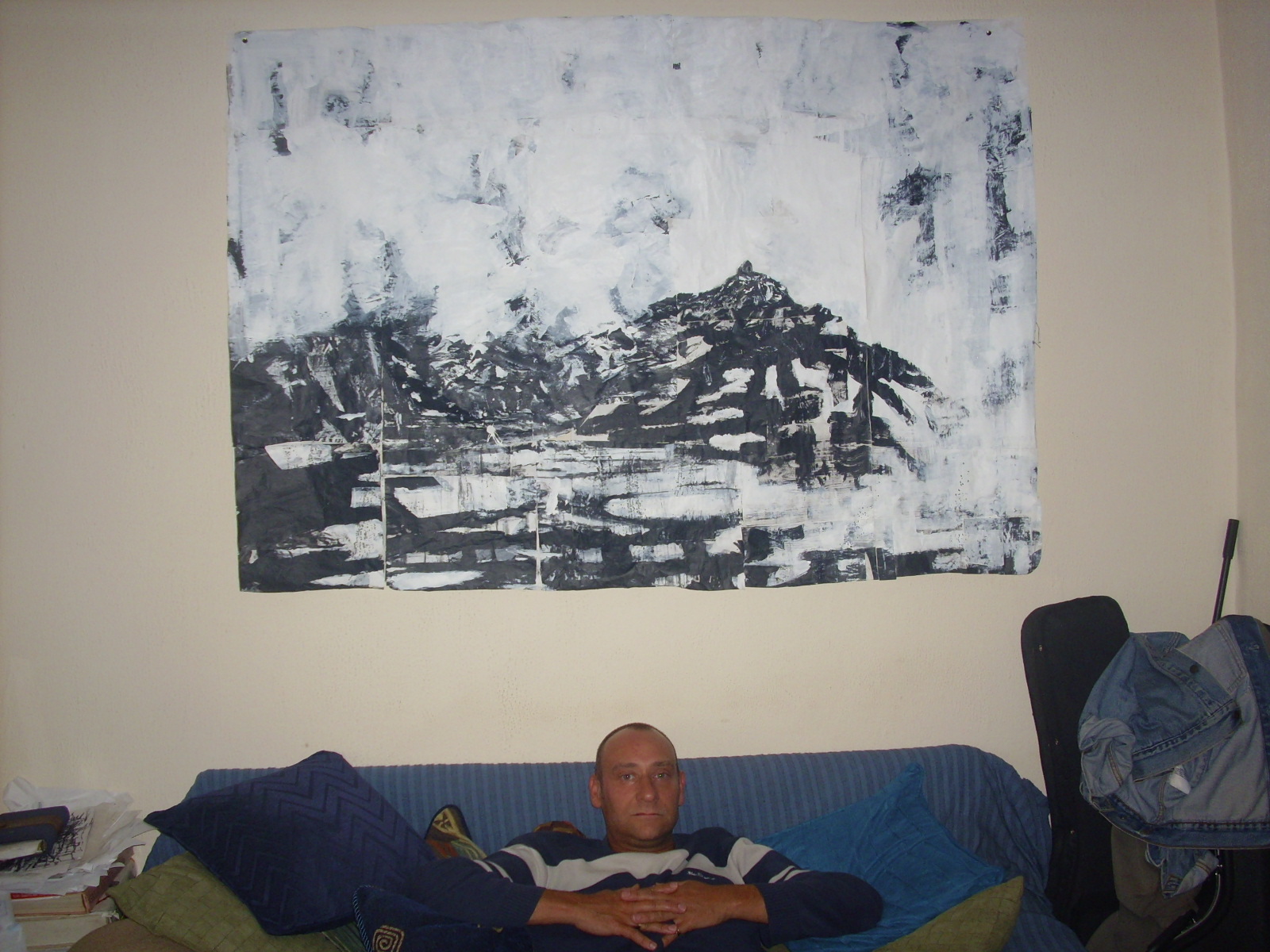 BELOW. Detail from the Pier, St Nicholas Chaple.2008.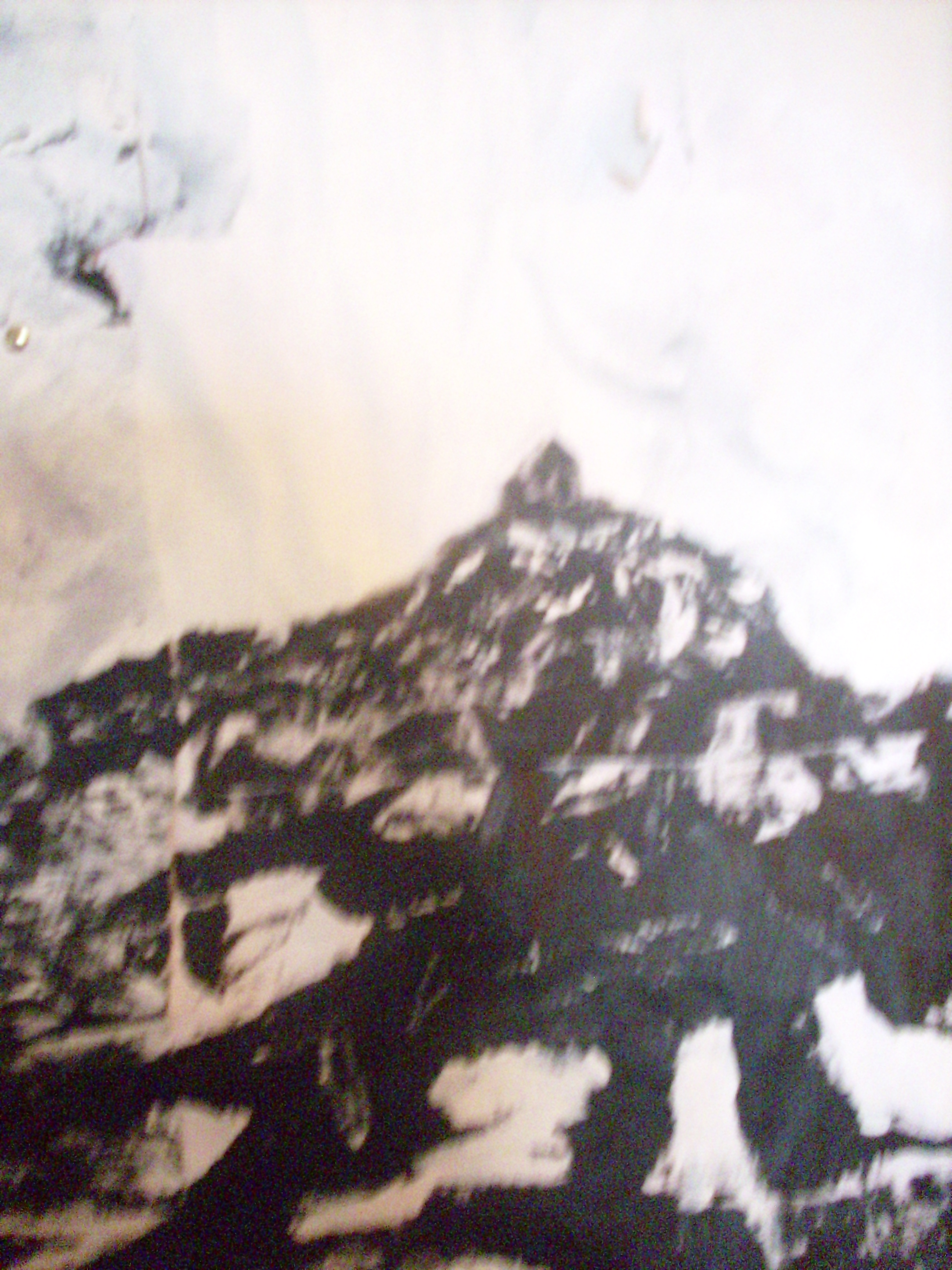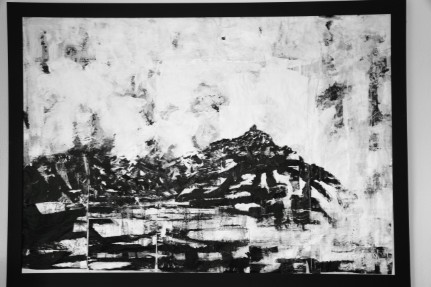 Below."Woolacombe".2006.

ACRYLIC ON CANVAS..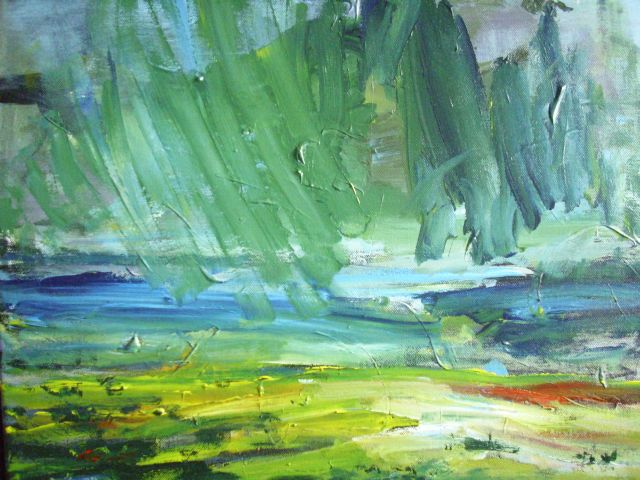 "Combe Martin Beach",2002. Sold to Paul Uwins.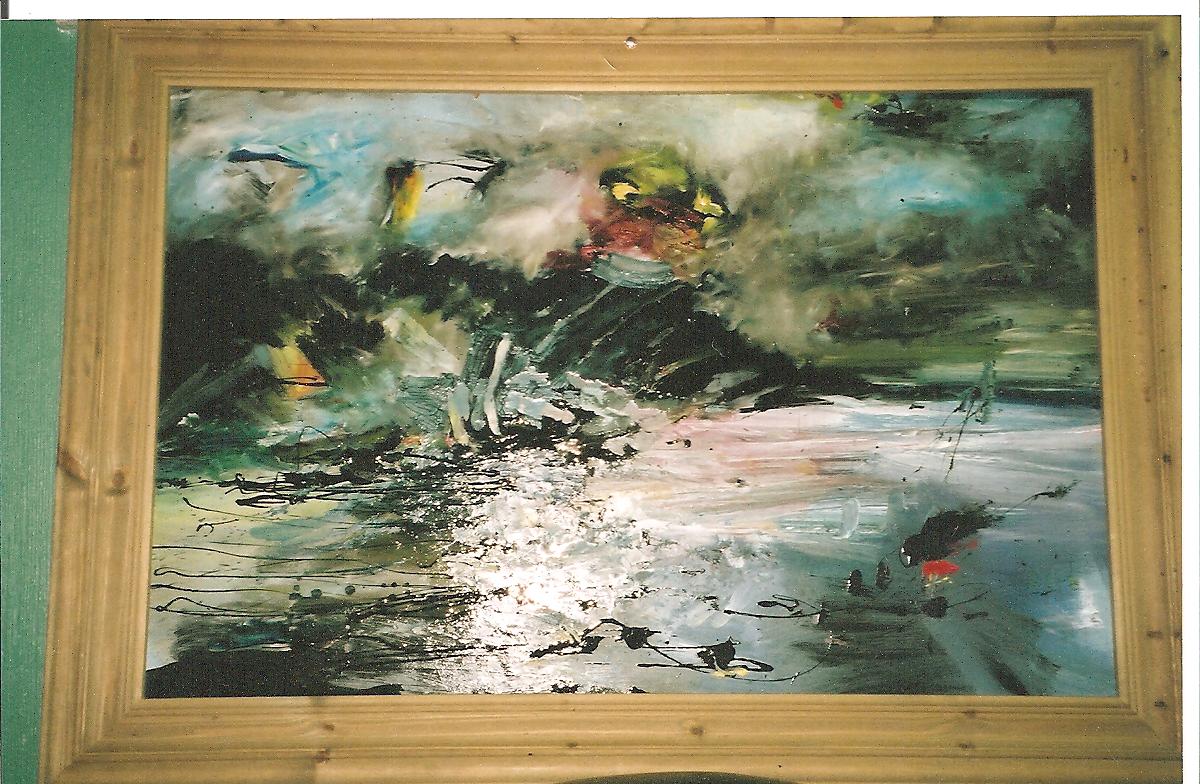 BELOW.Spacex Gallery Studio Space in Exeter.
Painting sold to the Listening Post in Bristol. 2000. THE PICTURE BELOW WAS PART OF MY FINAL DEGREE SHOW JUNE 2000..PLYMOUTH UNI, STATIONED IN EXETER..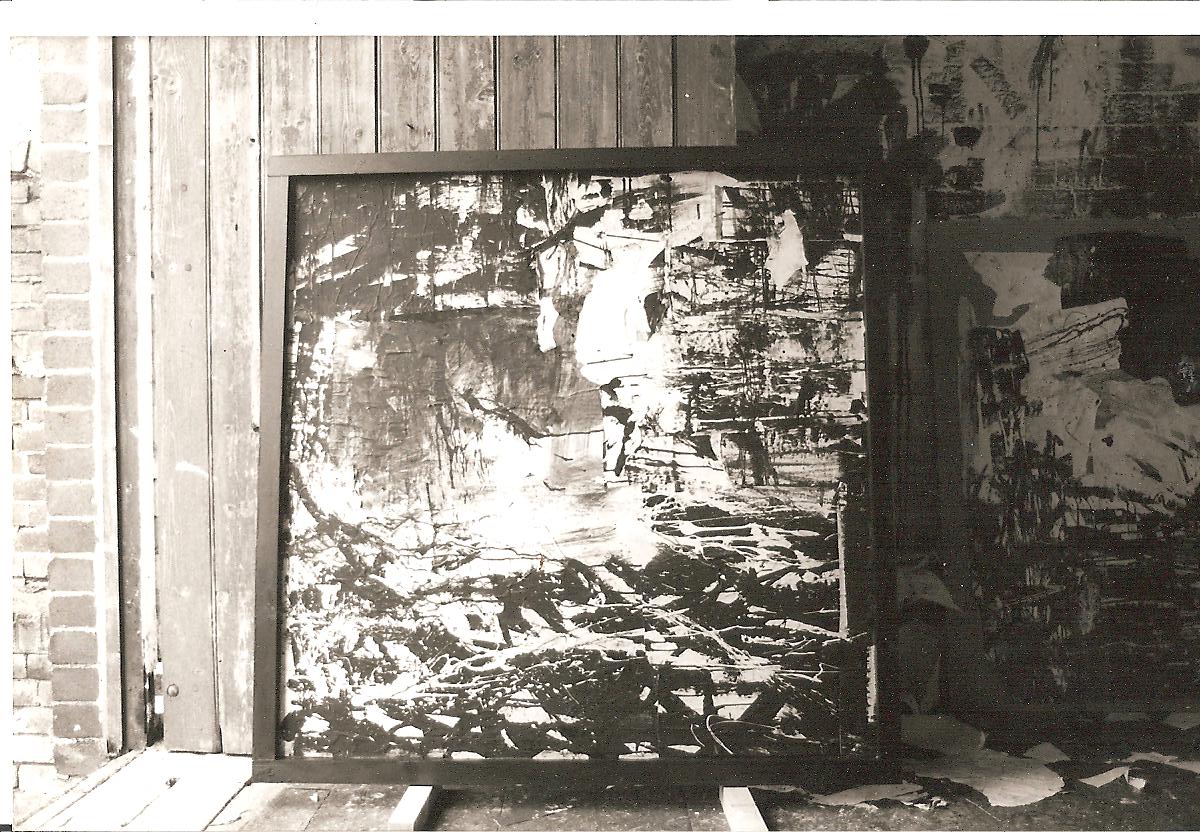 Harry Simmonds and Robert Hill working at the "fashionable Bath Studios", in fashionable Bath. 2006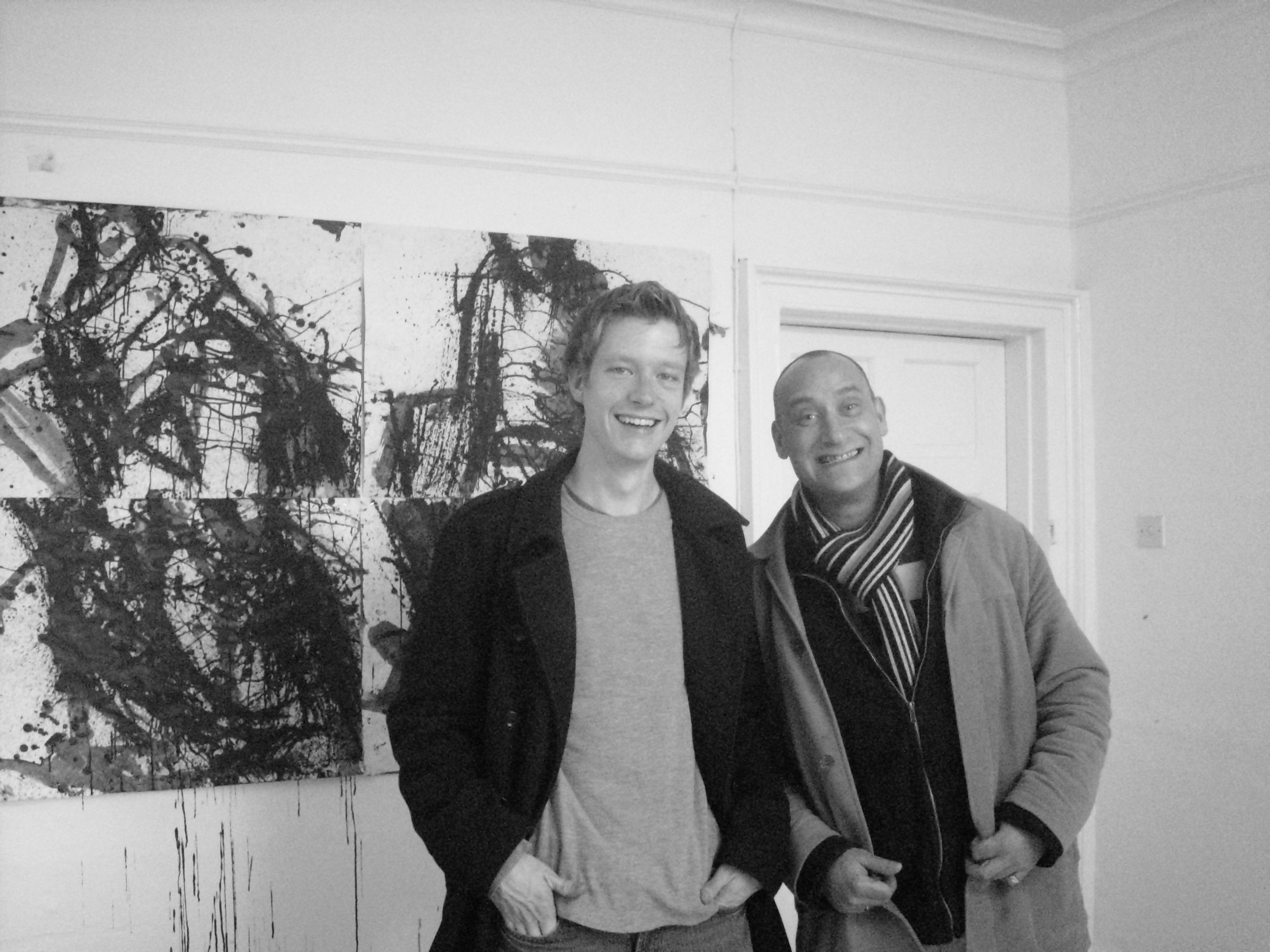 BELOW..SIMMONDS AND HILL OUT IN BRISTOL..2006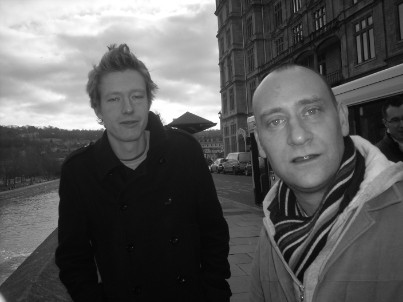 BELOW..ROBERT HILL HOBNOBS WITH HARRY SIMMONDS AND GUY DENNING IN DOWN TOWN FASHIONAL BATH...2009.

Below.."There Can Be". acrylic on paper..
JAKE HOWARD.[ARTIST] AND ROBERT HILL ON THE RICHARD AND JUDY SHOW...Jake was invited to show some garden sculpture and stuart beared and my good self went along..what fun...hi jude love you..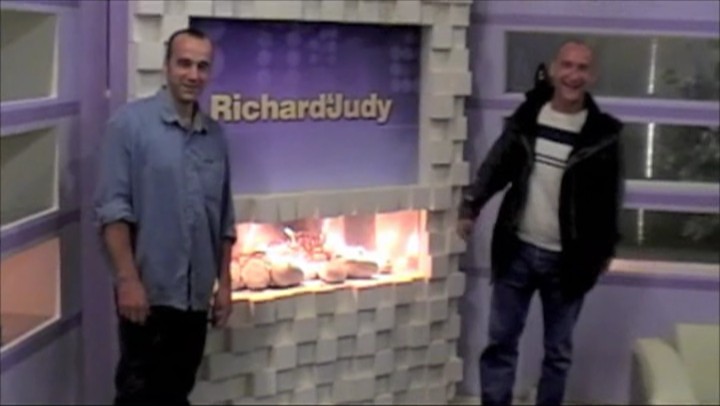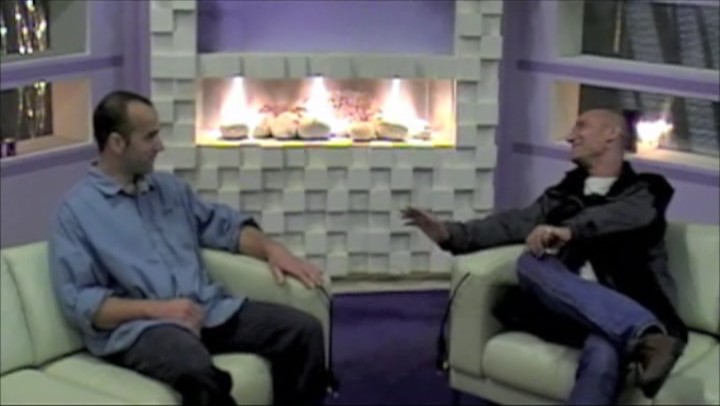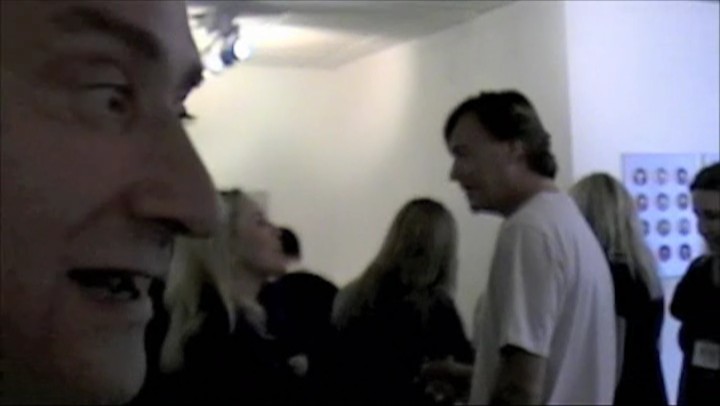 BELOW JAKE AND STU WAIT WHILST RICHTURD GOES TO THE MENS ROOM..2009..COME ON DICKY WE AINT GOT ALL DAY!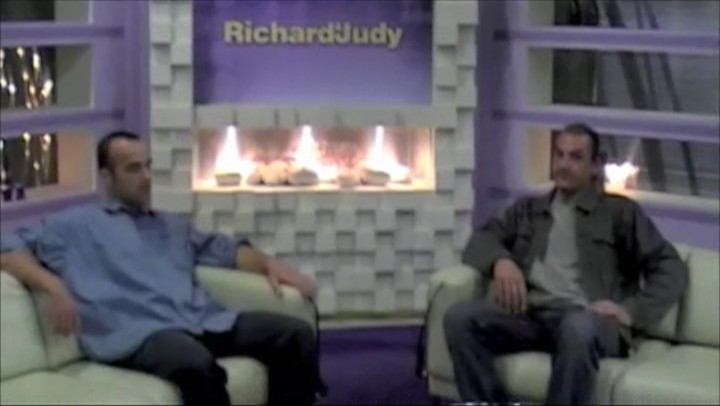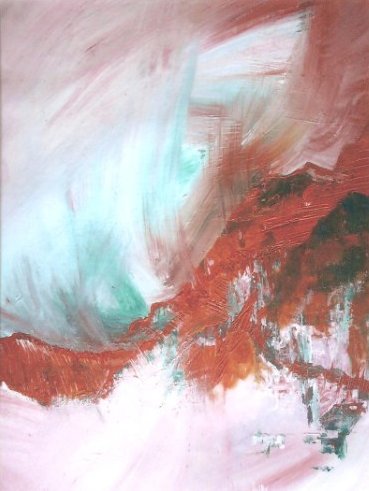 BELOW FRAMED AND MOUNTED, PRINTS FROM £110 .original painting exhibited at the maritme museum, exeter,1999..GIRL IN ROOM.1.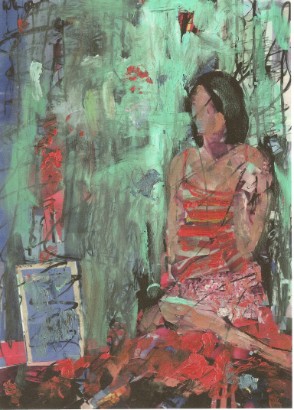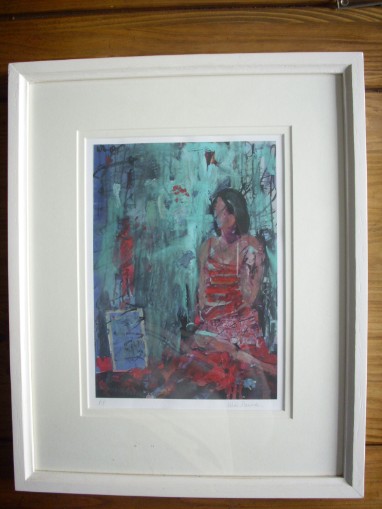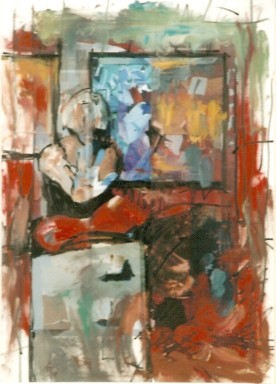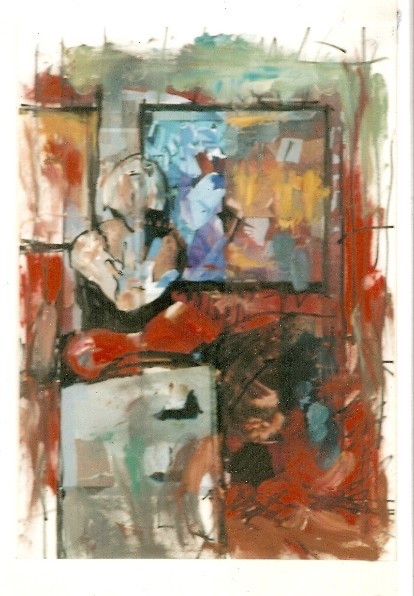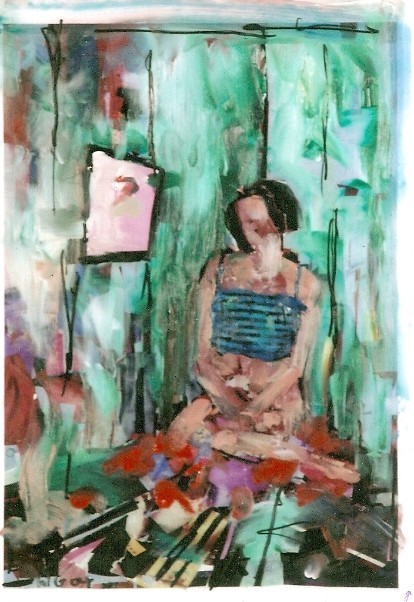 GIRL ON STOOL.2. 12X19. MIXED MEDIA.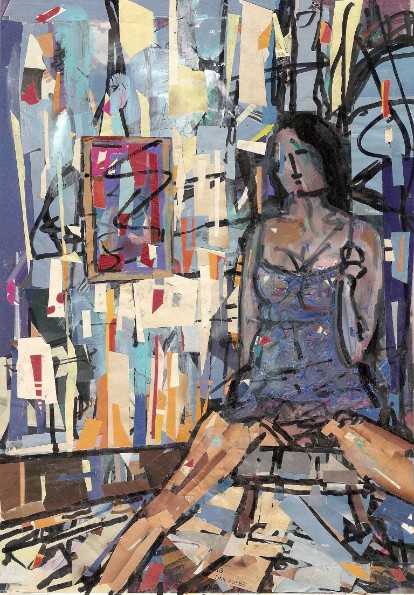 FINGER PAINTING OF LOCAL LANDSCAPE...9X12..OIL ON HARDBOARD...............a strole along combe martin beach armed with my 3 primary colours, a dark, a light and 3 pieces of hard board. got a bit windy later on!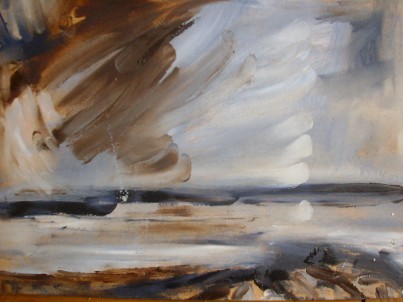 BELOW...FINGER PAINTING..2.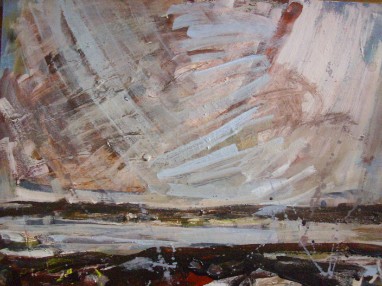 BELOW. FINGER PAINTING .3.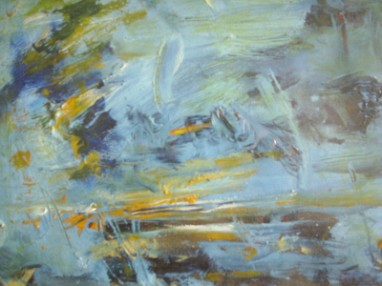 BELOW...W.G. AT WORK AT THE ILFRACOMBE STUDIO..the pier in the making.. Work for two charity exhibitions. the landmark theatre ilfracombe and the queens theatre barnstaple.2009...raising money for the mcs. marine conservation society and combe martin wild life park..for all information and press coverage google robert hill sea lion paintings..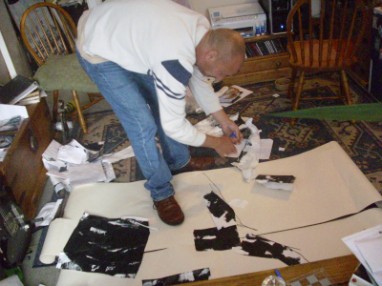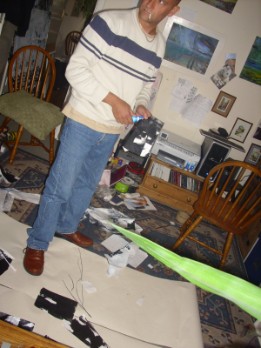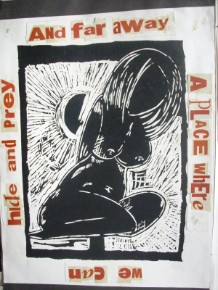 IT,S JUST ANOTHER GIG TO ME! GOOLGLE ROBERT HILL SEA LION PAINTINGS FOR PRESS COVERAGE AND OTHER INFORMATION..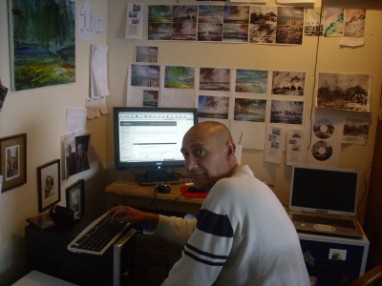 SAVE THE WORLD ROBBIE, YOU CAN DO IT!...2009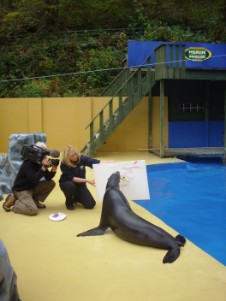 ANOTHER DAY OUT WITH THE FILM CREW..FILMING WITH BRAZILIAN T.V. THE PUBLICITY IS INTERESTING.. MADE NATIONAL AND INTERNATIONAL NEWS PAPERS AND RAISED THOUSANDS OF POUNDS FOR SAID CHARITIES..
BELOW PAINTING BY AERO THE SEA LION. 2009.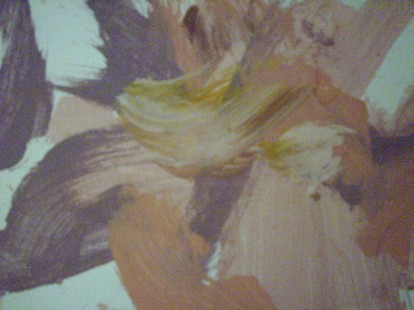 ONE FROM A TRYPTIC OF PRINTS..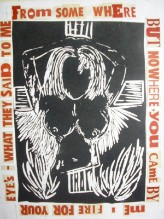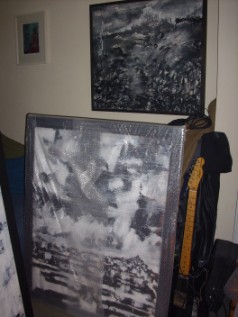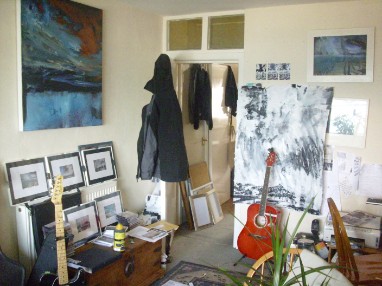 BELOW..ROBERT HILL.SELF PORTRAIT.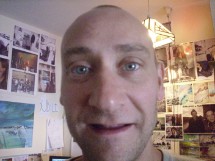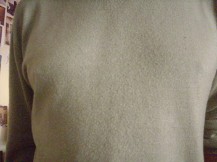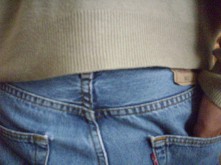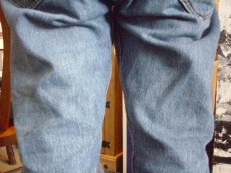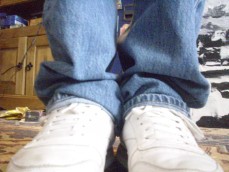 Below."The Pier",2008. PAINTED FOR LANDMARK EXHIBITION JAN 2009..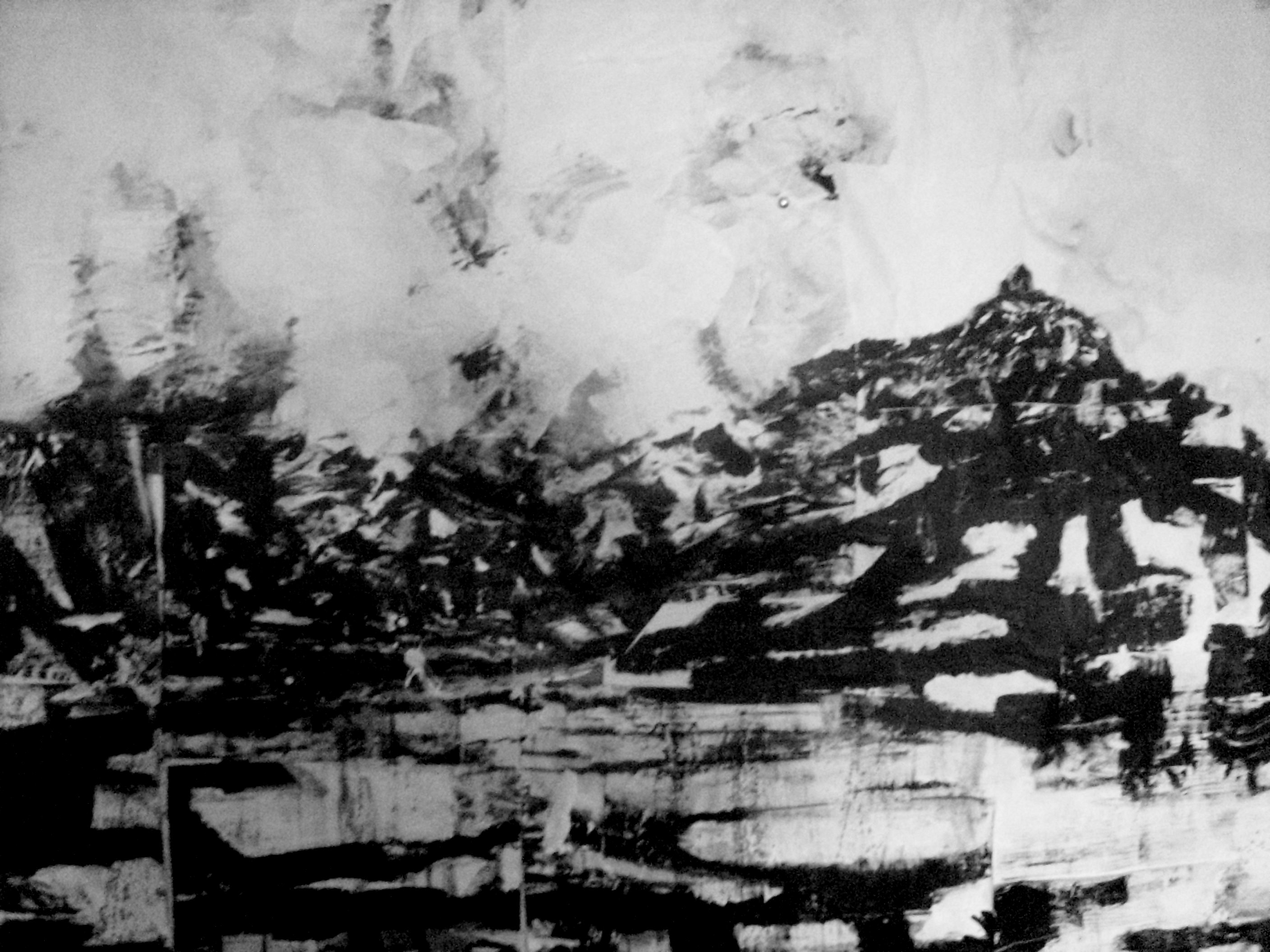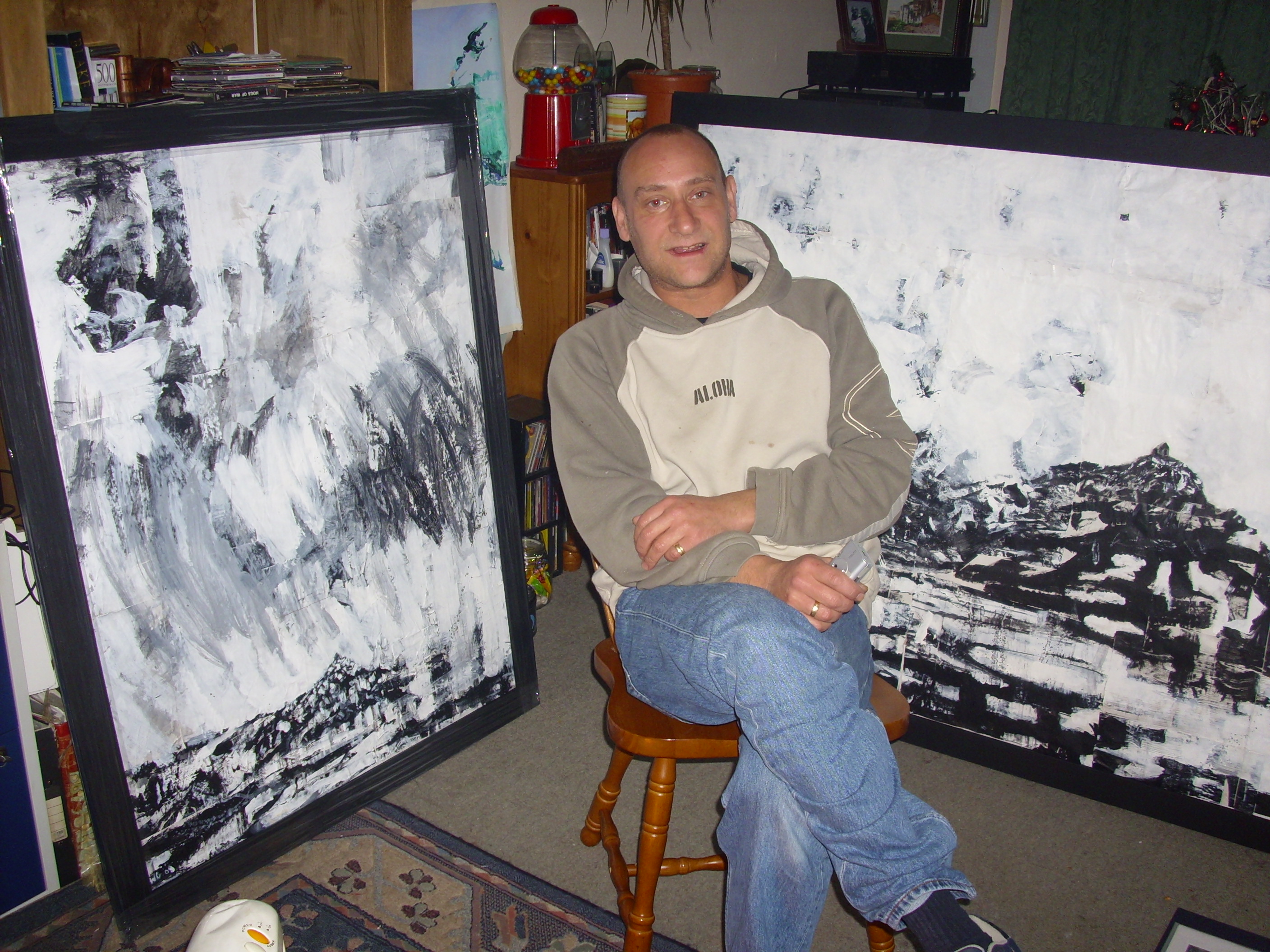 BELOW."THE BAY",2008. Oil on canvas. EXHIBITING AT THE GALLERY AT 500 FEET LYNTON DEVON.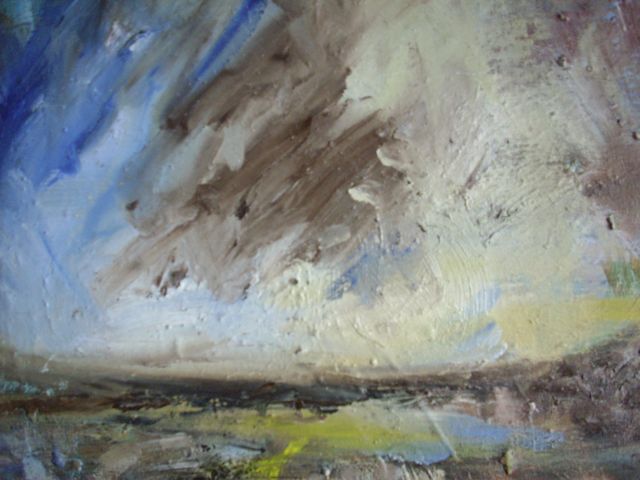 BELOW "Double Lock",1997/8.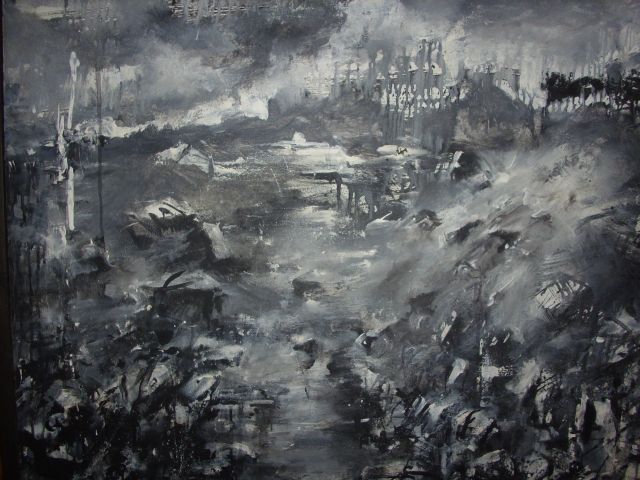 BELOW. St Nicholas Chaple. Ilfracombe.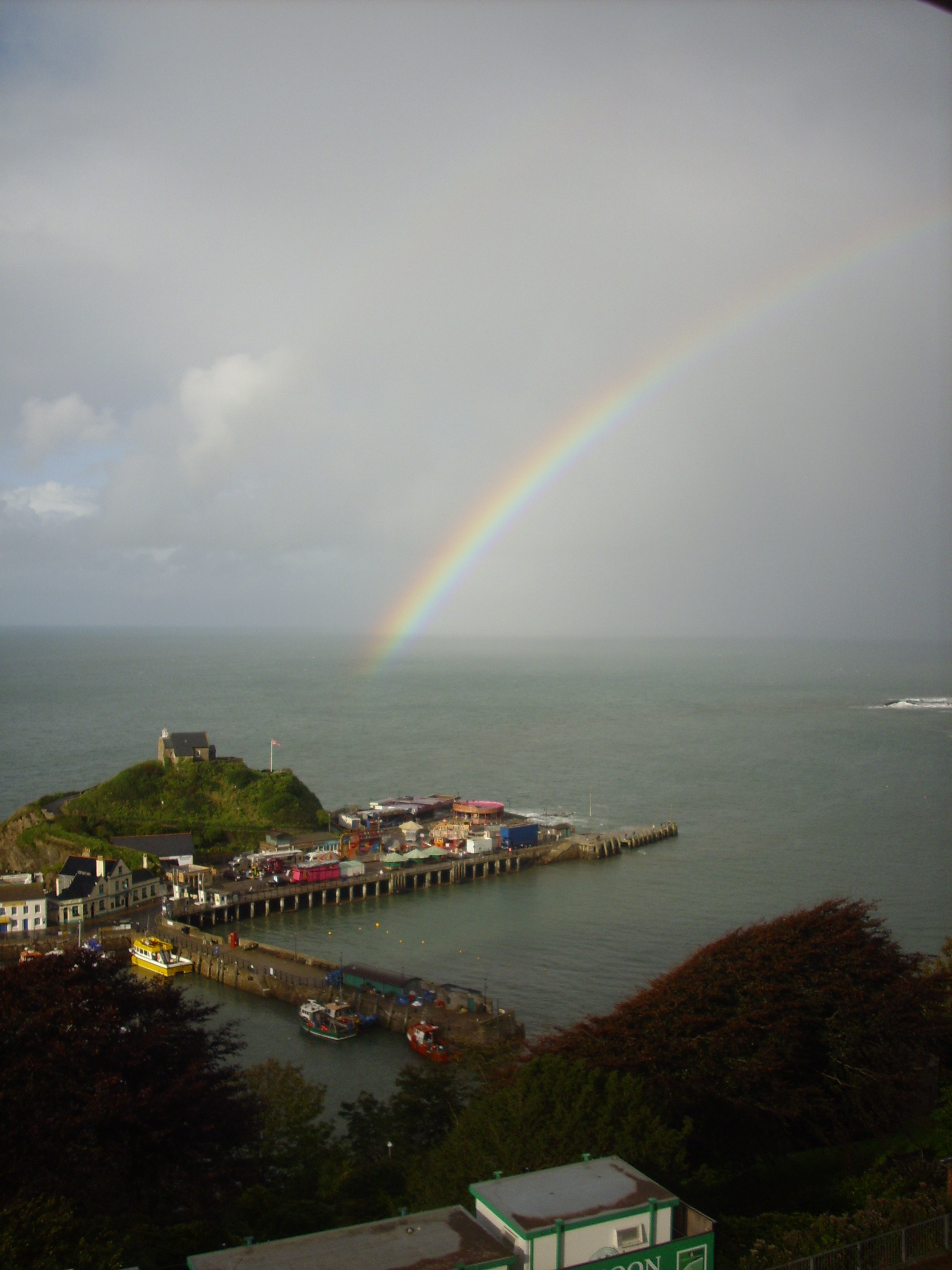 Below.St nICHOLAS cHAPLE. Detail from,"The Pier.No.3" .2008.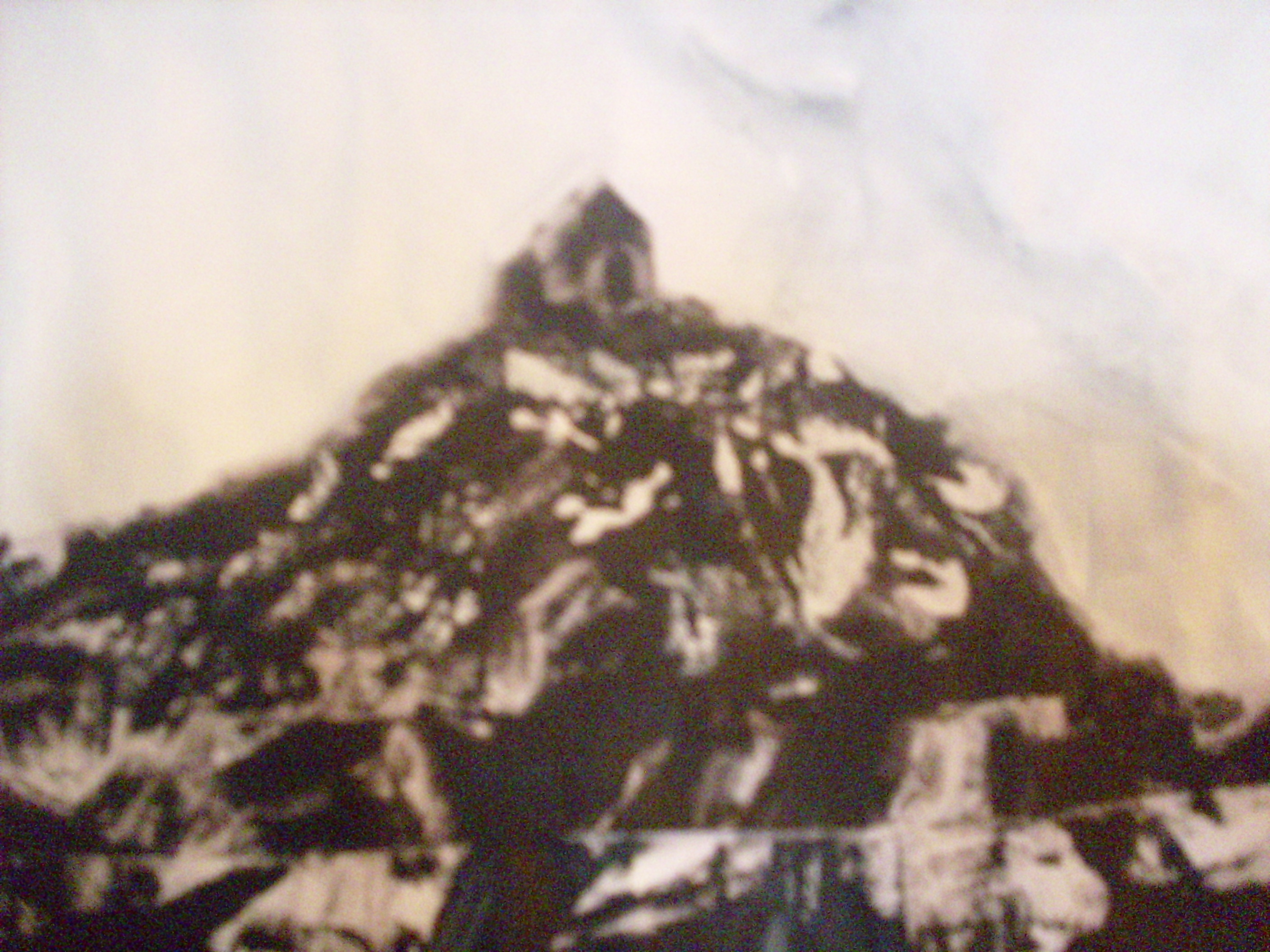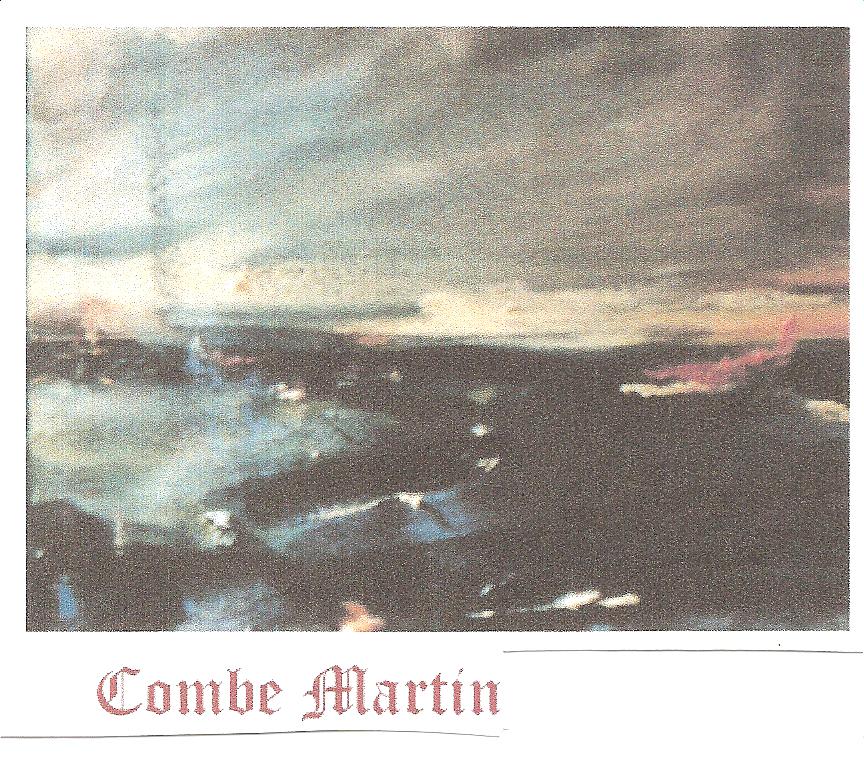 NEW PAINTINGS BY ROBERT HILL..NORTH DEVON LANDSCAPES..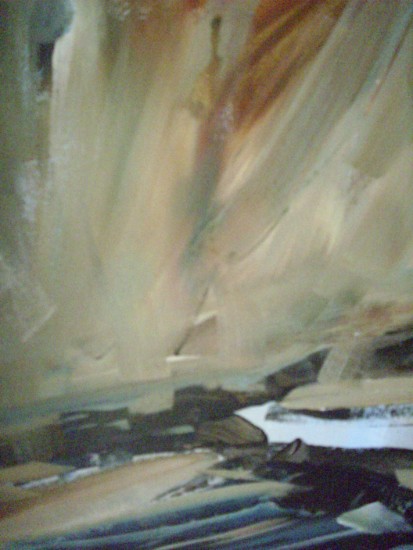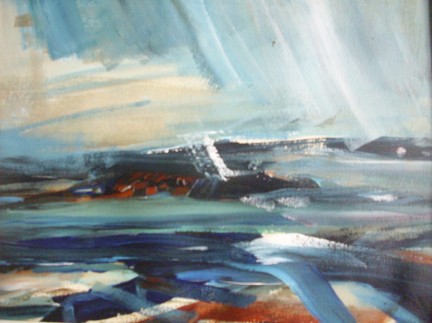 BELOW HARRY CAPTURES THE MOMENT. SAUNTON SANDS MARCH 2011.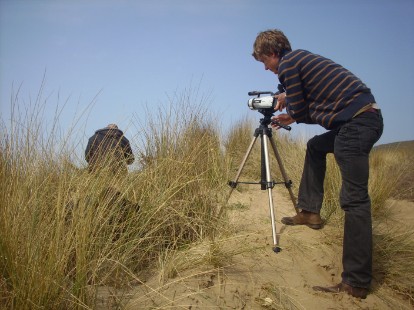 SORRY BUT THATS MY NEW CAR!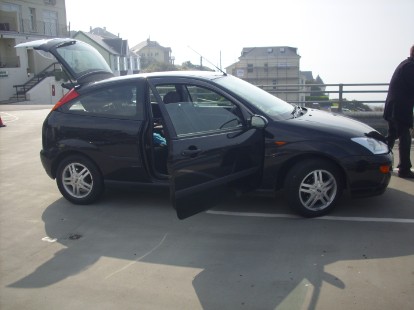 THROUGH THE LENS THE LAND IS CLEARER TO SEE!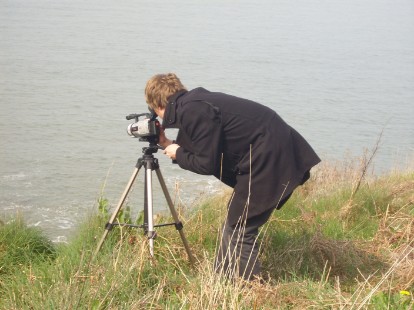 ITS SCAREY TO THINK THAT WE TRADE WITH SANITY!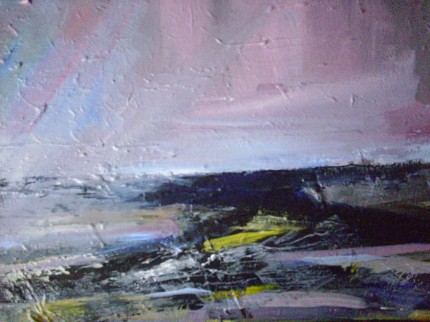 HARRY AND LINZ VIEW THE FANTASTIC WOOLACOMBE SEASCAPE..MARCH 2011.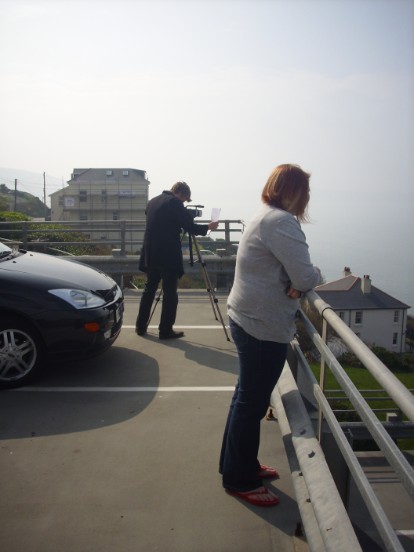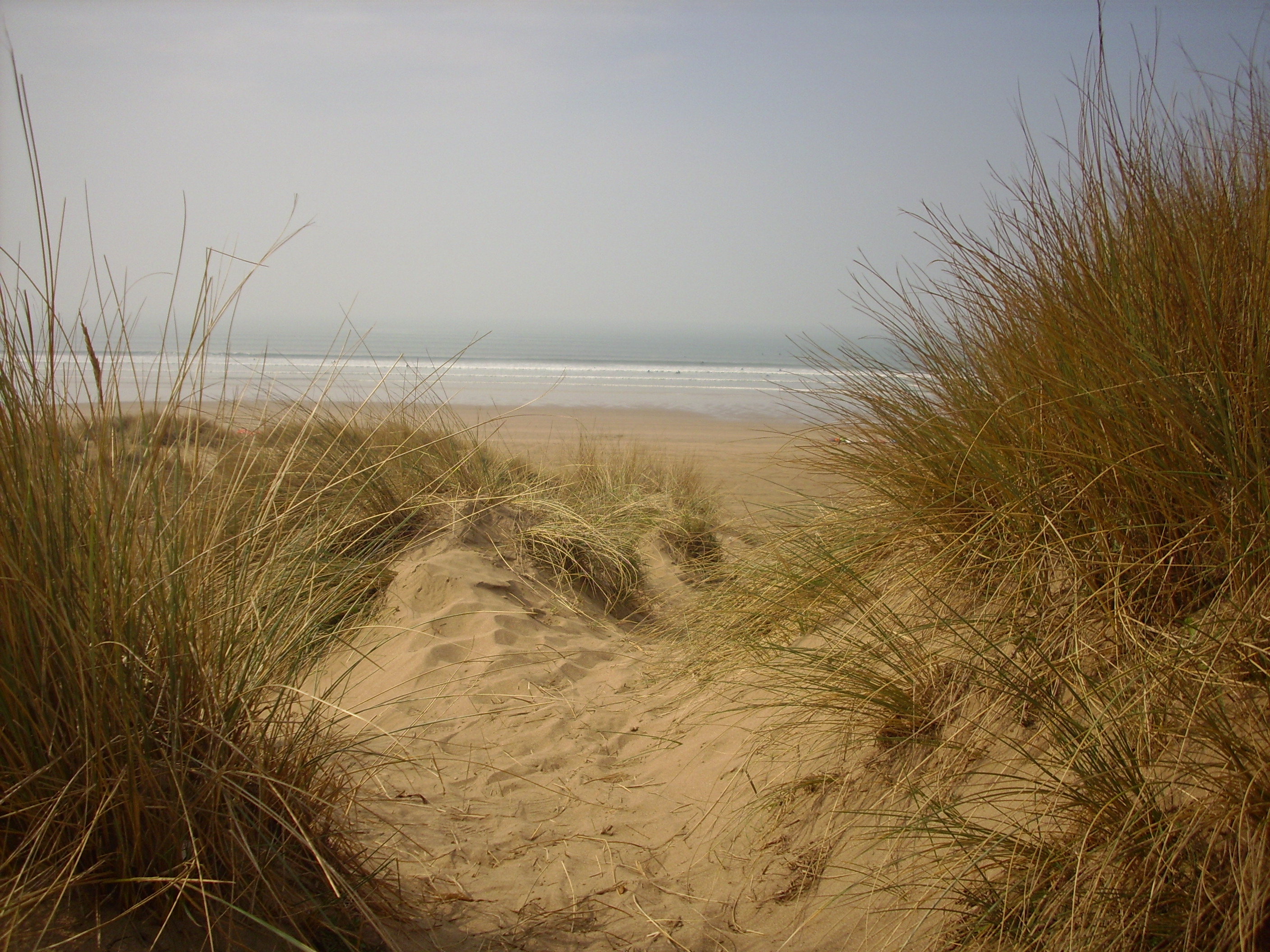 BELOW.."JOLLY COLD"...acrylic on canvas.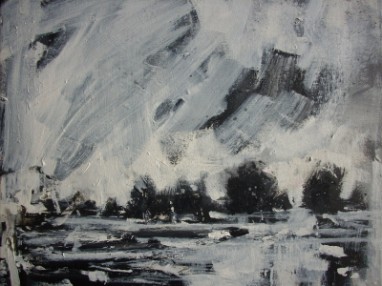 below..."LINZ HELP ME SORT THIS MESS OUT"!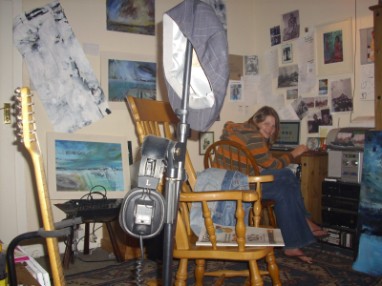 my black and white cat is my inspiration for my, black and white paintings .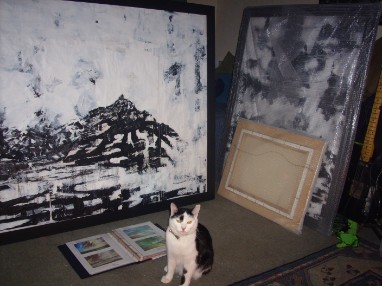 and hear the finished piece.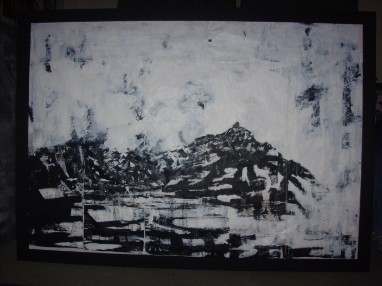 below...complete with photographs and drawings...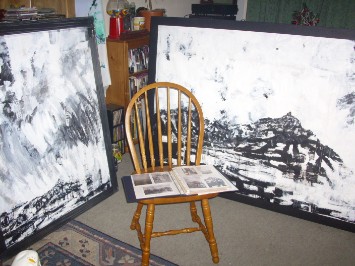 and finaly the show...landmark, ilfracombe jan 2009.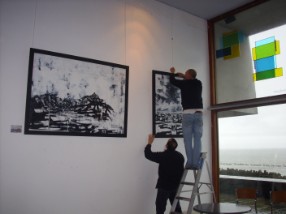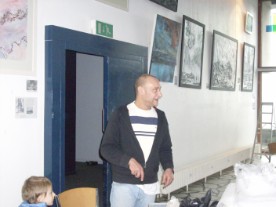 BELOW TELEVISION FOOTAGE OF AERO AND MORGAN , WHOM EXHIBITED ALONG SIDE ME ON TWO SEPERATE OCCASIONS..ONCE AT THE LANDMARK, COMBE AND ONCE AT THE QUEENS THEATRE, BARNS. THIS COLLABERATION BETWEEN SEA LION TRAINER, NIKKI MORRISON, ROBERT HILL AND THE TWO SEA LION, AERO AND MORGAN MANAGED TO RAISE OVER £2000 FOR CHARITY, [M.C.S.] BY EXHIBITING PAINTINGS BY BOTH ROBERT HILL AND THE TWO SEA LIONS..FOR MORE INFORMATION, GOOGLE ROBERT HILL SAE LION PAINTINGS FOR PRESS COVERAGE..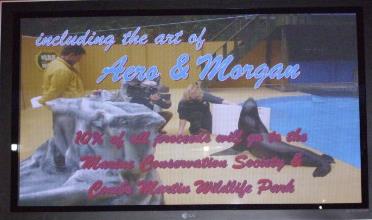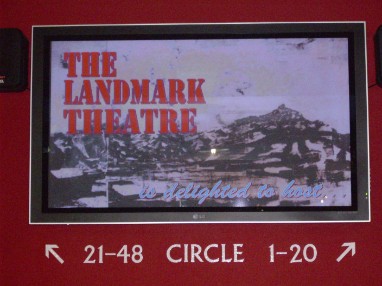 BELOW. MY SUBJECT FROM MY FLATS WINDOW!